Abuadmiral / Wayne : My Pilgrimage to Svangsta
Including the local area to take in the A.B.Urfabriken Factory, Fiskestugan, Museum , Morrum area , Assarum and Karlsham
My trip to Svangsta was preceded by my arrival in Copenhagan and being collected by
Uffe and Janet
where I experienced the best of hospitality.
At night a lot of soccer/football was watched due to 2018 World Cup in Russia along with Uffe playing
balalika
and
pedal steel guitar.
. I realy enjoyed visiting Janets father,
Helges old home/farm.
3 weeks passed in a flash!
We saw the
local area
,
river view

1
and
view 2
,
town square,
met neighbors
, searched local pawn shops,
tested local eateries
, and
# 2
,
smoked Salmon and eels
, learned to make
Gravlax,
the Swedish delicacy of salt and dill cured trout as well as fished by different methods not experienced by me before.
Fly fishing
had to be learned and Coarse fishing were just as alien to me. No charter boat fishing was possible due to sea conditions.
The trip to the
Kullberg Peninsula
only an hour away from Angelholm was very beautiful and interesting.
This trips to the east were done in several parts due to the generosity of my mate, adopted brother and friend Uffe Edefur who facilitated all the driving.
So the Maid of the Morrum River and environs was spectacular. The buffet a the House of Salmon was the cheapest for quality provided. Lobster bisque , multiple choices for mains and tasty desserts.
We made many fishing trips with different styles of fishing attempted.
There were trips to the north of Sweden as far as Sandviken to visit Kent Sunderland as well as lake pike fishing near Uffes family farm, as well a trip south to Vilby in Denmark to visit Davy Smith and Svenaga as well as the Morrum River area. Next we travelled to Orkelljunga, the town where the little known Multofabriken was set up to produce Cardinal and Abumatic reels for ABU from 1973/1982.
It was done like this as the visiting of old ex employees would not fit in with the 3 days allowed for the official visit planned nearly a year ago by Olle Lidesjo on the suggestion of Lennart Borgstrom, who could easily be an adopted father.
After a short introductory paragraph and image or two , the highlighted URL will hyperlink to the various subtopics in the history section.
Stig Svensson ABU Photographer/Filmmaker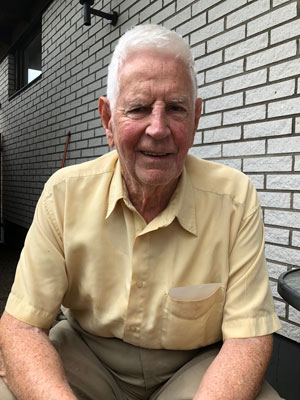 Bert Nilsson in Assaru
m.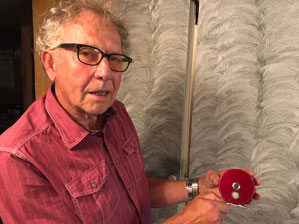 Borge Joahanssen
with Uffe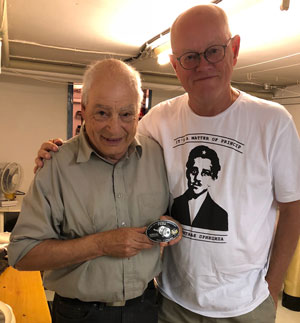 We failed in our trip to connect with Inge Olof Tegvald , catch up later.....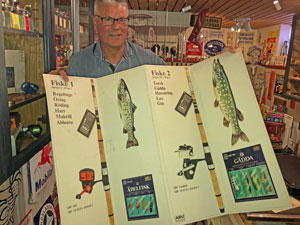 the Green Record 5000 but his collection is just stunning! Uffe and I were made very welcome to view
touch, discuss the collection and also going fishing with Kent.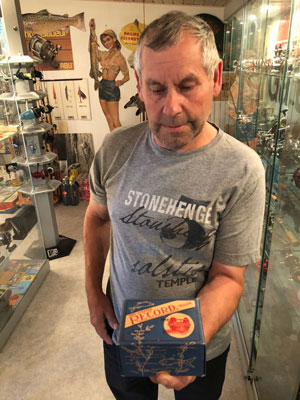 SvendageMadsen
collector from
Svinninge, Denmark
Final 3 days of my holiday, organized by Olle, were Thursday/Friday/Sat 28/29/30 of June.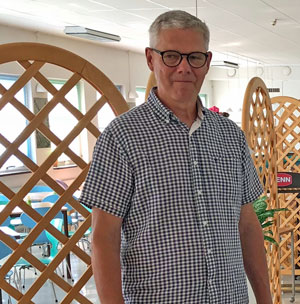 Thursday
Then, spend the rest of the day there talking, fishing, sauna, along with a few drinks too!

In the afternoon we will have a few more drinks and have lunch and evening dinner together.
Friday.
9:00 Factory tour
10:30 Meeting some more journalists
12:00 Lunch
13:00 Meet another journalist and then look at the museum.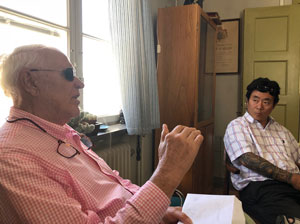 In Svängsta we will meet Michael you tour guide and some of the people that you know.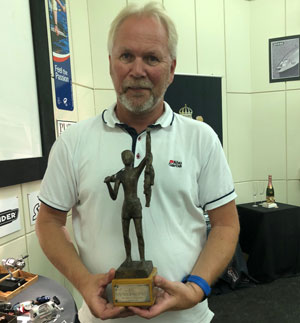 Saturday: fishing (as well as parts of Thursday and Friday)

Departure for Copenhagen airport courtesy of Uffe on Sunday morning.
Newspaper article of my visit to Svangsta.
Greatest ABU Collector in the World, I doubt, but no more passionate
collector and historian.
Kindly translated by AndersTuneskog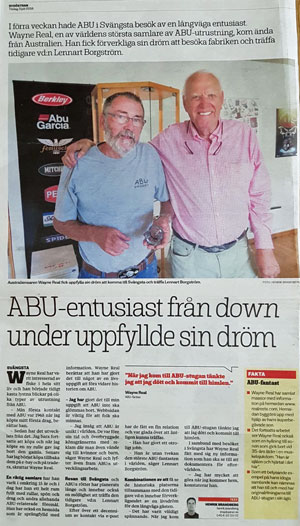 Last week ABU in Svängsta had a visit from a long range enthusiast, Wayne
Real, one of the worlds greatest collectors of ABU equipment, came all the way
from Australia. He got to realize his dream to visit the factory and meet the
former CEO Lennart Borgström.
The Australian Wayne Real got to realize his dream to come to Svängsta and meet Lennart Borgström.
ABU-enthusiast from Down
Under met his dream.
Svängsta
Wayne Real has been interested in fishing for his whole life and he began early to throw bright
glances on different kinds of equipment from ABU.
-My first contact with ABU was 1965 when I bought my first lure, he tells.
-Then it has developed from there. I just kept on buying and when I bought a new reel I gave the old
one away. Later on I had started to buy them back on e-bay and tradera, he laughs.
He´s been a real collector for about 15 years and today he has a whole room filled with reels, rods
and lures and various ABU-related items. He also has a web page bristling with information. Wayne
Real tells that he has made it to something of a life task to pass on the history about ABU:
-I´ve made it to my role that ABU should not be forgotten. The web page is important in helping
people to remember.
- I realized that ABU is unique in the world. They were before their time and bridged gender borders
with advertisments intended for women and children, says Wayne Real and also highlights ABUs
development.
The journey to Svängsta and the roots of ABU has been planned for a long time and also made an
opportunity to meet the former CEO Lennart Borgström.. After more than a decade of contacts
through e-mail they´ve got a nice relation and were glad to finally be able to meet.
-He has made an incredible work.
-He is with no doubt the greatest ABU-devotee in the world, says Lennart Borgström.
The combination of beeing able to see the historic places together with the former CEO made a
realization of a life dream for the long range guest.
-It has been very exciting. When I came to the ABU cottage I thougt that I´ve died and camed to
heaven.
In conjunction with the visit in Svängsta Wayne Real has brought along new informatioin that he will
ensure to substantiate for posterity.
-I have a lot to do when I come home, he states.
Facts
ABU-enthusiast
Wayne Real has collected plenty of information at the home page www.realreels.com. The home
page has been built up with help from his super intelligent son.
The continued work sees Wayne Real as a tribute to to the son that passed away at 35 years of age in
a muscular disease. "He´s the soul and the heart in this"
As an illustrative example on his assiduous gathering can be ment that he even got the original
drawings for the ABU cottage in his possession.