Significant ABU Friends
Stig Svensson
Stig was the official ABU photographer from the 70s until he retired.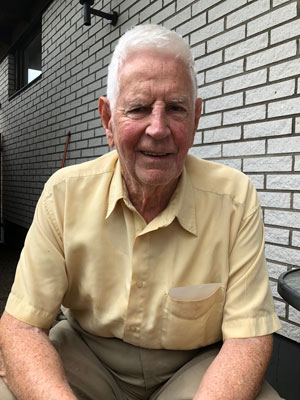 I accidentally discovered him by becoming Facebook friend with his grandson Christoffer Nord who lives in Umea Northern Sweden.
Whilst I could not meet with his grandson Christoffer Nord due to fishing commitments in Norway, I was able to contact his granddad and drop off a care package.
I confirmed the marriage of Inga Britt Freidenfelt to Stig Svensson who were both employed at ABU. Inga Britt was personal secretary to both Gote and Lennart Borgstrom while Stig as the official photographer.
Uffe knew of Inga Britt before I made this connection, and it ended up with us visiting Stig who was still living quietly in Assarum after Inga Britts passing.
We visited and it turned out while most of his items have been given to the ABU museum, he was going get a copy of a DVD with all his old photographs for me to make use of on the www.realsreels.com. He also has one 16 mm film of the ABU Dream trip to Ireland which he said he would copy / digitize for me. This is very exciting news to be able to share from these Golden years at ABU.
Much more to follow, I am sure.
If you are a person that has significantly had an effect on design/development/testing of ABU equipment over the years please contact me abuadmiral@gmail.com if you wish your contribution documented for posterity and the immediate interest of the ABU fans worldwide!