ABU Lodge / Fiskestugen 2018:

Morrum River, Svangsta.

Including guests on my invitation by Len Borgstrom (ex owner of ABU)
While my mate Uffe Edefur had been here before, it was the first time he had met Len in person, along with the other yet to arrive personages.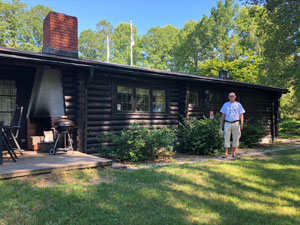 Patrik Torjnmark was an early arrival here along with Uffe and I , and we had a casual walk down the river before Ole and Len arrived . Ole was Lens go to man to organise my program of 3 days here.
For me this was a hair raising experience when greeted by Len at 11 am Thursday 28th June with a big bear hug that reflected a first meeting after a connection of 40 + years.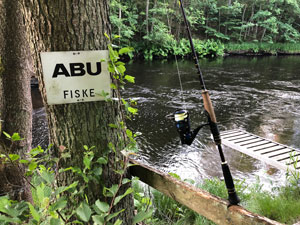 The lodge was disarmed and before long we were made to feel easy in this unique building (that has hosted Royalty and Heads of Industry over the years) , where we were soon sitting and chatting with a cool drink.
More an more guests arrived and before long Goran and Bengtt arrived . The weather was delightful and turned on high 20s for us which saw many elect to sit outdoors around the bbq setting.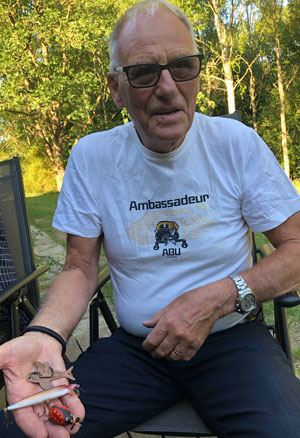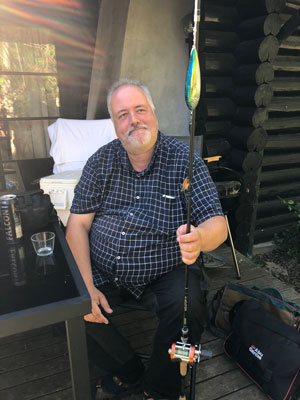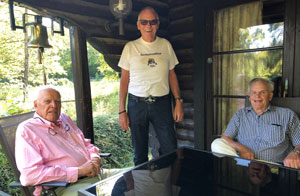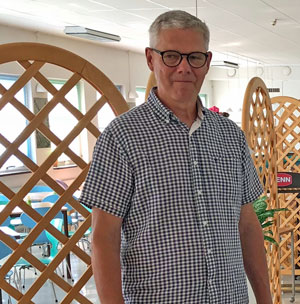 The first thing one notices as we enter the foyer for boots fishing gear is the huge salmon caught just 100 m away and large number of artworks through out the lodge.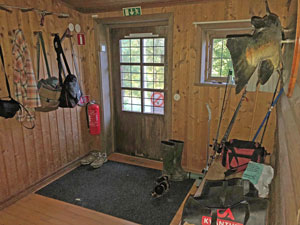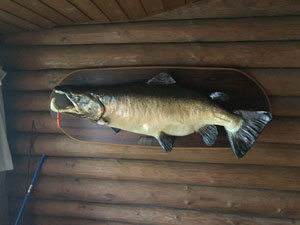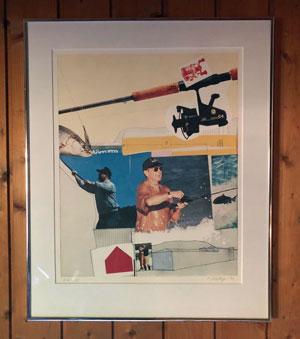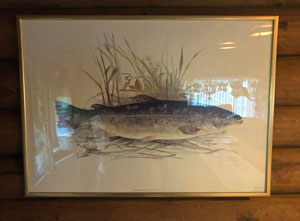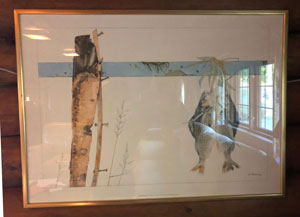 Two hours of chatting flew by in what seemed minutes and Olle who has mysteriously disappeared arrived with a what was to be a sumptious lunch, ably and efficiently served served by girl Friday Cala. Here i learned that Single malt whiskey , and schnaps and wine and water were all served together with the meal. I was given the Kings chair and Uffe Queen Silvias chair.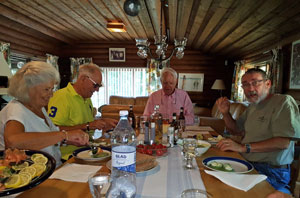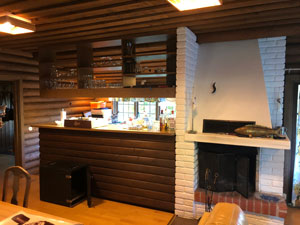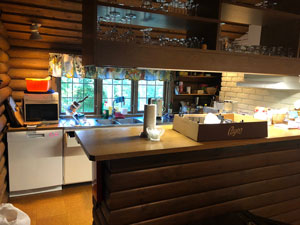 Later we retired our discussion to the patio and basked in the unusually warm Swedish sun.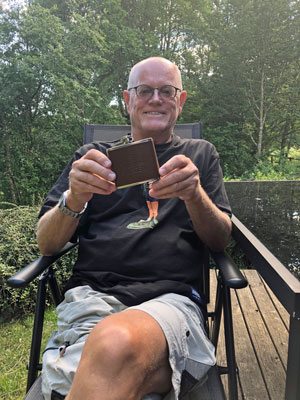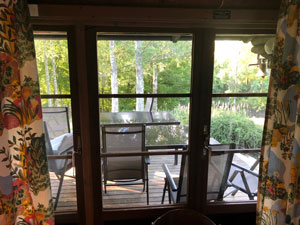 Soon of the media events took place where ? Lala ? discussed the long time friendship between Len and myself created out of ABU.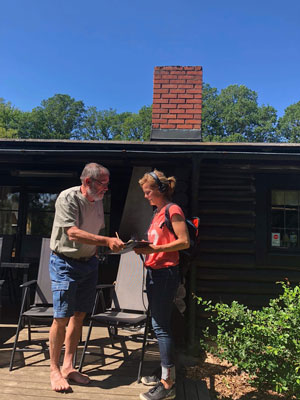 Back to the leather lounge chairs and more chat ensued. Some had time for a rest but Len suggested others to step down the hill to suss out the Morrum River and try our luck.
Len advised he would have the sauna fired up for use before dinner...and to be ready for it by 6pm.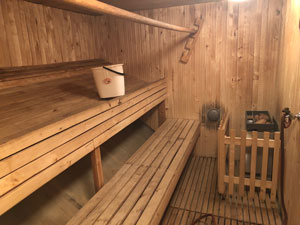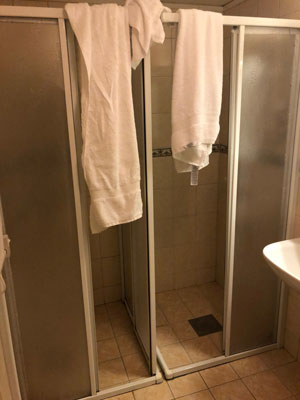 Sauna room and twin cold showers, staircase leading to bunkroom and sauna.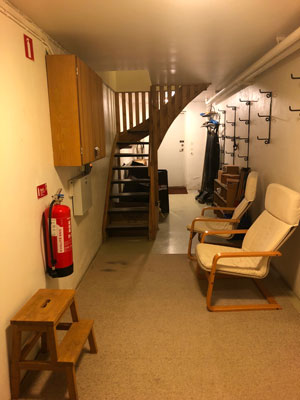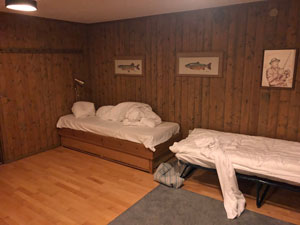 Goran and Patrik discussing what else? ABU naturally ! Len and I chewing the fat.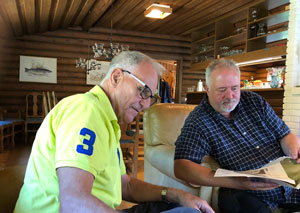 Vacated lounge , who farted? No one, just Gone Fishing!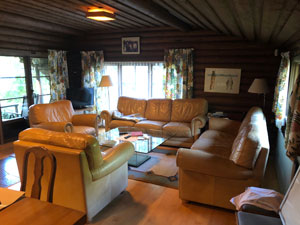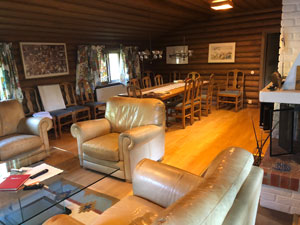 The river was very low to excessively low rainfall/high temperatures and the advice was that catching a salmon would be near impossible but as all fishos are optimists at heart, an hour or two fishing saw us only receive exercise rather than captures. Apparently this was especially so when they were seen to be jumping on their way upstream to spawn.
Back in time for sauna...No photos here....This was not to be a birch branch beating affair but all else the same.....never had one before...it was an experience when Len threw the ladle of water on hot rocks. Instant 100 degrees C , quite a shock and after 15 minutes chatting and gasping, the cold shower was just as shocking. Coming back in for round 2, I had accustomed my self somewhat, and the second and final cold shower was a breeze. Dressed and up for dinner by 7 pm.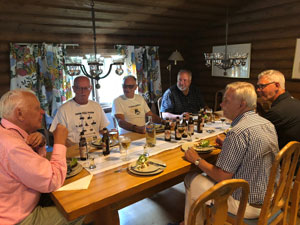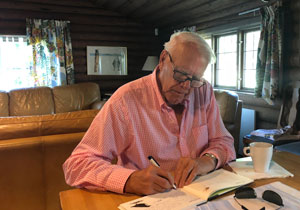 Dinner was superb with Beef Entrecote, jus , steamed vegetables and wonderful indulgent dessert, all washed down with any drink of choice.
Much telling of stories , some tall, some blue and the the night ended the next morning. Many started to peel off after an hour but Len being one of the stayers, was first to catch his beauty sleep by 11pm and headed for the bunk room downstairs. I wand next to go at 12:15 am and it is well that the last stayers did not have to negotiate steps to their bed. I believe someone fell asleep on the toilet? The kitchen was clean in the morning, presumably done by Uffe.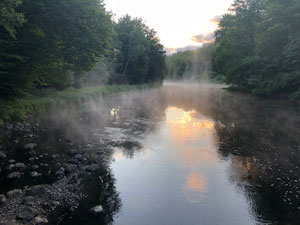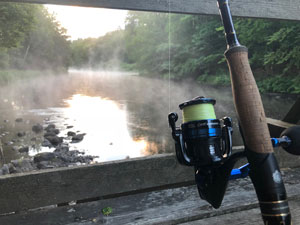 I was up at 5 am fishing in the foggy river Morrum , back for a respectable timed breakfast. No strikes but communing with this nature was a memorable event!
The skin never felt so clean and even the next morning Uffe and I were both still commenting about the tingly clean feel all over our bodies.
Left to visit the A.B.Urfabriken factory arriving at 9:00 am.