Baits Overview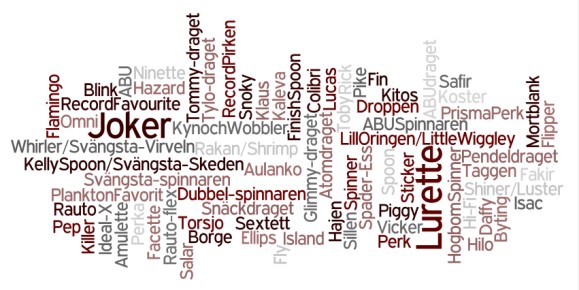 Record/ABU Lures over 5 decades
First we will consider whether to fish with bait (live or dead)
OR
Lures (any artifical man-made creation including flies)
The first big decision: Bait or Lures?
My friend Hans van de Pauw has shared this 1949 history of the Fishing Spoon by Arthur Carhart
Now you will have decided there is benefit in all styles of fishing, so onto consideration of lures in detail.....more specifically ABU Lures
Mankind's lure/spinner/bait/fly/plug (s) are our attempt to deceive the fish and entice it into attacking it, either as a food source or purely out of territorial aggression.
Metal, plastic, wood, feathers or other synthetic materials are all utilized in the battle to attract a strike. More recent times has seen fishermen use smell, flavourings, taste in conjunction with artificials to increase the strike rate.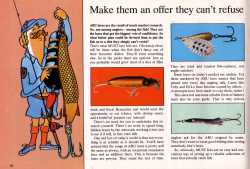 Vic McCristal the much revered Australian fisherman (ABU) , writer and futurist, and early-adopting fan of ABU
long ago wrote so simply " A lure is a lie told by a (wo) man to a fish"
Below we see the universal lures in both his and my opinion
Soon a link to the new 60th Anniversary ABU Toby video, from German Film Producer Holger Höner of bisclips.tv, will appear here

ABU's Lure Production Line: My Spreadsheet
My attempt here over time (it is a mammoth work in progress) is to initially list via the spreadsheet matrix, all lures produced under the Record or ABU banner, some many thousands in fact.

These will be shown as a yellow striped cell some with black text labelled Need
Soon these will follow....

Next will be Record boxed lures I own, followed by ABU boxed lures I own,
after this, colour striped cells showing Mint on Card I own, and then Must Lures that I own.
Constructive advice appreciated if you can help here

My personal collection of ABU/Record lures
This is in the process of being displayed on a Swedish flag, (this image needs constant updating due to regular additions!) with the five sections allocated to plugs, spoons, spinners, flies and perks.
It will never be complete and hopefully being constantly added to. See below.

The great majority of ABU's lures are metal spoons. Hans has shared his Waterlog Magazine published "Confessions of a Spoon Fetishist" here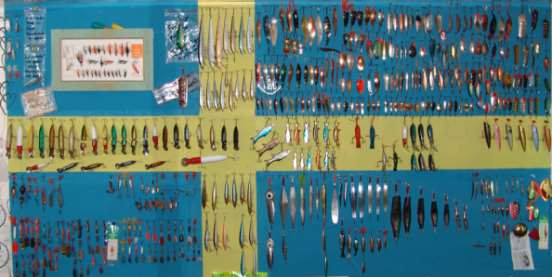 My collection started small but now number 1000+ different ABU lures
Soon I will share my 24K Gilded Collection of ABU lures, in a french polished box from the 40's to house them
with bottom layer to hold the Gilded lures and top layer other 24K Gilded Jewellery.....worth waiting for
Continued sequential ABU lure development has occurred from 1940's to the present.
My experience is concentratinCom the earliest to the early 1981. ie the Swedish made lures
One of my favourite finds was this ABU Flax sortiment box complete with 5 spinner and the outer cardboard slide.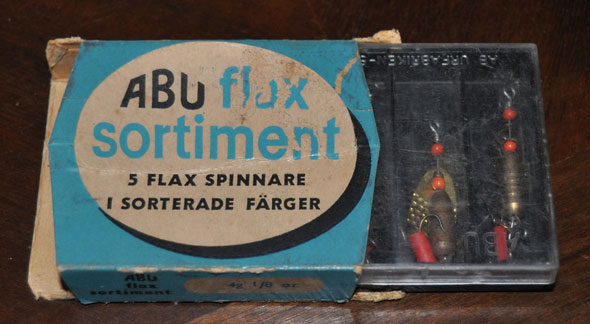 I find it amazing that ABU supported the continued use of their baits by offering supplementary materials like plastic feelers for the Rakan, replacement feathered hooks, whole rubber fish bodies for Drop-fish complete with hooks, so anglers did not have to discard damaged lures. I have seen spare parts for the HiLo but I suspect these were just available to some workers at the ABU factory.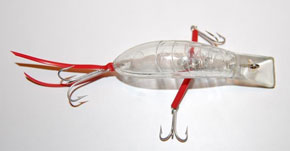 A rarely seen clear unpainted ABU Rakan complete with plastic feelers and hooks. Made in the Swedish Celluoid factory?
I am advised by Len Borgstrom that the "plastic" lures were sourced from both USA, UK and Sweden.

The Kynoch was strictly a UK business for s.c. harling for salmon. The Cello was made by a company in Michigan. We bought the bodies painted and then assembled them in Sweden, Rakan was a fully Swedish product. We bought the body parts from a Swedish plastic manufacturing company, just like the Hi-Lo .....
further details from Len B. .....

In my days the plastic part manufacturer was named Celluoid in a small town Gislaved. They made many of the plastic parts for all kinds of our products. Burke made the Cello bodies. The name of the president and owner was Bill McClellan. We became personal good friends and his daughter spent some time with us in Sweden. He died young in the early 1980s. He was one of the first manufacturers of soft plastic baits including plastic worms.
Other ancillary products included anti-kink vanes used when luring, practice casting weights as well as ABU casting leads.
ABU has released a poster celebrating 50 years of continuous lure production. We are interested here in the Swedish made lures which are illustrated on the first 4 lines of the poster.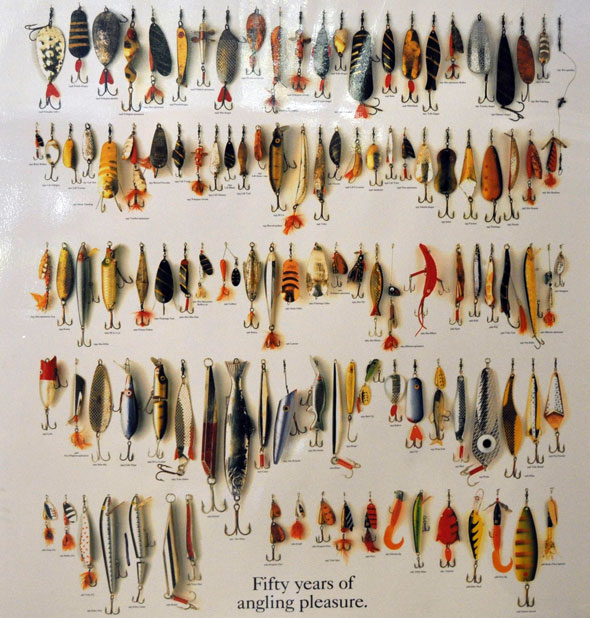 Garcia HI-FI (made for USA market by combining Sonette blade)

ABU Lures in General (Types, sizes and colours)
Lures Licened by ABU eg Heddon
ABU Lures by the Decade 40's, 50's, 60's, 70's, 80's
ABU Lures and Production Timelines (Rarity)
My Personal ABU Lure Studies Hi-lo Killer Toby
ABU Killer Scandinavian Heritage
Len Borgstom's History of the Reflex Spinner
ABU Reflex Spinner # 1 in deadly dozen!
ABU Reflex Lures by Special Request in Holland
Refurbished ABU Lures (NEW)
Did you realize that all metal baits were punched out and pressed for the embossing of scales, name, weight designation before painting and moulding to achieve the desired curve?
I would like to find more types and add them here.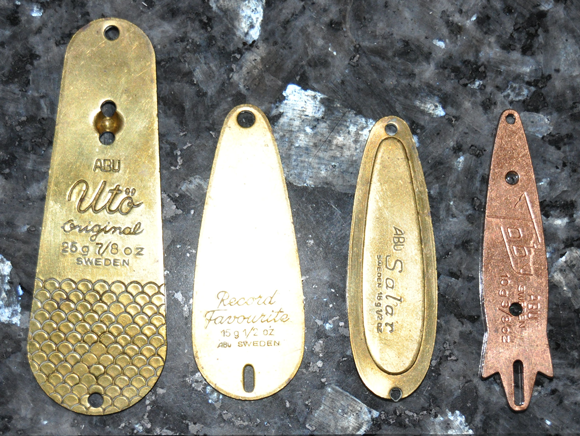 While on the topic of lure "appearance" , it has recently been noticed by some collectors , thankyou Davy Smith from Denmark, that there appears to be two differing patterns of scales on some lures.
After much discusssion, the topic has been put to rest by Goran Enocson ex 2IC at Svangsta during his 30 years at Svangsta while Len Borgstrom was boss.
Look at these Toby, Koster and Salar baits which "appear to have differing scales"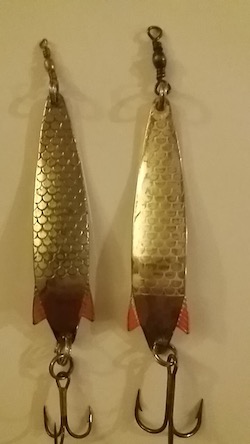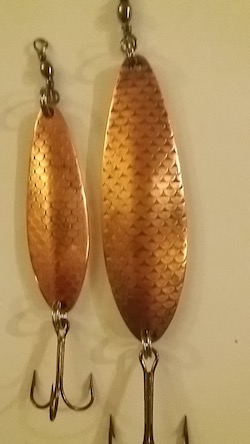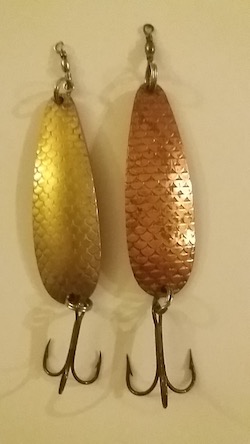 Goran's words
"It's the same pattern from the beginning.
The lure with the scales which are not so deeply embossed can be ...
1. a mistake in adjusting the stamping tool or i
2. it can be produced just in the end of the embossing tools lifetime.
"
thankyou Goran!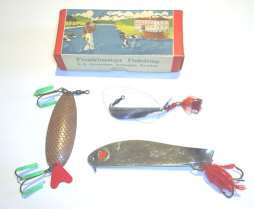 Attention ABU fans,
Garcia catalog images of lures from USA to date are here
I am looking for ABU lures to document and study for this site which were sold only in USA.
Any help in buying, loaning, photographing or providing information on would be greatly appreciated. Many metal lures in the old paper boxes interest me greatly.
Images from an extremely rare USA Garcia "jobbers" catalog share by Wallace is dated 1949. (slight possibility it could be 1950)
Larger more detail revealing images to be linked very soon!
My personal collection of ABU/Record lures is in the process of being displayed on a Swedish flag, with the five sections allocated to plugs, spoons, spinners, flies and perks.
It will never be complete and hopefully being constantly added to. See above.
Continued sequential development has occurred from 1940's to the present. My experience is concentrating more on from the earliest to the early 1980's.
More detailed Lure Links from USA ABU Catalogs here
Notice the word ABU is rarely mentioned in early Garcia advertising, merely the source of Sweden.
Later you will see Garcia Hi-Lo but when my new sealed versions are examined the only marking on ther body are "ABU Hi-LO Sweden Patent", this is because they were made in Sweden not USA as some think. The advertising in my mind was somewhat misleading.

The metal ABU lures also did not show Sweden on the lure and was added some years later, depending on the lure.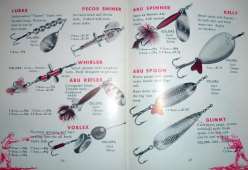 Even a small 12 leaf lure catalog was made in the early days to show Garcia's lures.
Interestingly, pre-amalgation, very little acknowledgement of the giant Swedish ABU firm was noted. These were in effect sold as Garcia product.
A quite definitive amount of highly detailed information on the huge variety of ABU lures courtesy of many good friends such as Mike Elsworth from the UK, Derrik from Germany , Hans from The Netherlands and Uffe from Sweden.
A passionate group of researchers and contributers to our expanding knowledge of ABU Baits/Lures all around the worth. I feel privileged that they are so unselfish and willing to share the fruits of their labour of many years in unwrapping the riddles of the development of ABU Lures.

Thanks to all the the collectors, past and present who have shared this information with me and a huge world wide audience of ABU lure fans.


Friend and ABU Hi-Lo enthusiast Rob H (Mr Hi-LO) from Netherlands tells of his passion for collecting
ABU Hi-Lo here
.
We will will be working on a collaborative effort here for the definitive ABU Hi-lo study.
Prototypes

here were never for sale, and were shared by good friend Uffe Edefuhr, a one time serious ABU Collector. These have been shared around the world of ABU Collectors before Uffe and I became friends.



I should make a distinction, I term Prototypes as new designs of lure which may or may not eventually come into mainstream production.
Test Colours were often experimented with on known lures. These may or may not have been used on production lures.

My good friend and tireless helper Uffe Edefuhr has discovered this information on early lure design at ABU.

My ABU Flies are here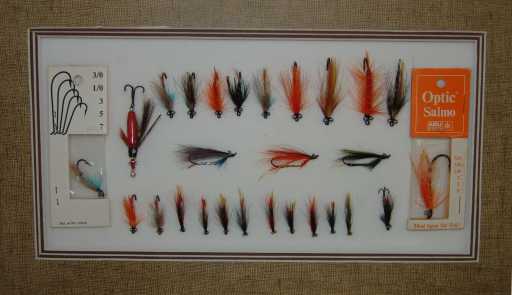 Derrik's Figge from Germany, has a wealth of knowledge and has been very helpful in sharing also
.
This beautiful un-documented black Rakan has been a treasure to find and add to my collection.

Thanks for the image of your smaller version Derrik!
The best discourse on Sportfishing I have ever read was written by Mr Eric Swan in the 1967 ABU Tight Lines/Napp och Nytt . See below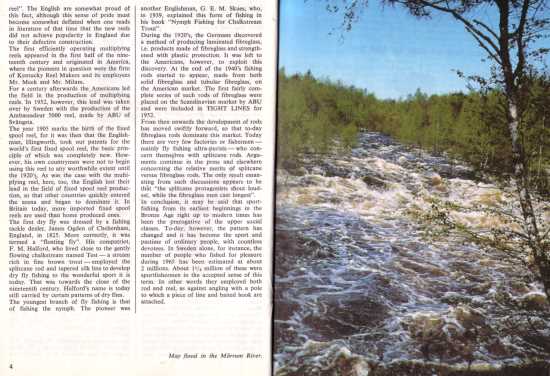 Worthwhile ABU lure reading by Australia's # 1 gentleman legend Vic (McSea) McCristal
I am still looking for items such as Kelly, Doublespinnaren, Svangsta spinnaren, Toby, Hogbom, Whirl or Whirler or Virveln, Tilly, Safir, Sally, ABU Spoon, Joker, Glimmy, Atom, Tommy, Hazard or Mac Dan in any size or colour (or other metal lures) are needed to continue studies as well as the plastics such as Killer, Hi-Lo (Heddon ABU Hi-Lo River Runt Spook, any colour other than RH , I need XBW, XRY, L and D for my collection. The Kynoch in T or the rakan in black are still to be found to record. Full recognition for any assistance offered will be provided on this site. My name and website is well known to many ABU reel collectors in USA, but unfortunately I do not know too many ABU lure collectors there. Looking forward to getting to know more and perhaps trade some doubles of lures too!
If you have any other lures, that are un-needed or doubles in your collection and are available for swapping or a reasonable fee, I would be very pleased to hear from you.