My friend Henrik Londen posted this over on Joe's Board and he kindly assented to let me and post it here so that it can be visited and revisited for all time. This is an important and interesting piece, and Henrik should be thanked profusely for putting it together. Permision granted from Dre Todd Larson who edited images and posted on his Fishing History Blogspot


The History of the Finnish Minnow
by Henrik Londen
It started in the early 1930s when Lauri Rapala was a commercial fisherman trying to feed his growing family, Toivo Pylvalainen was a hermit who lived in an abandoned hut on an island in the middle of the lake, where he caught his fish and then went into town and sold them, often ending up consuming all the proceeds in the local tavern.

He knew his lures caught fish and sold some to the local cottagers and city folk who came to the lake in the summer. He also tested the lures in the shallow waters to see that they swam correctly, and the ones that were not good in his opinion he sold to people he disliked.

In a 1937 entry from a local fishing club, there is mention of Pylvalainen lures and how they catch fish.

Toivo Pylvalainen was the inspiration for the Rapala. He gave two of his lures to Lauri when the two met on the lake, they were both commercial fishermen and when rowing between their traps they would troll. Just a twig and line and when a fish hit they would throw it over board and retrieve it later when the fish was tired.

The story is that Lauri Rapala caught 40 kg of salmon the following day and then started making his own lures, inspired by these Pylvalainen lures.

Initially it was Lauri's cousins who made the lures, but unfortunately both of them were killed in the second world war, which forced Lauri to start making lures himself. The war lasted until 1945, so not much happened on the lure front during those years.

It was the success the summer guests were having that spread the word to the local tackle shops and one guest was Fritz Schroder, the store owner from Helsinki that also sold Creek Chub and Heddon lures. In 1950, he caught a large trout on a Rapala, and immediately ordered 500 lures. The was the first large order for Rapala.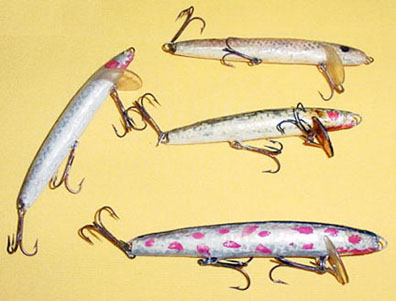 Early Rapalas were made out of pine bark which is very unstable, hence the sway back and rough edges.The supply of Balsa wood and cork was very tight at this time in Finland, so some lure makers took cork out of the life jackets from the local cruise ship. Luckily these life jackets were never needed for their intended purpose.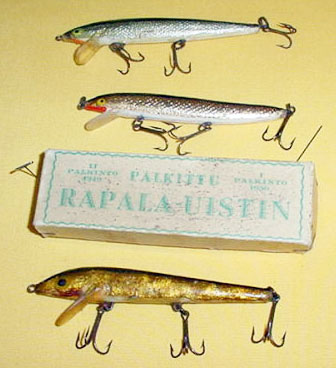 The 1952 Olympics were in Helsinki and as it happened some of the US atheletes bought some lures and brought them home with them. It created some interest, but the sales were slow. In 1952, there were also a few lures sold in Duluth, Minnesota by the Finnish Consul who owned a fabric store. One customer, Ron Weber, saw an opportunity and applied for the rights to be the North American Agent. It took some time, though, for the lures to catch on. It was only in 1959 that the first order for 500 lures came to Rapala. It was translated for Lauri Rapala by the local school teacher. (For a little article and information on how Rapala's first became popular in America, click here).

One early customer, was the editor of Life Magazine. He was so impressed that he sent a field reporter to Finland to write a story about the miracle lure. This story was published in the same issue that covered the death of Marilyn Monroe in 1962.

After the article the lures sold out everywhere, and the demand was such that they were rented for $5.00 a day, and if you lost it, the cost was $20.00.

The Tulos Minnow, this one covered in fish skin, and the Creek Chub Pikie were the lures that Pylvalainen copied or used as inspiration.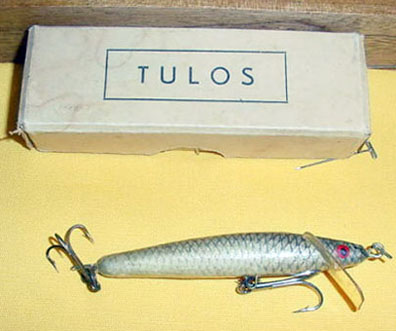 Word spread quickly, and cottagers bought lures and caught fish both with Rapala and Pylvalainen models, which caused others around the lake to begin manufacturing their own. All lures were hand tested, a tradition started by Pylvalainen himself. It is said that he believed the optimal lure would be one that could suddenly dash to the side like a fleeing minnow. It was only when quite drunk that he claimed to have developed such a lure.

Unto Saarinen was one of these men who made lures with remarkable detail on the scales. He later sold his lures to ABU. These below were called ABU Paijanne.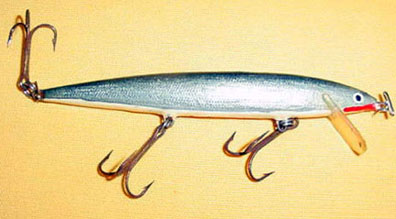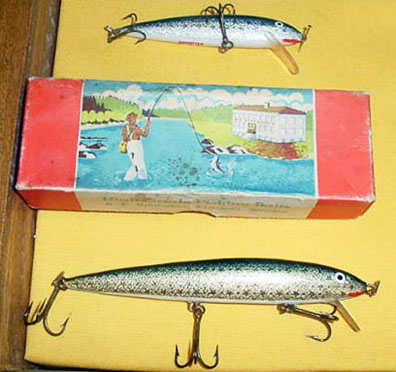 Finlandia Lures only made these copies for a few years and then switched their name to Nils Master and began making different lures.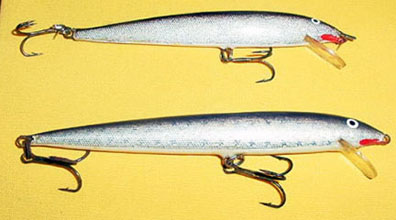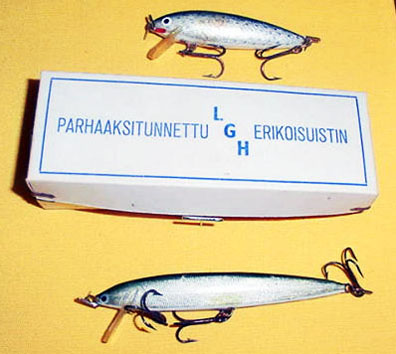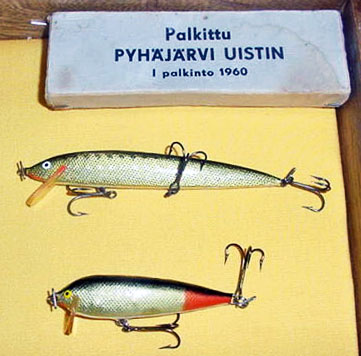 Pyhajarvi and box.

If you have anything like this or want to learn more, just let me know, I am happy to share what I know and always love talking lures. You can contact Henrik at lurerin@aol.com.