ABU Lure Colours in General
Click here to see Spreadsheet Reference to Classic Record and ABU lures

NOT ALL COLOURS WERE DOCUMENTED IN THE CATALOGS ... see end
Here we see ABU's 16 catalog documented colours shown graphically and by name, but travelling further down this page , will show you twice as many colours were experimented with and even put into production for short time periods. I hope more will be shared here over time.
First, I will document colours for metal spoons/pirks and wobblers
I believe some variations in colour were produced for the USA market.
The Metal colours are :
The big four were the S (Silver) , G (Gold) , K (Kopper) and Z (Black/Gold stripe)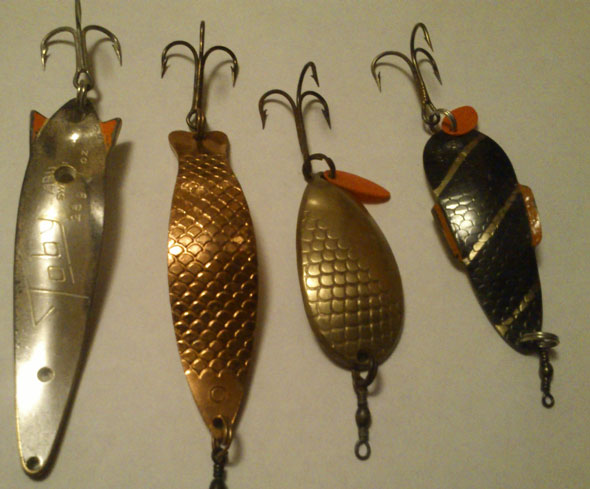 They were the most classic abu colours there ever was and still exist in today's Asian made ABU lures .
S (silver), the most common colour and perhaps the most effective one to fish with. can in few cases get mixed up with chrome. perhaps the only colour wich exist in every abu lure:
K (copper), same here as in silver. variations exist in AK (ancient copper). can pehaps get mixed up with gold.
G (gold), a classic but perhaps a bit less popular than silver, copper and zebra.
Z (zZ (zebra, a golden spoon painted all black on one or all sides depending the lure. then the golden colour is ground up in stripes or spots. Many variations exist. Perhaps because of the manual labour it takes to grind up or apply the stripes by individuals.
S, S/G and S/K are always two coloured lures. Here we see 3 different 12g Island lures, silver on front and S, G and K on reverse.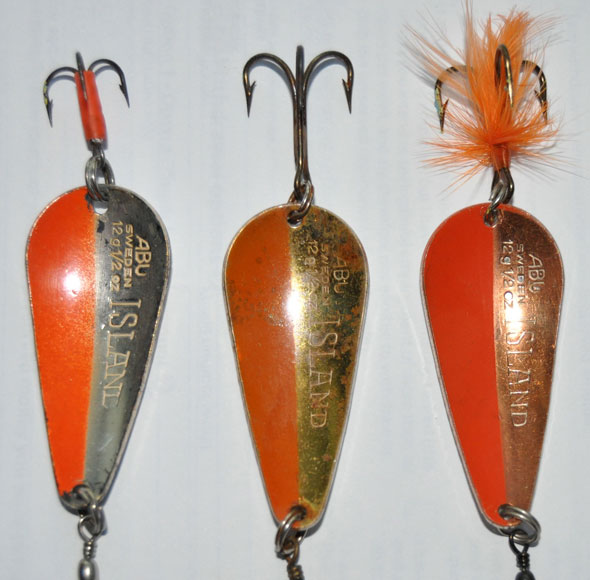 There does exist a S/G/K colour too, but never mentioned in any Napp and Nytt. I am lucky enough to own one in the beautiful form of a mint Svangsta Skeden shown below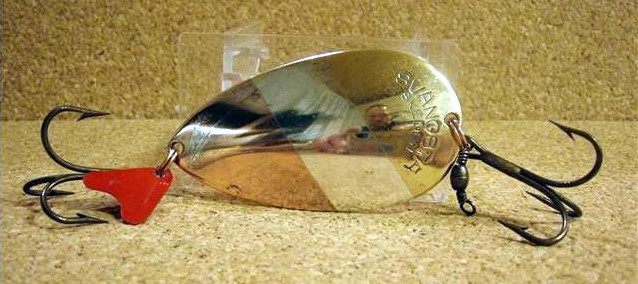 P/K means the colour Mother of Pearl over Copper and it was produced especially for the Skal-draget
Mine is photographed along side the more common K, G and S metal colours.



These are all the metal colours that I have seen ..please share if you know others...
The painted colours are :
First up was the skeleton colour S/V. It was produced between 1951-1956 and should now be the most wanted colour to all collectors worldwide.
Around 1957, the new painted colours arrived. These colours were L, BGL and M and soon after these came the classic T colour arrived along with the XRS.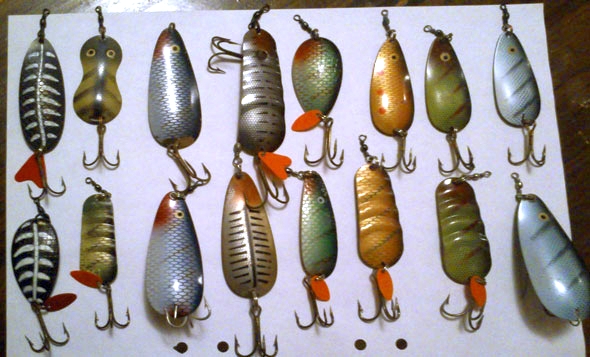 S/V (black-white) is the holy grail for collectors as it was made in a few lures only. Not the rarest colour in any way, but the one that always gets high bids on auction sites. The black colour was a poor quality and the white got often stained, so good examples are rare, poorer examples more common.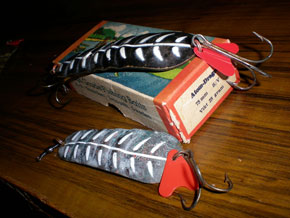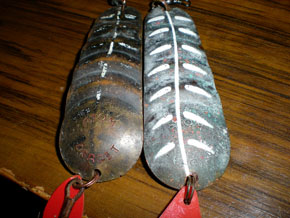 L: (green with red stripes). The first version existed for a few years and only on a few lures such as Atom, Joker, and Flamingo to my knowledge. but other lures (uncatalogued) do exist eg a fairly rare colour in good condition. Joker 18gr in L may be the hardest one to find?
BGL: (bluegill). It does exist in various colours from very light blue to a very dark blue. the light blue ones are the earliest. a popular and common colour.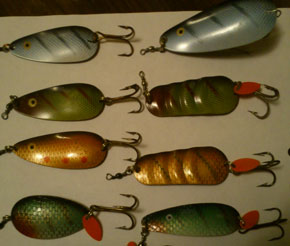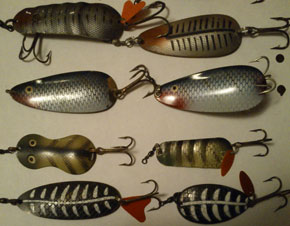 M (musky-green) is a brown-greenish colour which is very often mixed with both L and D. It is a common colour on both Joker and Flamingo.
D. (light green-perch) a lighter green model of L could be a fitting prescription. after L dissapeared did the D colour take over. It was a fairly common colour on Salar but Abudraget and Island would be the hardest lures to find with this colour.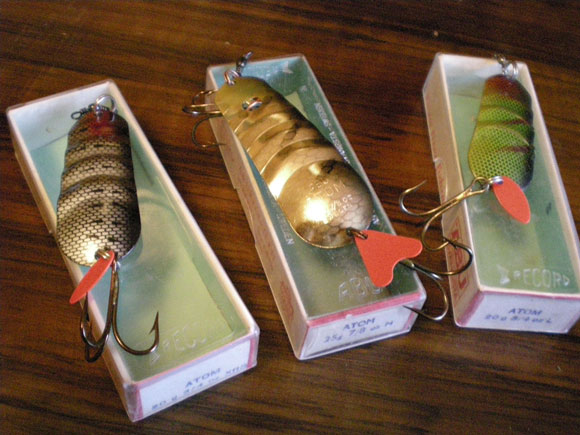 T. (Trout) is another classic and popular colour. It has its roots in late fourties and on the Dubbelspinnaren (öring). the first colour did not look anything like the later one, and the only resemblence would be just the name. A yellowish colour with red dots which over time has gotten darker, like the popular T colour on the Toby. The Island would be a fairly hard to find lure with this colour.
XRS: (silver-black stripes) generally found on the Atom only but other lures do exist, like the Flamingo on the picture. Atoms are pretty common with this colour, theFflamingo would be harder to find.
P. (mother of pearl). It is another very uncommon colour. Mint condition examples are very rare in every case. milky white to snowy white. variations exist. A very rare colour on certain lures like Finish, Svängsta reflex (the only one of these 3 that I have) and Island.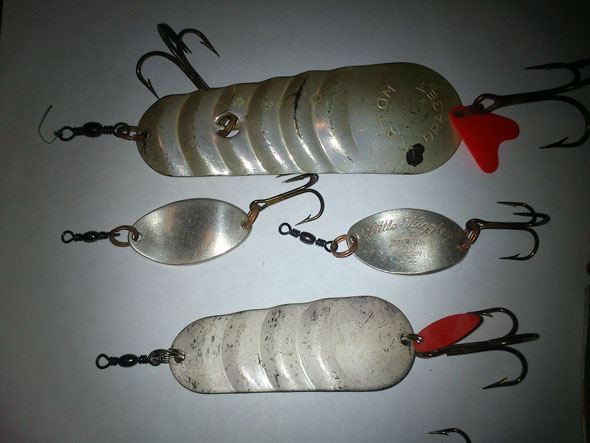 A contribution from my friend Steen Pedersen ( of the very rare ABU Record Lure guide) is always welcome here
His story ( Significant ABU Friends) outlining his interest in ABU will come soon I believe



With this a couple of pictures below. I thought I could be a little something for the collectors-world.
The ABU-lures in color PM are extremely rare items, partly may be for the low sales, but the paint on the lures were very fragile, even new unfished items are often damaged. Many items are spoiled because collectors think they got a color S with a lot of dirt on it.
This item a early Atom in the color PM is now a member of my collection. Not the nicest of lures but its rare, probably only one year on the market! 1954.
The seller sold it as an item that needed some polishing, I saw what it was and bought it cheap and I did´nt polish but uses some Turtle Superwash and a little brush - ok not so fantastic a result but the color is still on the lures, probably its the paint that changed. Two pictures before and two after.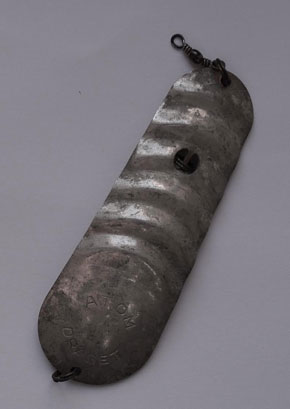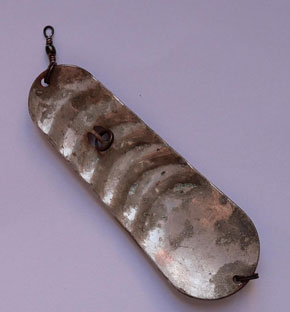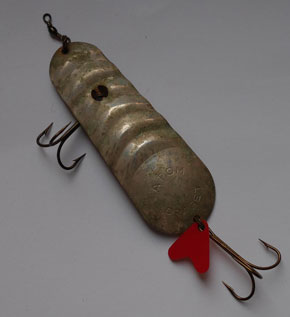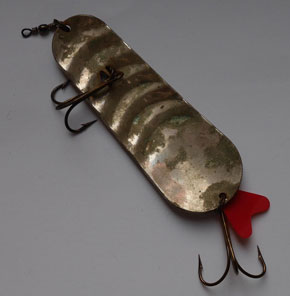 Thanks Steen!

All black and maybe Antique Gold?


What about an experimental factory Grey blue Plankton?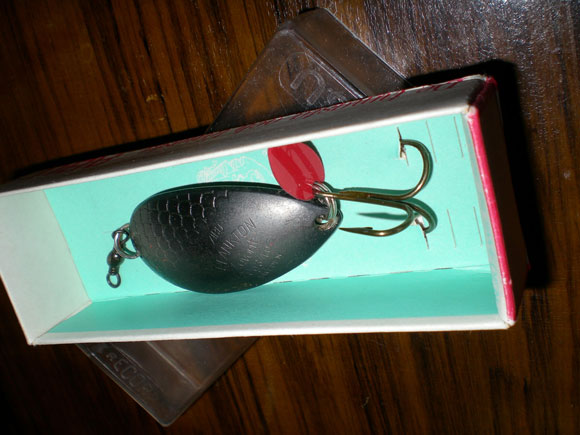 All Chrome (Cr) lures below, look different in varying light.
It is a difficult colour to actually spot from a silver coloured in some cases.
It is more common on export lures, often with red scales or red text examples.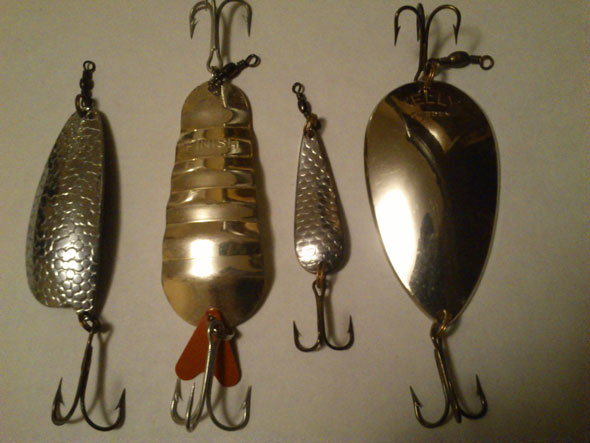 The Record Pirken in colour 'Krabba' is a very rare and desirable ABU lure.
Thanks to Mike Elsworth, the Welsh slueth for sharing.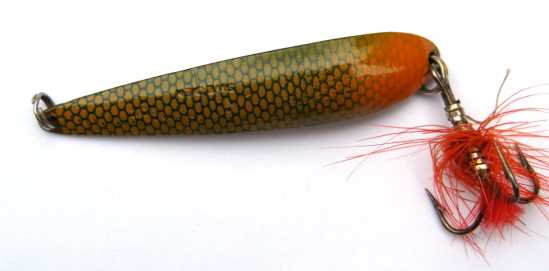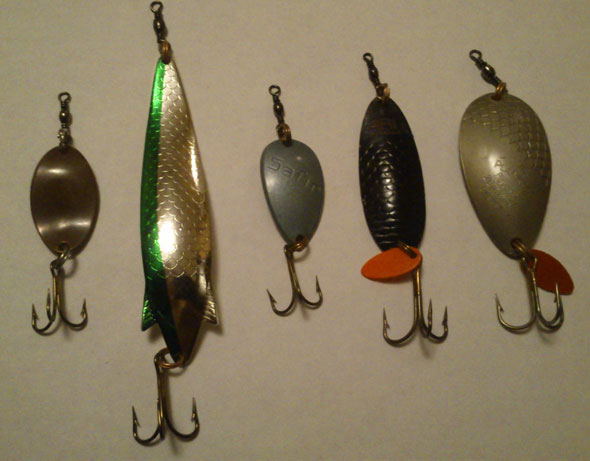 My friend Wolfgang from Germany has kindly shared some of his prototype colours found on original ABU Toby lures here.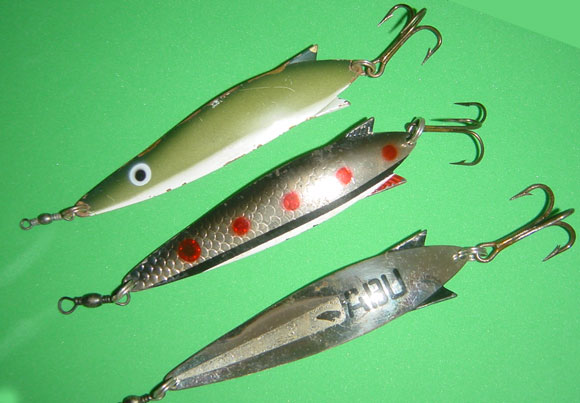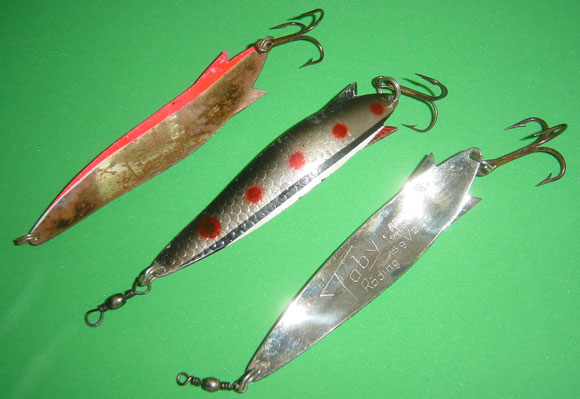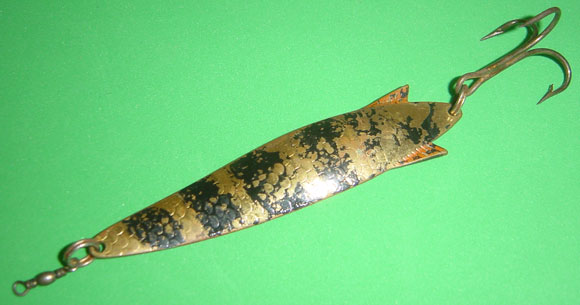 I am sure there are more experimental colours out there yet to be 'discovered'


Other colours on some ABU Wobblersan>
By far the most colours were afforded to the Hilo with some 12 standard colours used for decades and up to an extra 4 colours that I know of have been tested. The old original Killers sported 10 standard colours and I know of no specials, though shade variations can be found, caused by less quality control and different materials used over the decade they were produced for. Only 7 Kynoch colours were produced and sold by ABU. Cello and Cello Dip were produced in only 4 colours. Killers and Snoky utilized the same 3 metallic sheen colours but USA cousins produced by Rebel and others were more numerous in colours available.
Offical documented colour, but short running XBG , known as brown/gold, only seen on Hilo in 26g and18g sizes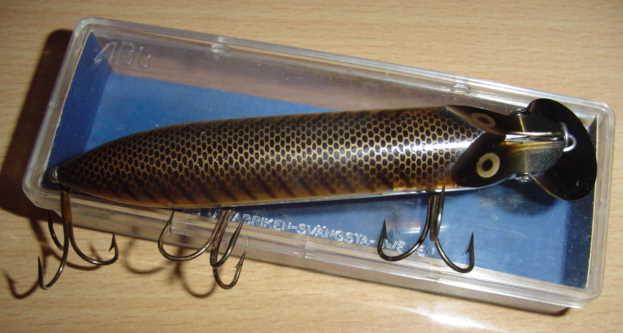 Beautiful official ABU proto shades, colour name unknown shared by my ABU mate Derrik from Germany.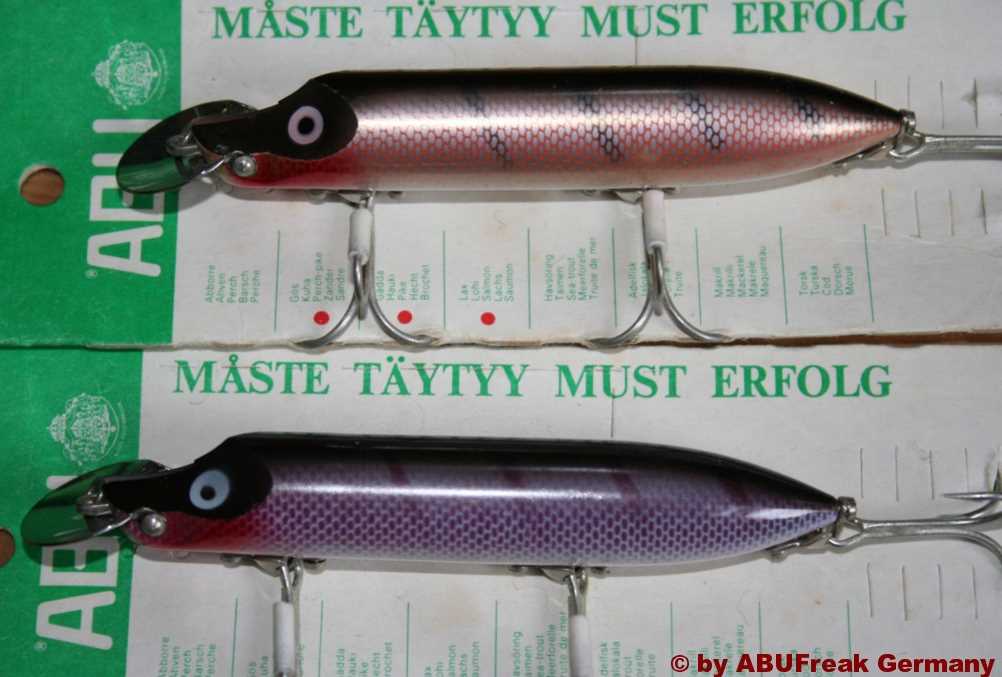 Another White/Pink colour experimented with on Hilo
It became reality and was produced for sale on the Kynoch , lasting just from 1973 to 1976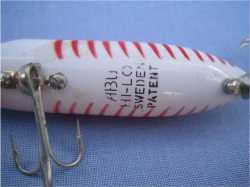 Another experimental colour Hilo which I hope will be soon in my collection is this unfinished factory sample colour reputedly called KO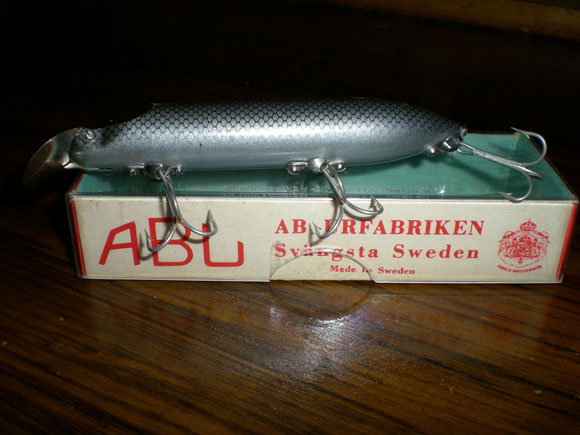 Unfinished examples ocome to light occasionally showing the clear plastic body and internal compartments/components and the working of the depth controlling adjustable bib. Soon i hope to add an example with internally sprayed 'glow' chemical paint used to create the LYS versions of Hi lo and Kynoch.

An un-named , undocumented 'black/silver colour Raken in large size is one of my rare prototype colours.
I have a friend Derrik, who owns the smaller version of the Rakan in same colour.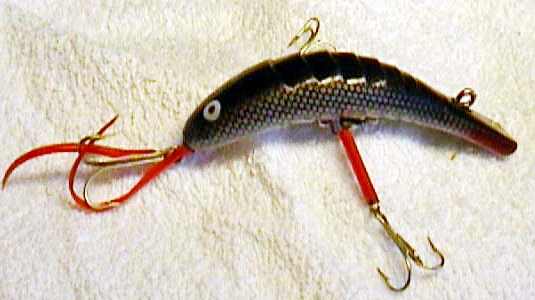 Thanks to friend Christian Lindstrom for supplying your Rakan proto colour.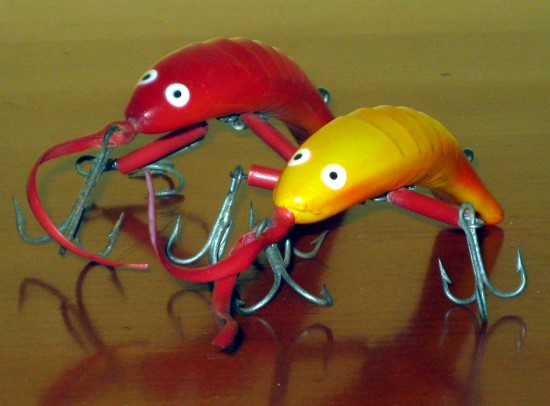 If you know more , please share images and I would be happy to purchase if for sale.
If you have any other lures, that are un-needed or doubles in your collection and are available for an> swapping or a reasonable fee, I would be very pleased to hear from you.