Collectors
Lures.
A work in progress which all will appreciate I'm sure!
Many thanks to Mike, Derrik, Rob, Henrik, Hans, Steen, Uffe and others in the future
Record ABU Lures by the Decade 40's, 50's, 60's, 70's, 80's
The Hogbom Spinner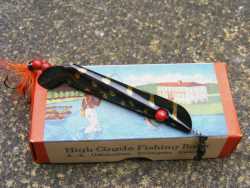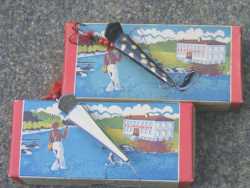 This bait was originally designed and manufactured by the engineer Bertil Högbom to catch Salmon on the River Mörrum.

In 1945 Abu obtained the rights to manufacture and sell their version of the Högbom Spinner and did so until 1951. Abu made them in 3 sizes - 12 g /2", 20 g /2.5" and 25 g /3" which were designed to catch Salmon, Sea Trout, Grayling, Pike and Perch.

The pictures show a 3" version with the red bead acting as an "eye", in Zebra and two 2" models, one in Chrome, the other Zebra.

The 2.5" model was reprised by Abu between 1968 and 1976.
Recent Addition by Wayne
John Fishkat has kindly supplied this Patent info, including drawing showing the 2 hook positions.

The first 3 below with red bead are the oldest versions in all three sizes. The three on the right are last production from 1968/1976. Of special significance to me is the D or green model which was owned by Vic McCristal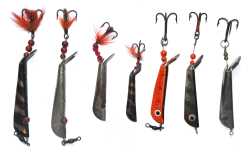 Pamplet from 1944 included with Record Casting reel.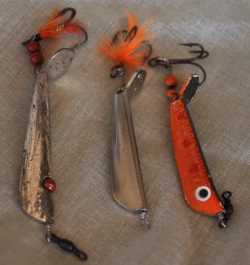 My own versions above are showing the later 70's version in orange (right) and the first 25 g 75mm chrome with eye bead (left) and 50mm 20g version in Chrome like Mike's above. soon two beautiful Z in 50mm and 75mm size will appear here.
Back
to
Record ABU Lures by the Decade 40's, 50's, 60's, 70's, 80's
I am attempting here to create (with the help of others), the greatest collection of illustrated information about Record ABU lures ever collected together and freely available for all to learn from. Obviously image copyright for alternative publishing purposes always remains with the owners.
Please feel your input, help , criticism is very welcome and I look forward to expanding with network of Record ABU lure collectors and appreciators.
Contact me here to assist.
If you have any other lures, that are un-needed or doubles in your collection and are available for swapping or a reasonable fee, I would be very pleased to hear from you.