ABU Garcia USA Advertizing.
circa 50's
(pictures below explanation)
The success of ABU's product line, which ultimately stems from 1 st class products, also has to be recognized that penetration of the very large USA market, as well other markets around the world, saw it as a global force to be contended with for the last 7 decades.
They were various evolving catalogs from The Garcia Corp. and Charles Garcia created to promote the ABU line.
Apart from these obvious ones, my friend John (Fishkat) has discovered and in time will scan images from quite a number of other magazines in the USA and will be linked from these very early prestigious titles centred below. Obviously the first 3 started long before the existence of A.B.Urfabriken and Charles Garcia, but did deem ABU advertizing quite worthy and accept it at the behest of Charles Garcia in the 50's.
***Useful USA advertizing from other magazines can be found by scrolling down to the links on the bottom of this page**
The Charles Garcia Corp and The Garcia Corporation
(various calalogs/annuals/magazines)
more to come here soon....
Early Garcia Annual and Catalog List courtesy of Fishhawks (Dan) post on ORCA website and catalog bought from John (Fiskat)

These are rudimentary effors before the Word "Annual" used.


1952 Annual
.....None. Consumer catalog was a 5"X7" Garcia folder with inside pockets that held CAP & Mitchell Instruction Manuals & individual sheets advertising various Garcia products
No bound catalog; a folder with pockets. Maybe you have some of those 5x7 inch sheets posted?
1953 Annual
.....Comprised of Garcia Spin Fisherman quarterlies, with small orange consumer catalog with Salt Water Half Bail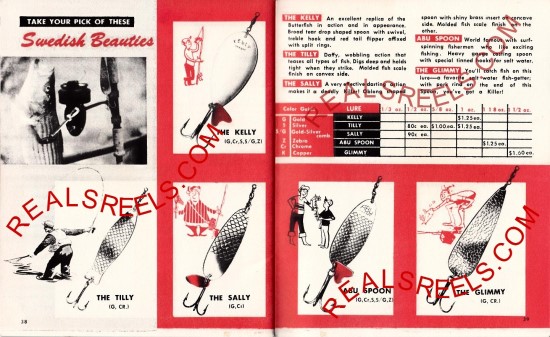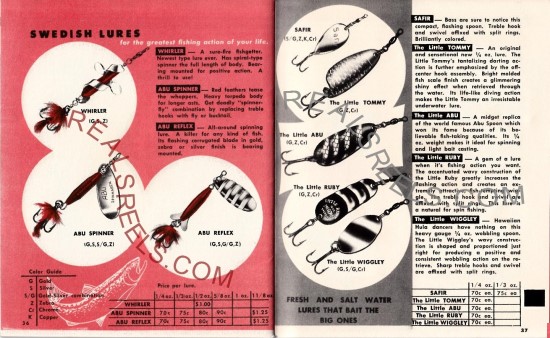 Got this one. Slightly smaller than 5x7". He (Dan) must mean Garcia Salt Water Half Bail inside, not on cover.

1954 Annual
.....Comprised of Garcia Spin Fisherman quarterlies, with Vol. 2, No 3 being both the consumer catalog and the regular issue Spin fisherman(hardback version available also)
Got this one. 5x7"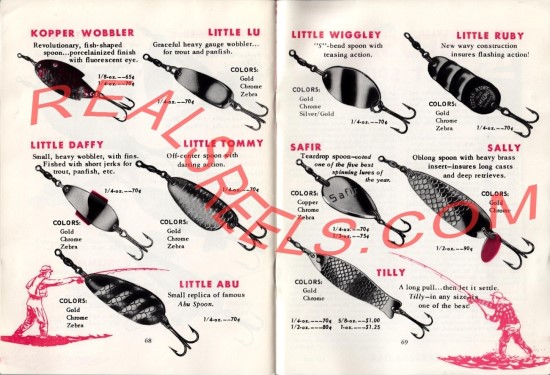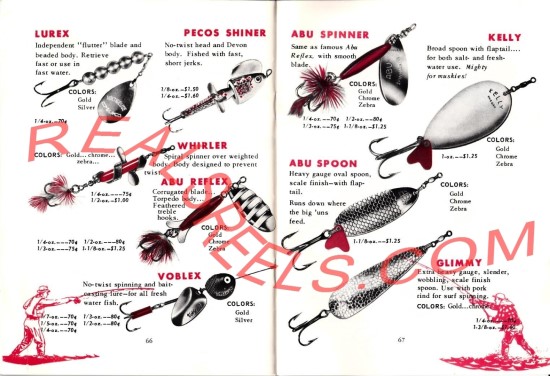 Images from 1954 Trade catalog (found some time ago on the 'net but not owned)
Main information discerned here is that carded "dozens" for at least 7 popular ABU lures were available from this time in 1954.
1955 Annual
.....Comprised of Garcia Spin Fisherman quarterlies, plus 5"X7" consumer catalog with "1955" on cover, showing Mitchell Salt Water with 1st full bail on p. 7
Got this one. 5x7"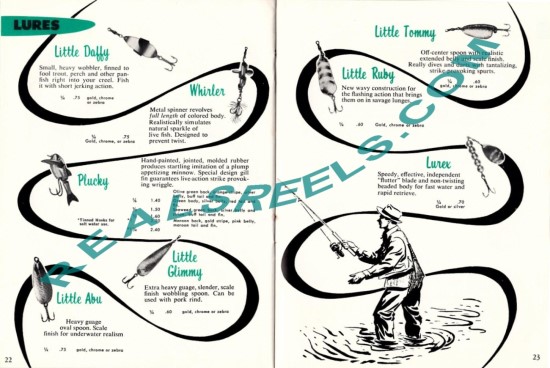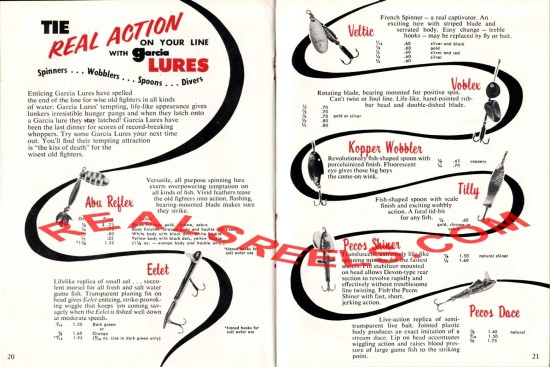 1956 Annual
.....Comprised of Garcia Spin fisherman quarterlies, 1 with F&S contest affadavit, plus 5"X7", undated consumer catalog, showing Mitchell Salt Water with 2nd full bail p.7
Got this one. 5x7"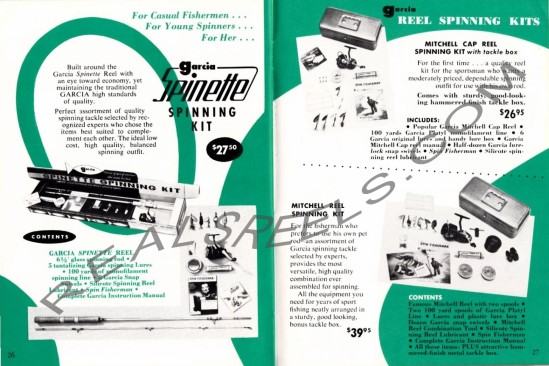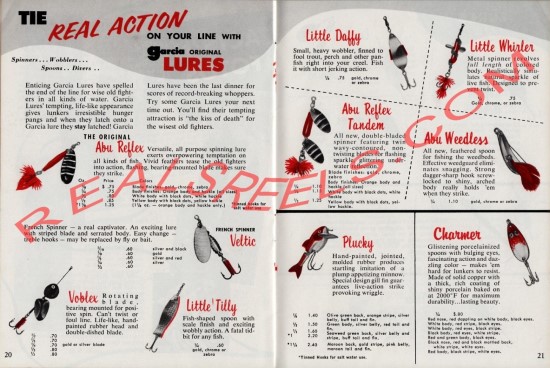 Versions Where The Word "Annual" Was Included
-----------------------
1957 Trade Catalog and Annual
.....Issue with F & S contest results, First issue. Reel Prices same as '57 Trade catalog prices
Got Trade Catalog 8.5x11"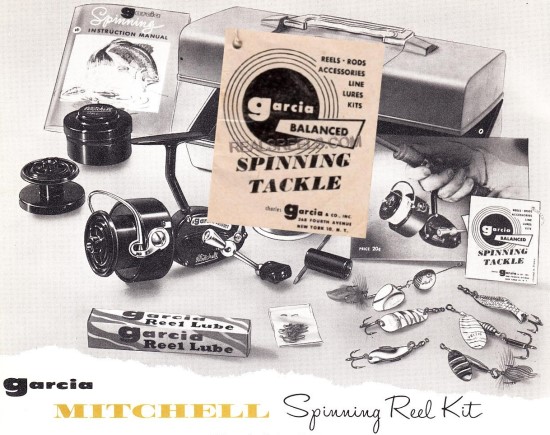 1958 Annual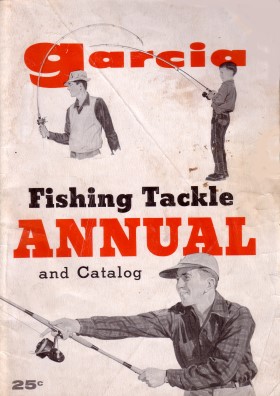 .....Issue with pages dedicated to magazines F & S, OL, and SA, same cover as '57. Reel prices different from '57 Annual. Match '58 Trade catalog prices
Got Trade Catalog 8.5x11"

1959 Annual
.....Issue with 1959 copyright date, new cover, listed prices for reels same as '59 Trade catalog
Got Trade Catalog 8.5x11"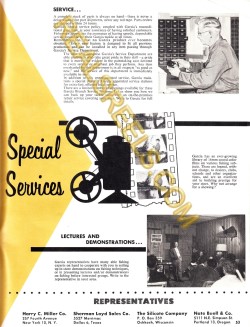 Back to other Garcia Advertizing
1980's