Collecting ABU 101
This hobby can comprise gathering all things from rods, reels, lures, paperwork, clothing and memorabilia.
Along the way, I collected 10 other than ABU Swedish reels (below picture).

I collected these for comparison purposes and photographing.
They are available for swapping and re-homing now if of interest to anyone.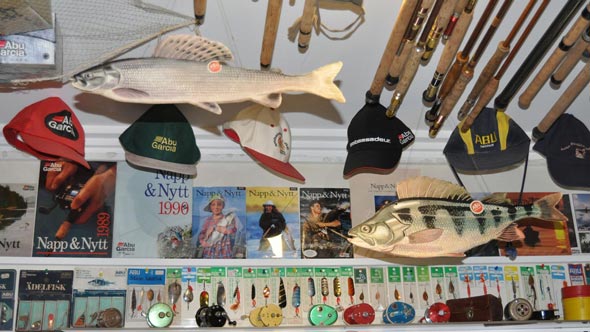 Some typical ABU reels one may be interested in collecting are from these types, such as Abumatic, Ambassadeur, 500 Series, Fly, Mooching and Spinning reels.
General details of the www.realsreels.com Collection
Specific details of items in my Collection
Good Collecting Advice to follow, if you use Auction sites
It does not matter how much a person is willing to pay for an item on Auction sites,
if the seller
uses a shill bidding account (either one of their own or that of a mate) to raise the price, then an offence has been committed.
The scam can be done several ways

1....the mate bids high enough to win, which exposes the under-bidders' maximum bids. The seller can then go down the list offering the lure either as a private sale or a "super quick Buy-it-Now on eBay"

If you are ever offered this kind of deal and you want to go along with the mongrel then you should never pay your maximum bid. You should only pay one bid above the bloke below you on the list.
2...You win the auction but you notice that an apparently dim-witted bidder (usually with zero feedback,
maybe one or two at most and then only from this same seller) has had multiple little nibbling bids to push you to where the seller is happy.
3...Most obvious scam is where the nibbling bidder actually gets ahead of you and then withdraws their
winning bid saying they had made a mistake. You should never pay the mongrel seller under this scenario. They may threaten you with negative feedback but I doubt they would have the guts to do it.

There is a lot of information still available on auction sites even with the crappy secret bidder rules. The feedback system and following the seller's completed items over some time can be quite useful.


The over all point is to be wary, (buyer beware!) not every seller is a "good guy",
however,
One can make wonderful lasting friendships with "good guys" who would never have crossed your path.
I have already visits from new friends in Europe who have enjoyed fishing here and with whom one day I will fish in Europe!

All of this said, it is quite remarkable what ABU varieties one can accumulate with persistence, patience and some good luck, not to mention a fund to support ones passions! This is most especially so, for those of us who live in rural areas without access to other means of finding the objects of their desires, like garage sales!