Realsreels.com Favourites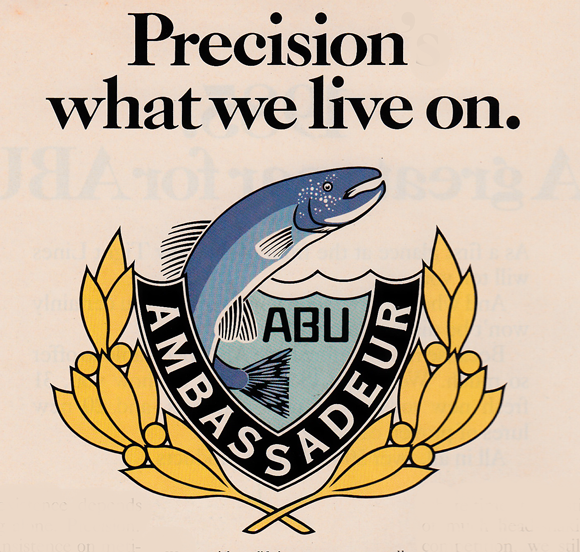 Enjoy linked from here, possibly one of the more complete collections of A.B.Urfabriken fishing equipment in Australia, and hopefully in time, one of the premier collections in the world.
All are unique or special to my collection in some way, but the long enduring Ambassadeur ABU tennant of Precision has applied now for over 60 years.
The reels comprise both outsourced items, prototypes as well as normal "in-house" factory produced items from the early 1940's to the classic 1980's period when ABU went offshore to Asian creation for varying amounts of production.
This was the case for all lure production and incidentally also was the time when many considered these lures not worthy of collection. I can vouch for the fact that they fished just as well and in some cases , great innovations were made but still the the mystique of Swedish craftsmen making the items on the banks of the Morrum River at Svangsta was lost.
Examples of the of the post 80's Swedish production targeted at Japanese buyers were the Morrum casting and Suvaren spinning series of reels well as some beautifully finished and responsive carbon/graphite rods.
It has been a labor of love to accumulate this collection over 55+ years, starting very modestly with just lures, eventually leading to my very definitive and wide ranging room full of ABU items grouped and classified and shared via my website. ABU themselves started their Museum in the late 70's at Svangsta Sweden, with Henning Karlsson's tireless efforts to merge machinery, rods, reels and lures into a living history in the first old ABU factory building. Sadly I never met Henning but his gifts to me ie the 2 ABU desktop timepieces keep local and Svangsta time!
I wish I had a larger amount of space , instead of my single spare room in my house. My collection here shows my passion for, and dedication to displaying and documenting for future generations in a more domestic space.
I have now placed clickable thumbnails of my favorite (but by now means all) Ambassadeur casting reels or groups of reels below and throughout this page.
Here you will see boxed reels, numerous commemoratives, prototypes and bare reels from the Record , Pebeco and Willian Denninghoff (WD made byA.B.Urfabriken fro these two companies) and ABU as well as later ABU Garcia marques.
Maybe when time permits, I intend to link a selection of my favorite other style reels from the
Record Spinning, ABU Spinning, Abumatic, IGFA, Fly, 500 Series, and Pimple marques.

Casting Reels: Record and Ambassadeurs ( here displayed >100 )

My rarest, most special reel is Ake Murvall's personal Record Ambassadeur 5000 SG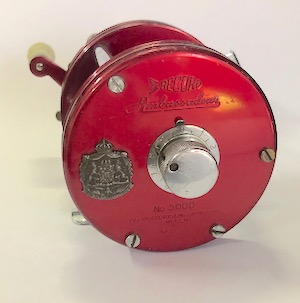 Next is the very limited transition reel, the Non Record Non ABU Ambassadur 5000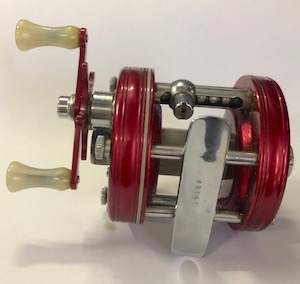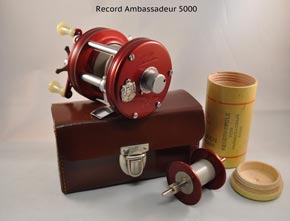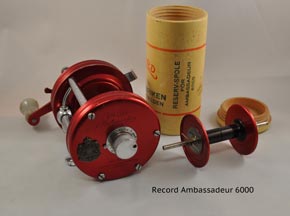 Family of 9 Record Ambassadeur, as wel as 5000/6000 sizes, and transition reel, there are many differences.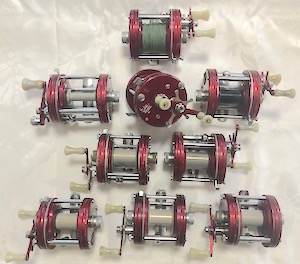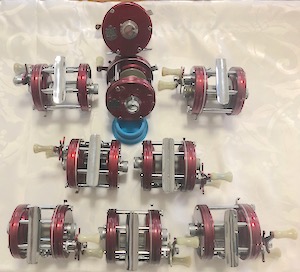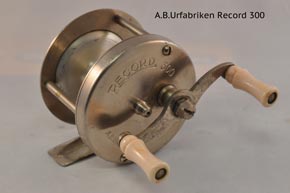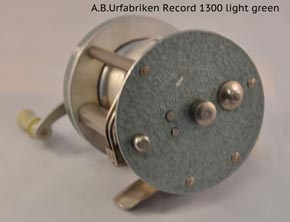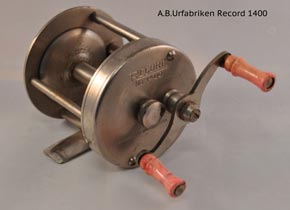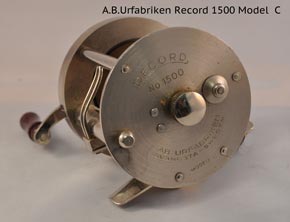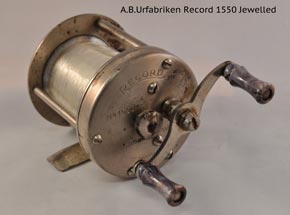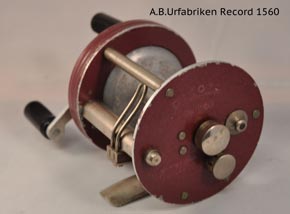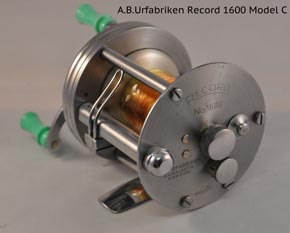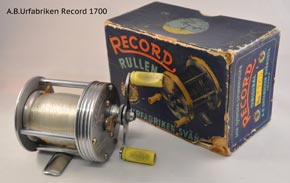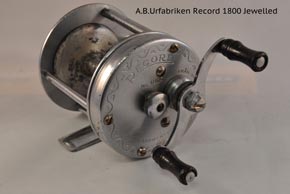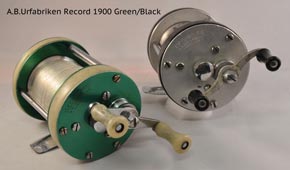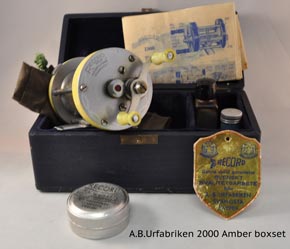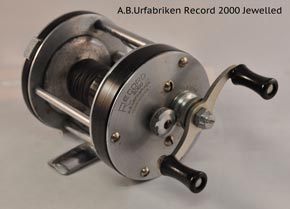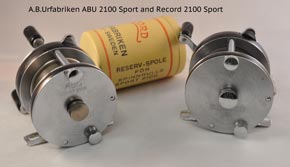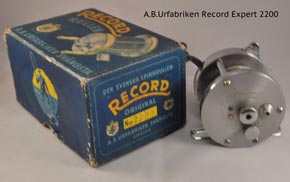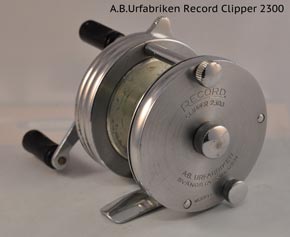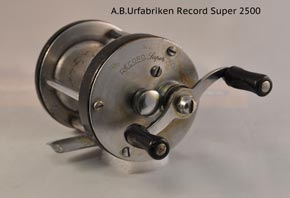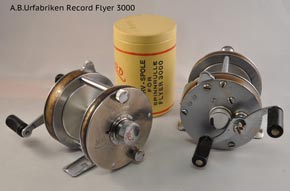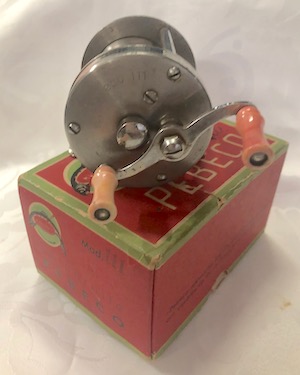 Record 1500 Green Seagrass box and Record/WD 1400 Blue Seagrass box and Record / Pebco 111 above.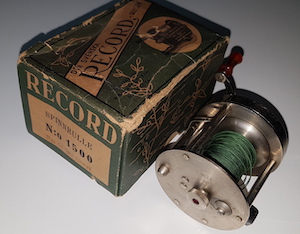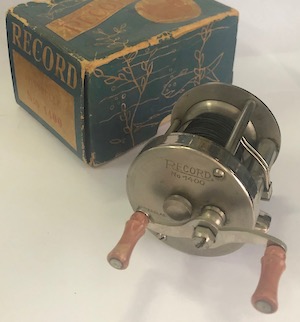 Fake Record 1300 named the Cadillac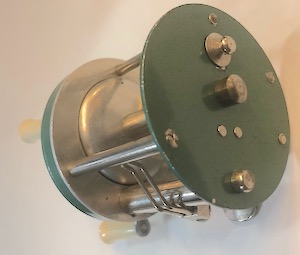 My Pebeco family, missing 444, 777, 999, 4 amd 5

Ambassadeur 5001 below and much later Ambassadeur 6501 palming plate left hand wind reels.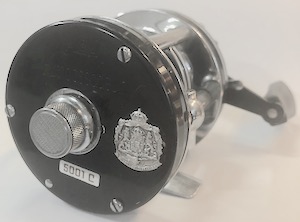 Ambassadeur 5000 Big A 4 screw and Mushroom screws with twin pearl handle Mint.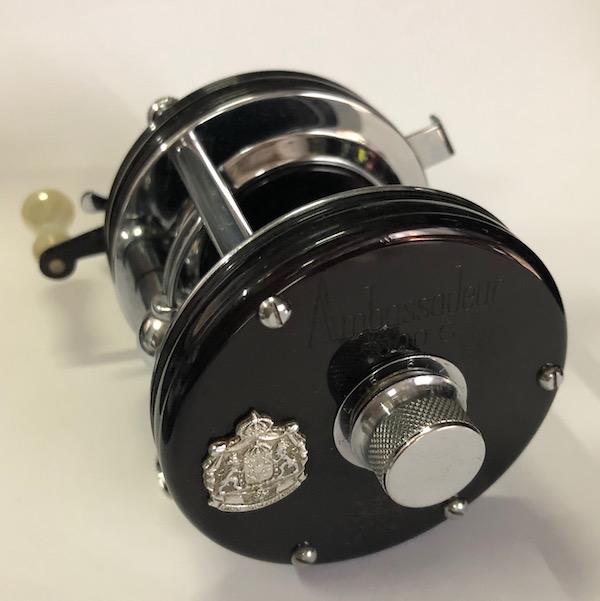 Ambassadeur 5000 C with 3 Mushroom screws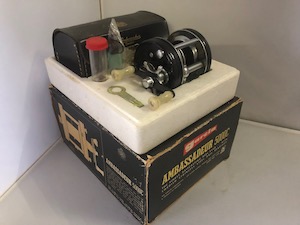 Ambassadeur 5000 C BIG A AND AMBASSADEUR 5000 C block logo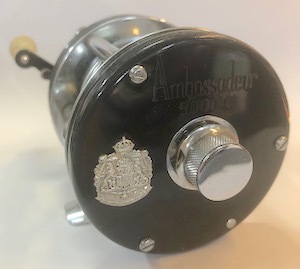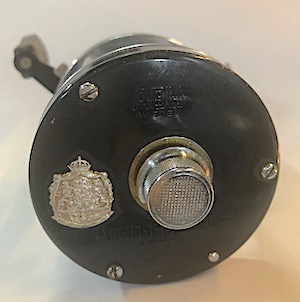 Ambassadeur 5000 D green with Power handle and Ambassadeur 5000 D teal/blue with paddle handle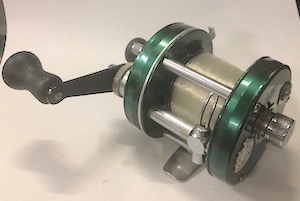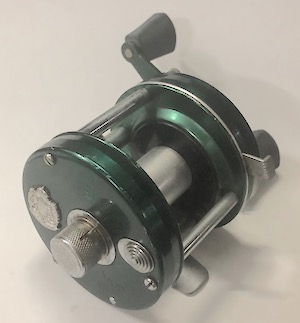 1977 Ambassadeur 5500 D green ,Foil logo (not engraved as in 1974/1976 above) , Ambassadeur 6500 CS Mag Elite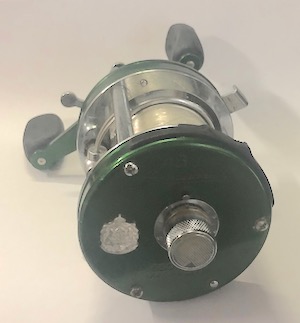 Early 4 Screw Ambassadeur 5000 in orange carton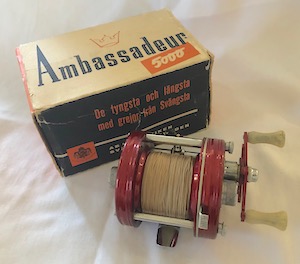 Ambassadeur 5000 B boxed and engraved 'B' on sideplate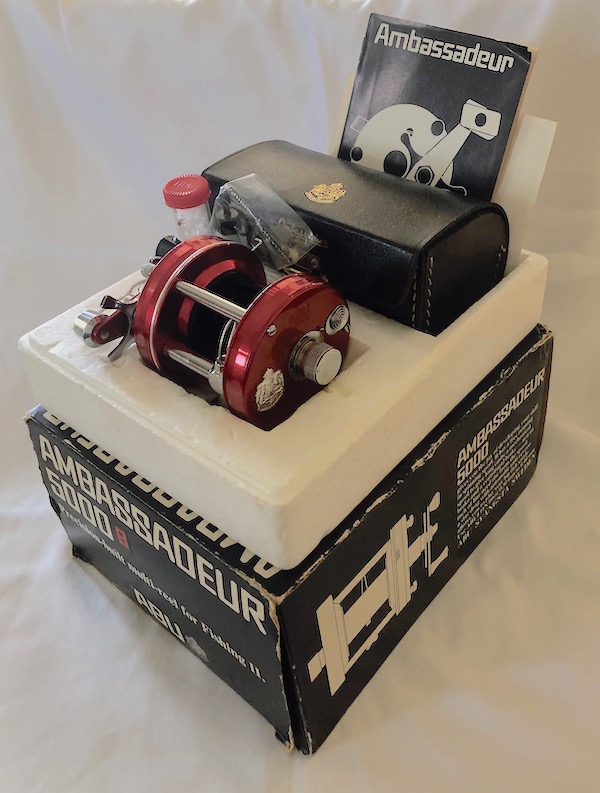 Ambassadeur 3 screw Reds, 5000 with Script logo and Ambassadeur 5000 A Block logo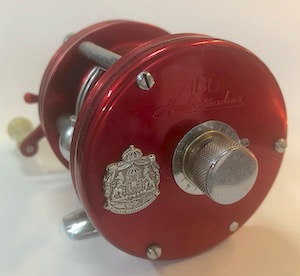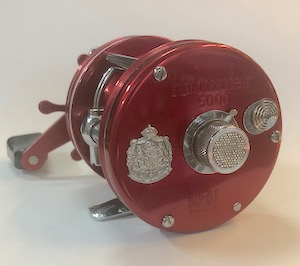 Ambassadeur 5000 Export with foil logo and Ambassadeur 5000 Rimfoil logo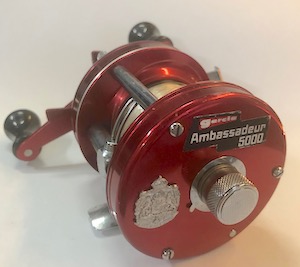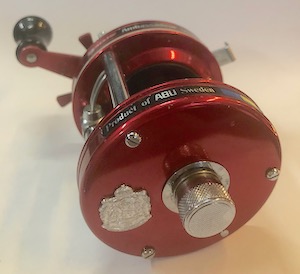 Ambassadeur 5000 A (deep red annodising) Ambassadeur 5000 No identification labels ??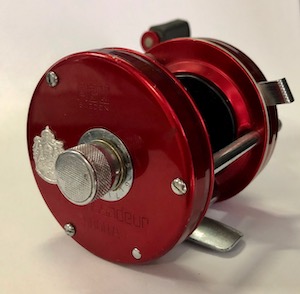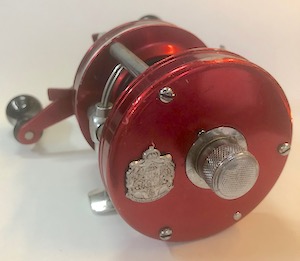 Ambassadeur 4000 D copper/tan and Ambassadeur 4500 D gun-metal grey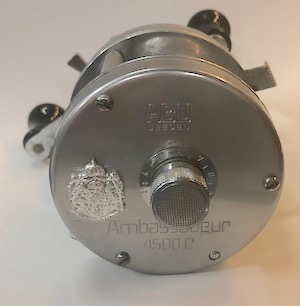 Ambassadeur 5500 D brown and Ambassadeur 4500 red with foil logo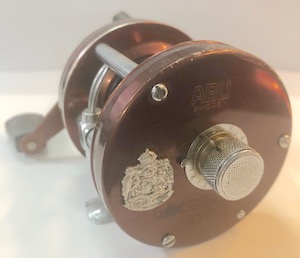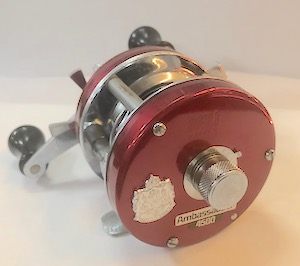 Ambassadeur 5500 C black and Ambassadeur 5500 red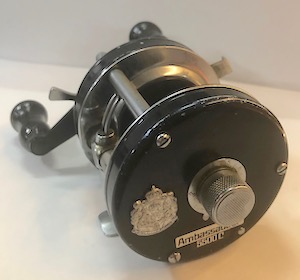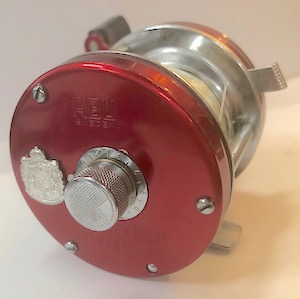 Ambassadeur 6000 C big A logo , Mushroom Screws and Standard slotted screws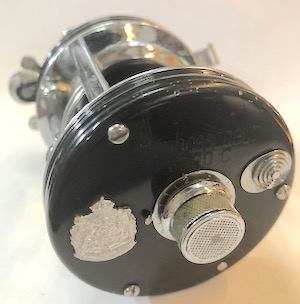 Ambassadeur 6000 C big A logo , bevelled rims and ribbedrims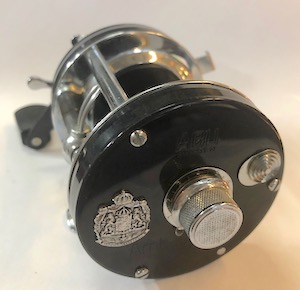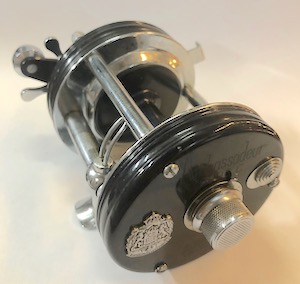 Ambassadeur 6000 Cursive script with twin handle winders and single winder Ambassadeur 6000 with big A logo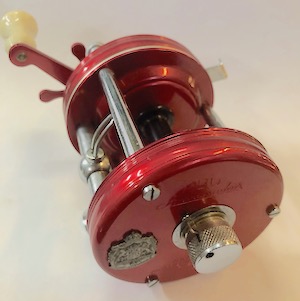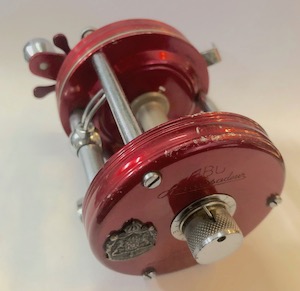 Ambassadeur 6000 Big A logo ribbed rims single handle and Ambassadeur 6000 ribbed rims, twin winder handle.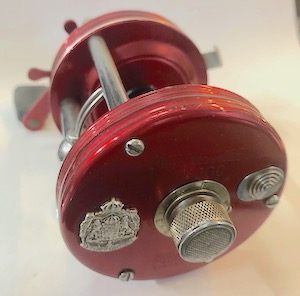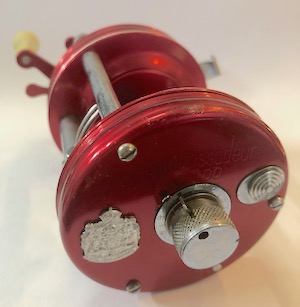 Ambassadeur 7000 Big A and Ambassadeur 7000 Block Logo, both with small twin handles.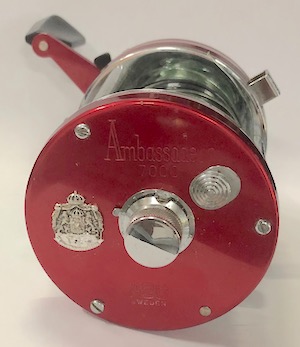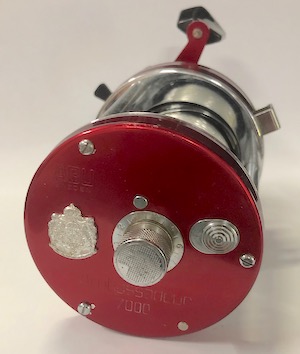 Ambassadeur 7000 Block Logo with one big handle and Ambassadeur 7000 C and one big handle.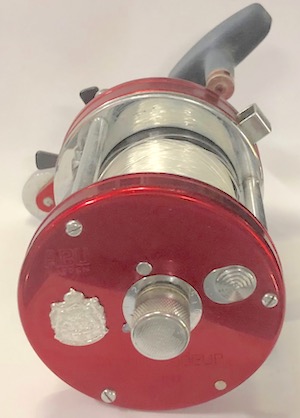 Ambassadeur 7000 with foil rim logos and Ambassadeur 7000 C Synchro with foil rim logos.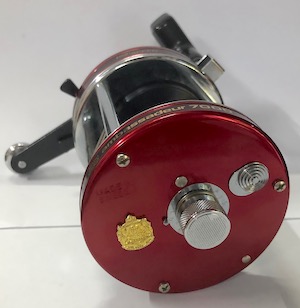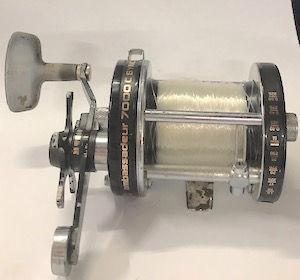 Cheaper FIVE, SIX, SEVEN, Nine CL and TEN series of Ambassadeurs.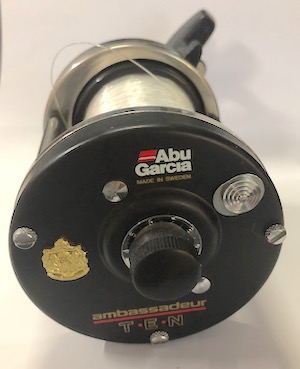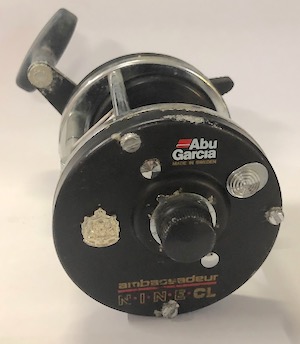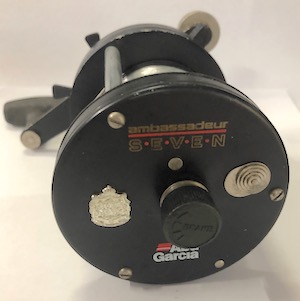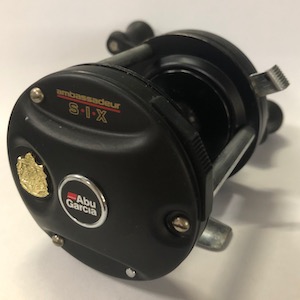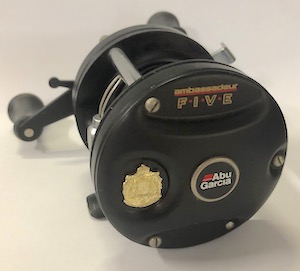 Ambassadeur 7000 C4 LD front and lever drag view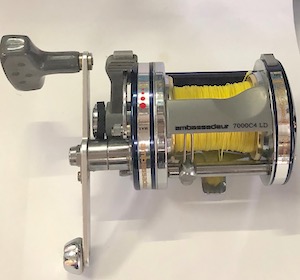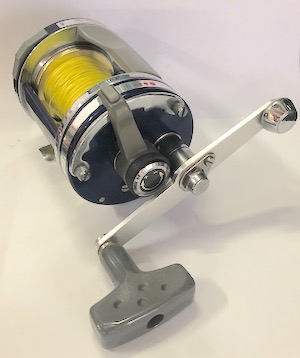 Ambassadeur 8000 foil logo with oblong handle and Ambassadeur 8000 C engraved , with large handle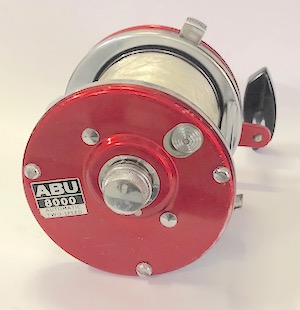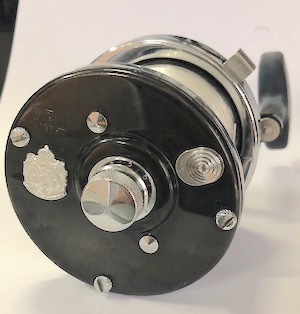 Ambassadeur Big A engraved 8500 with all blue paint removed to expose brass , original new Ambassadeur 8500.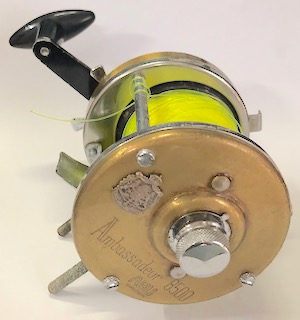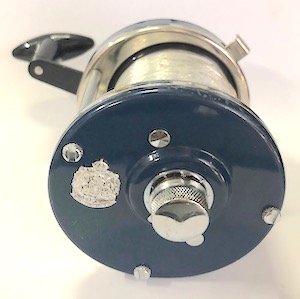 Ambassadeur 8600 export Striper brass sideplates and identical Ambassadeur 12 IGFA brass sea reel.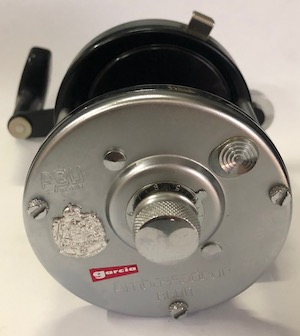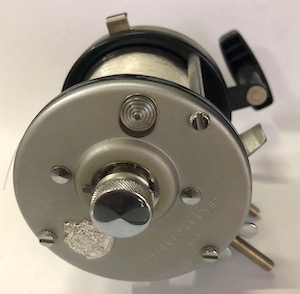 Ambassadeur 9000 Round Knob handle (first version) and Ambassadeur 9000 Torpedo Handle (second version)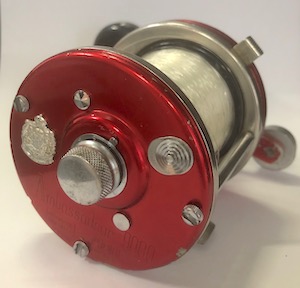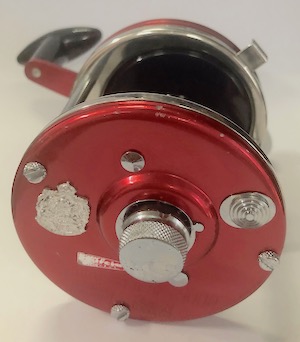 Ambassadeur Big A 9000 1975 and Ambassadeur 9000 CL levelwind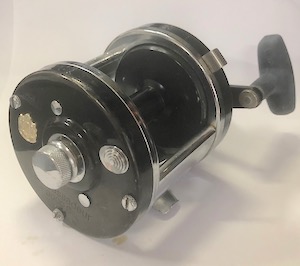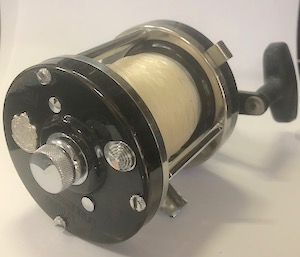 ambassadeur 9000 C twin casting bars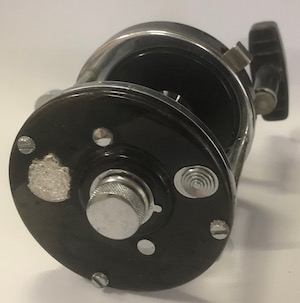 Ambassadeur 10 000 CA round knob handle and Ambassadeur 10 000 C Big A torpedo knob handle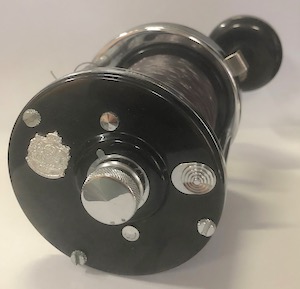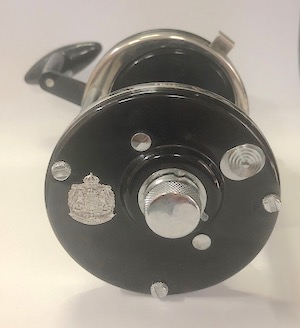 Ambassadeur 10 000 C Garcia export model and Ambassadeur 10 000 CL levelwind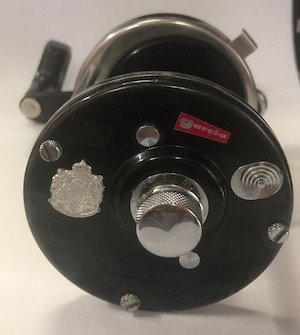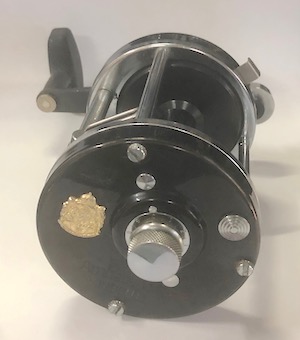 ambassadeur MAG 1 and Ambassadeur XL PLUS with one click easily removable spool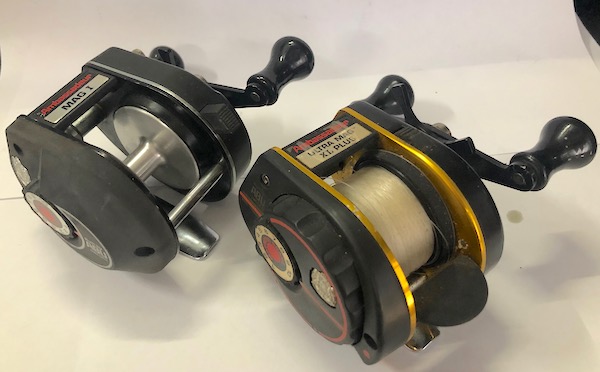 Ambassadeur XLT 3 SYNCHRO hi speed and Ambassadeur Mag 3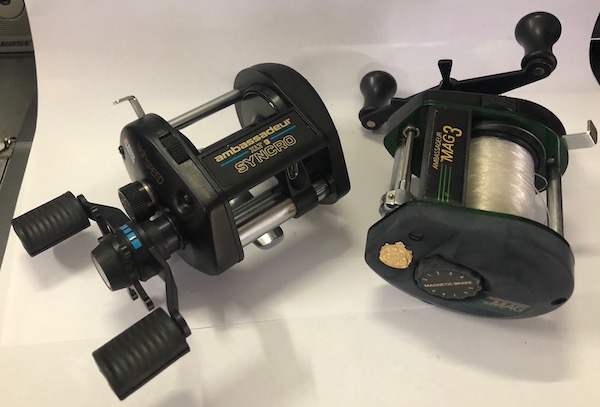 Ambassadeur ULTRA MAG XL IV and ambassadeur ULTRA MAG XL 5 , largest ABU reels except for IGFA.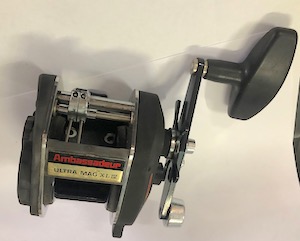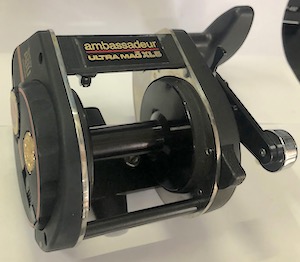 ambassader 323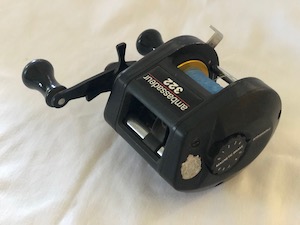 ambassadeur 522 Standard and Mag Tuned casting ambassadeur 522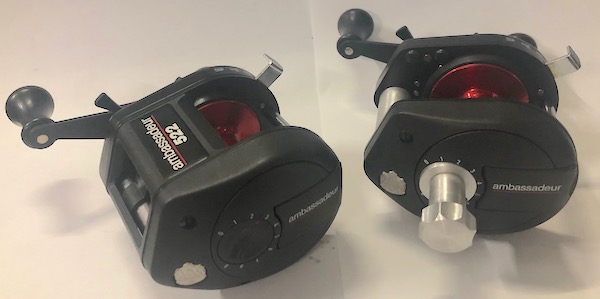 ambassadeur 523 and big brother ambassadeur 823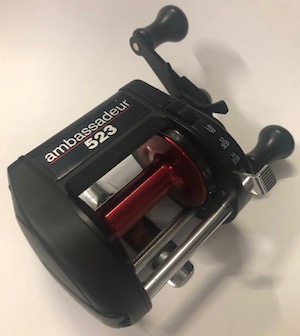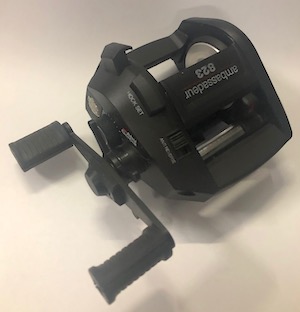 Export version Ambassadeur mag /// 3 and Ambassadeur 6600 Tournament Sample Reel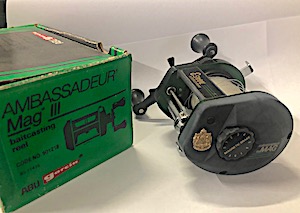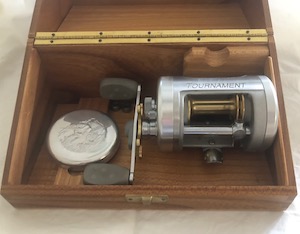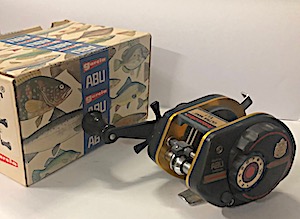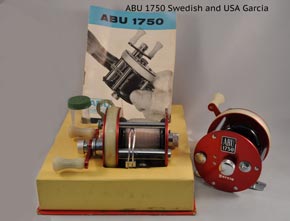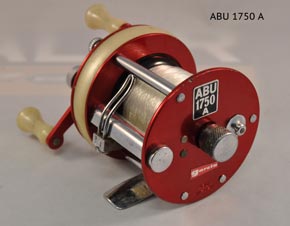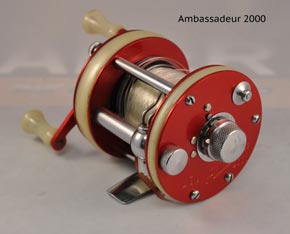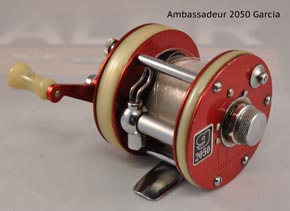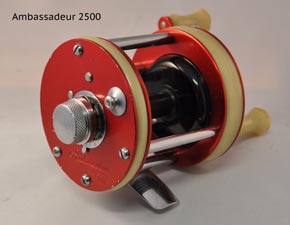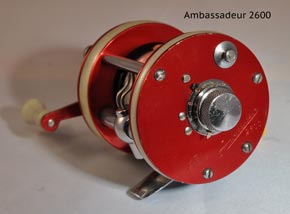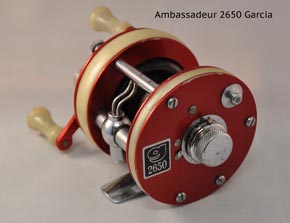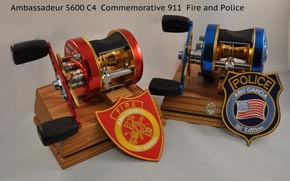 Ambassadeur Revo Beast and Ambassadeur Revo IKE Limited Edition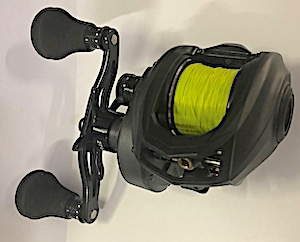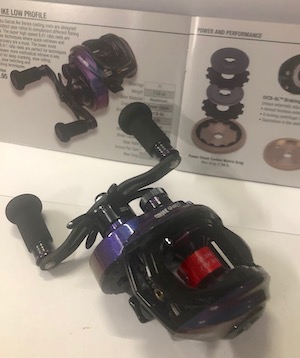 Ambassadeur Revo Gold Limited Edition Australia and Ambassadeur Revo Inshore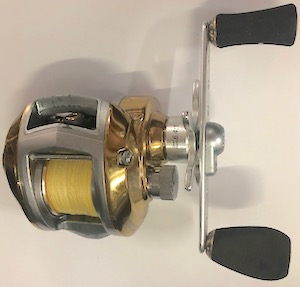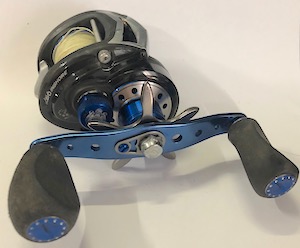 Ambassadeur Revo 1003LP and Ambassadeur Revo SX 11 bearings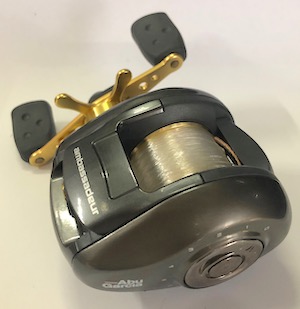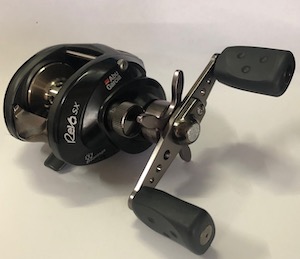 Wooden boxed Sets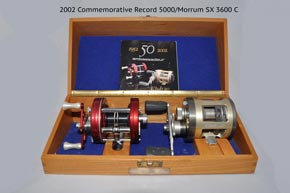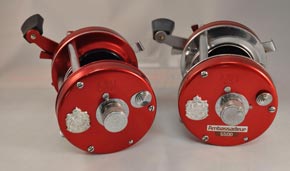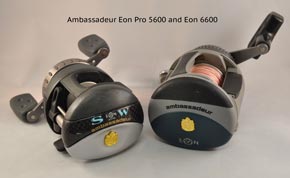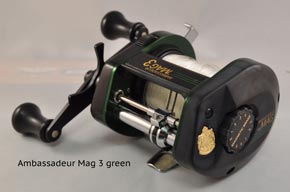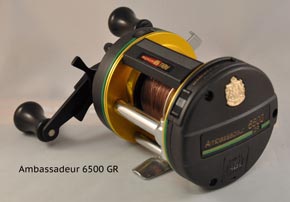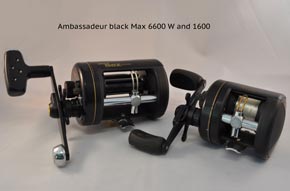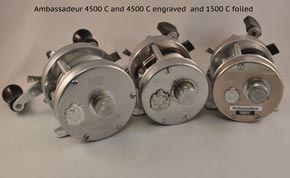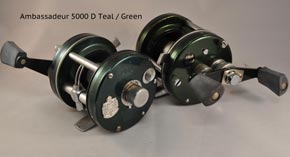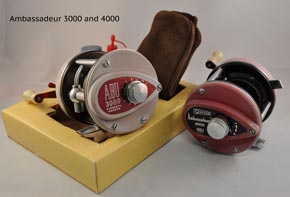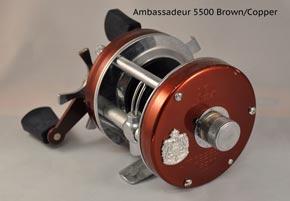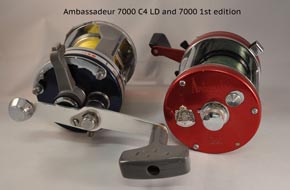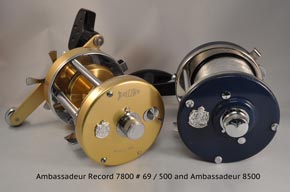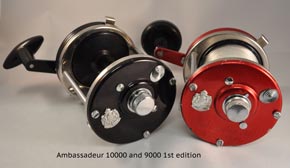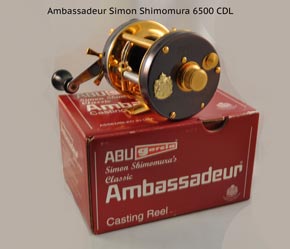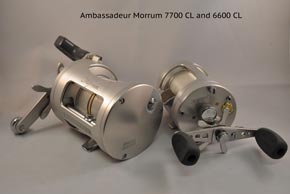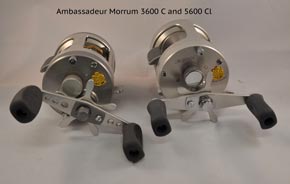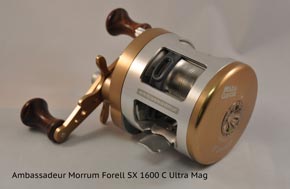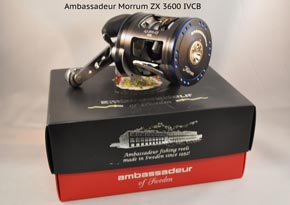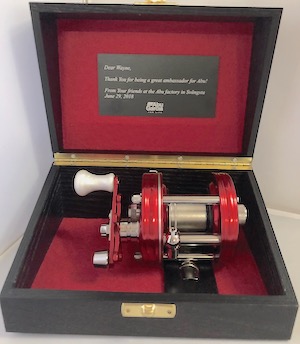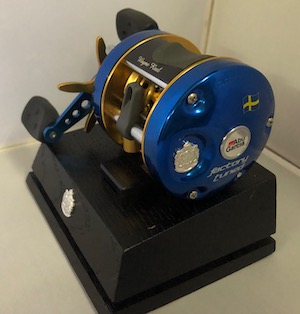 ABU Svangsta presentation to me over the years, actual visit in 2018 and my retirement!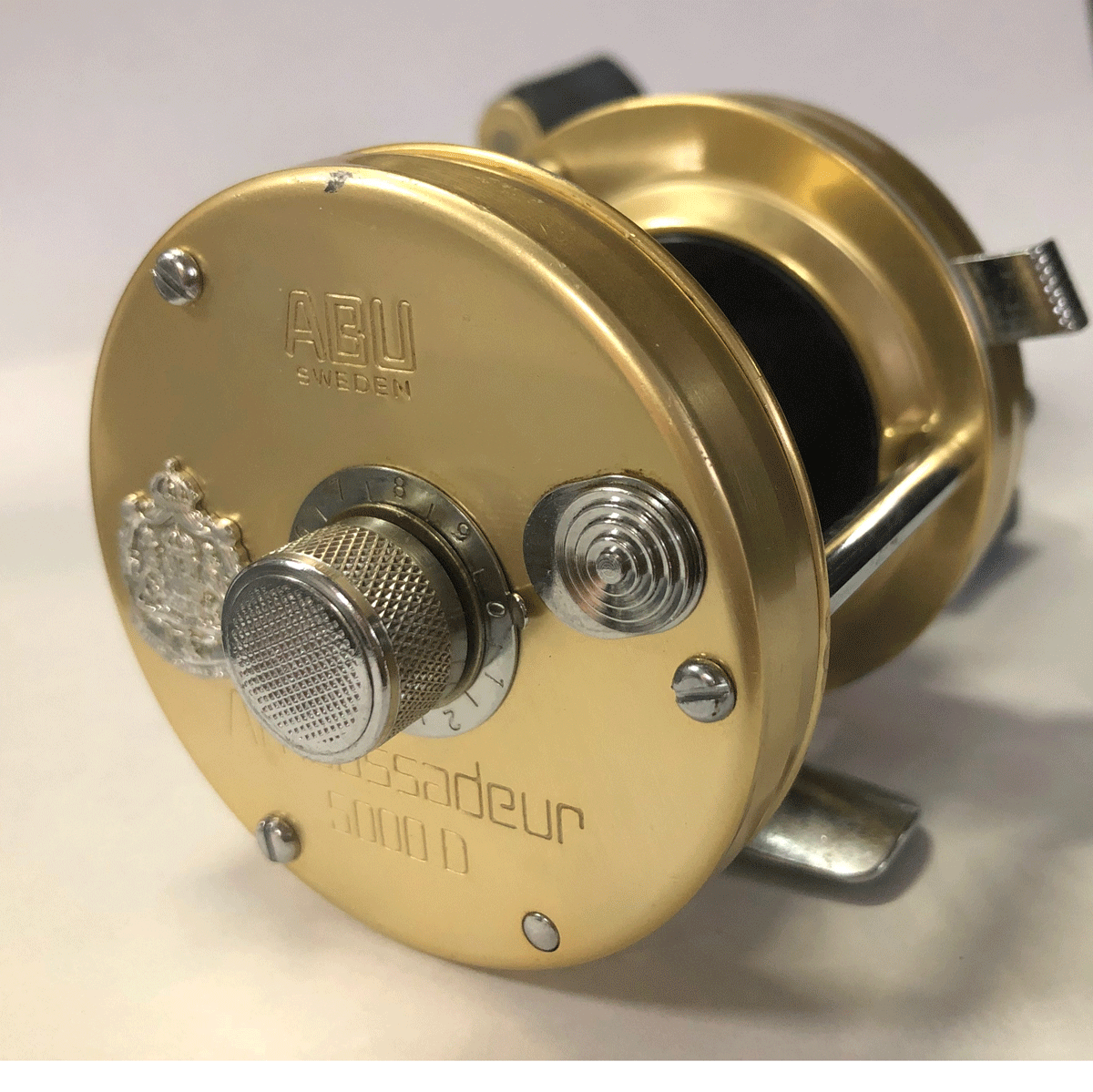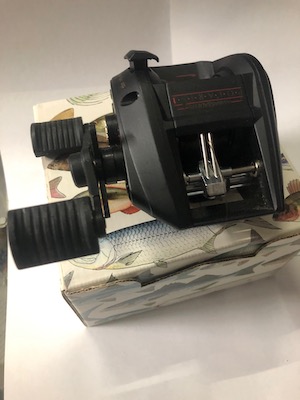 Champage Gold 5000 D and Polaris high tech reel from Per Erlandsen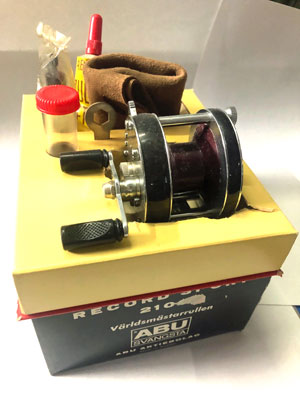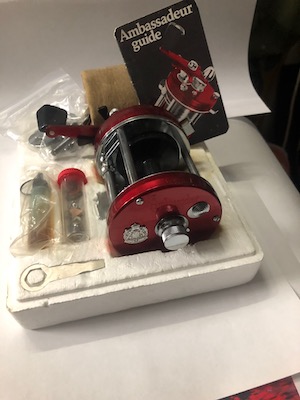 Record 2100 Sport with magnesium spool and big A Ambassadeur 7000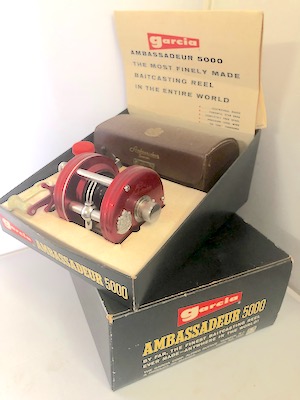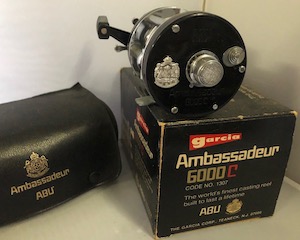 MIB export Ambassadeur 5000 and also MIB Ambassadeur 6000 C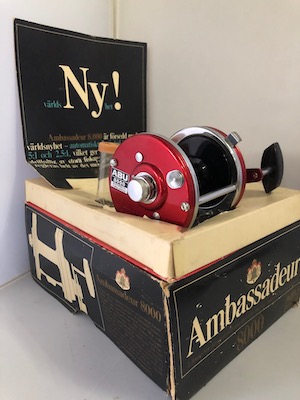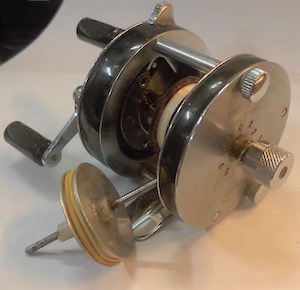 First edition Swedish Ambassadeur 8000 and a Record Sport with tournament casting spiderwire spool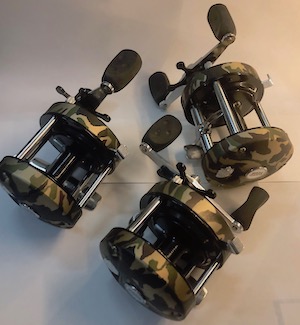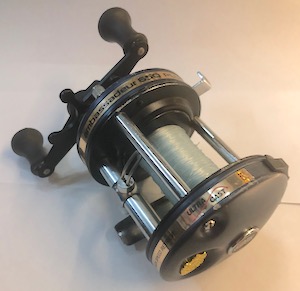 Family of 4500/5500/6500 Ambassadeur Camos, and Ambassadeur 650 Plus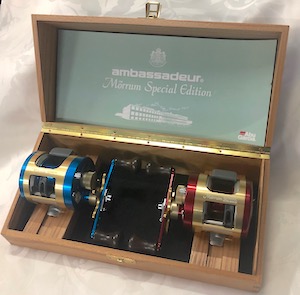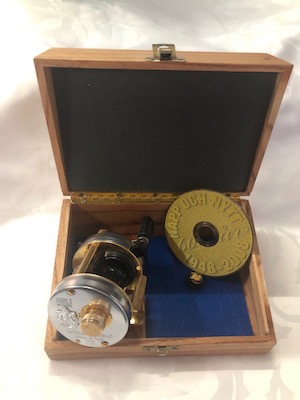 # 39/65 left and right hand Morrum 1601/1600 C and the Ambassadeur Napp och Nytt Gold edition with CD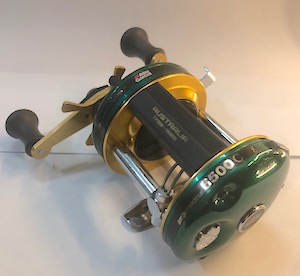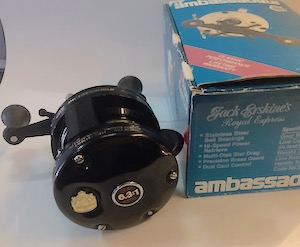 Ambassadeur 6500 C Australian Bicentennial and Jack Erskine Express 6.3 speed named after my friend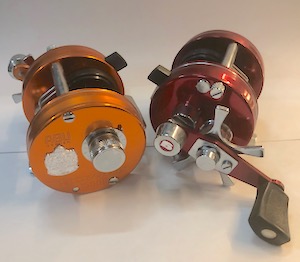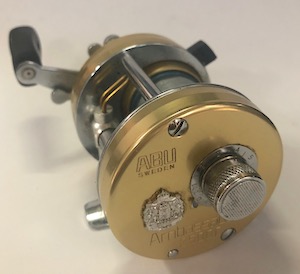 Burnt OrangeSunset and Burgandy Ambassadeur 1500 C and Ulf Tingstrom Custom Ambassadeur 2500 C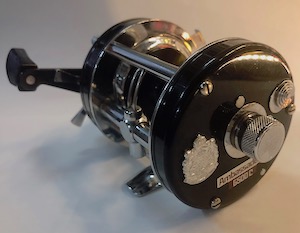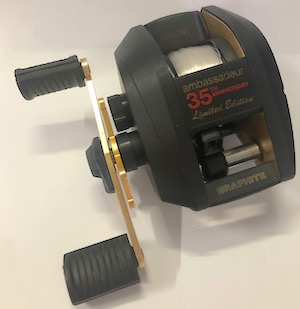 Ambasadeur 6500 C black and the new GRAPHITE 35th Anniversary Limited Edition Ambassadeur
Palming plate Ambassadeur 5600 A thumbar and the palming plate 6500 A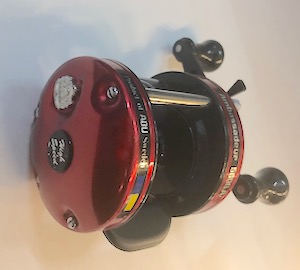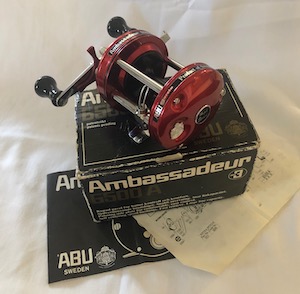 Ambassadeur 3500 C and Ambassadeur 5500 DA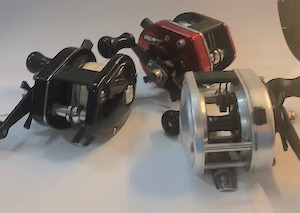 Ambassadeur 5500 Champagne Gold andAmbassadeur 1000 low profile colours (3)
More in time I guess!
I am most frequently e-mailed about ABU reel values. I am a collector and so do not set myself up as an expert in valuations. This is not so important to me as I never sell reels. I guess it is important if I have a double to trade/swap in order to effect a fair deal for both parties. I can certainly advise what I have paid and what I seen reels change hands for in the past. Prices vary over time, which i have found generally to be increasing over the last decade, though I am reliably informed that prices were higher 2 decades ago. Obviously we must compare apples with apples, and items need to be similarly matched , whether bare reels in good/excellent condition or Mint in a box with all accessories.
Some collectors will look only at pristine MIB items, like these above, whereas my view is that some items are only ever seen in lesser condition or one may not be able to afford to collect items which command the highest prices. I personally will always see value in collecting an item in what ever condition if it is rare and generally unavailable. Who would not want an an extremely rare ABU tournament cater combo rod and reel, quite possibly used by a world champion, as i believe only 40 of these were ever created by the ABU factory specifically for Swedish Tournament casters like Ake Dahlberg? One day, I may find one and add it to my collection.
As to a more exact valuation of this collection, I need to create some perspective here. Obviously Post Offices around the world are very happy with my large sums expended on 2500 items and perhaps 700 discrete parcels traversing the world over the years. Generally items such as they have to be scoured from overseas, and Australia whilst an early adopter of selling ABU from the 40's, still is at the end of the world!
In the case of very complete collections, the whole can be seen as being worth more than the sum of its parts, without even taking into account postage costs, because of the discipline involved in sourcing, amassing, collating and displaying (physically in cabinets and virtually on the website) Some items could be conservatively valued at 4 figures.
On showing my almost mint Ake Murvall personal Record 5000 SG in leather case, to managementment, they commented that it had no defineable value as it is unique and a one of a kind. How fortunate am I , to own this reel from the master!
My most expensive purchase was for a Mint In Box, very complete original 1963 Ambassadeur 5000 Delux, my rarest boxed Record 2000 with Yellow spacers was heavily subsidized and still others like the ABU/Garcia Admirals were a miracle to acquire and no idea of value is set. Some items were gifted to me by friends like Lennart Borgstrom and Uffe Edefur, both who havr helped immeasurably with my collecting, as well as family members of deceased serious collectors who were very greatful to see their treasured ABU items go to a good home and be shared on this website. At both ends of the scale, many lures may have been purchased for just A$5/10 , although some cost over 50X this! . Some are prototypes and being quite unique really are without value. ABU collecting has something for everyone! Choose your area of interest, match it with your budget and you're away!
Please write if help needed.

This collection would encompass thousandsof items , grouped broadly into 10 or so major categories, ranging from bulky or long items to minute spare parts. In sheer numerical terms, there are:
ABU Lures ( MinB, MonC, prototypes, used and my own unique 24 kt gilded collection of metal lures)
ABU reels (of all nine types) Ambassaeurs, Spinning, Records, Abumatics , 500 Series , Fly , IGFA , Pimpel , Mooching , other Swedish reels from Companies put to the sword by ABU, as well as the classic Ambassadeur copy reel from Japan.
Catalogs (N&N 1948 to 2013) All , English Tight Lines (missing 1961 only) and 9 foreign language Catalogs (still missing a sample of French, Spanish, Czech, Russian and Polish)
Miscellaneous Items (jewelery, pins, awards, cloth badges,, Trophies, crockery, clothing, Record and ABU scales, Record whetstone
Rods (steel, split-cane, solid-fibre glass, hollow glass, carbon fibre ) Missing is the ABU Tournament Caster Spiderwire rod, and any Boron rod. Numerous rod bags and even aluminium and plastic rod tubes.

Dedicated ABU books
ABU posters
All assorted gaffs and landing nets
Many, perhaps 1000's of spare parts numbered from # 100 to # 12 000 and happy to offer those in need of a rare spare!

A Mudmap of my ABU room
(changes over to accomodate new items.)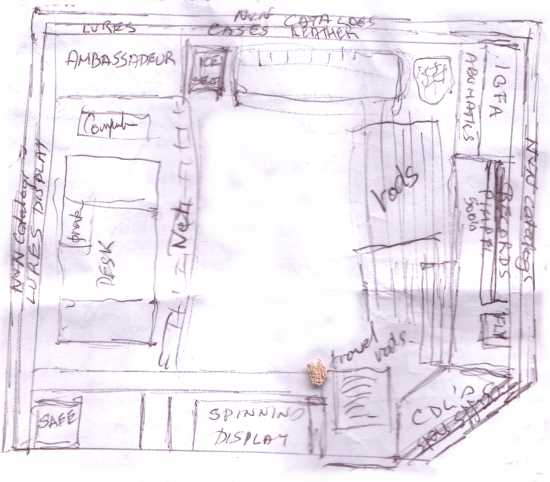 Everything is contained in just a 12 sq metre room , utilizing more than 30 sq metres of wall area , or rather should I say about 27 cubic metres. As more items are acquired and need to be accomodated, the layout is adapted to suit. The ceiling is utilized for rods and a suspended fishing net is used to hold empty reel boxes. The topmost section of all 4 walls is used as a frieze to display front covers of all my ABU Napp och Nytt catalogs from 1948 up to current 2019 (where I am lucky to have my Pilgrimage to Svangsta featured over a 4 page spread) issue with room for the upcoming decade.

After 2020, I'm in trouble! The English Tight Lines catalogs are stored in a conventional easy to access book shelf as they are constantly used to source answers to questions fielded by e-mail queries from around the world. Starting from the mirrored cupboard (which sport large posters), as one enters the room, we see the spinning reel collection atop the workbench and spare parts drawers.

On the other side of the doorway, we see the 6 shelf acrylic trapezoidal CDL cupboard. Immediately left, we see the fly reel collection and carded flys in an acrylic case. Moving further left, we see a low 2 pac painted cupboard with 3 large drawers holding boxed individual lures, boxed Must Set multiple lure boxes and with the lowest holding a variety of accessories such as spare spools, badges and doubles to my collection. Above this we have the ABU travelling salesman's Pimpel Case and the acrylic case containing Record reels and the 500 series reels.

Next left is a large timber cabinet which houses on lower level, the Tight Lines catalogs, ABU books and schematic collection; the second level the Abumatic reels and topmost level, the IGFA Game reels. Atop this I have 7 different combos set up, ranging from Record Pimple, Record Steel cost and casting reel, Record Ambassadeur 5000 and baitcasting rod, Abumatic and speedlock rod, Sueica rod and 501, Cardinal 3 and spinning rod and lastly the Delta 5 Fly reel and matching rod.

The arguably most beautiful reel, the $3000 + Ambassadeur 5500 CDL BASS is beyond my means. Like wise magnificent Simon Shimomura replicas commanding huge sums in the 4 figure range have not been collected, except for one, a magnificent MIB gun metal grey and gold 6500C model gifted to me by Gary Oswald. I decided to go original rather than a re-construction for my biggest acquisition.
With such a diverse collection, costing much in the last decade, it could be worth twice what I paid, given the time to collect and cost to display, not to mention inflation and difficulty of finding and replacing such items or the desire to own, by a well-heeled corporate or private identity with a similar ABU passion seeking to keep the name of ABU alive forever.. Providence or evidence of significant prior ownership, affects the worth/authenticity of an item such as my two pocket knives owned by owners Gote Borgstom and his son Lennart Borgstrom. Similarly prototype items with the same ownership are beyond value.

However , this is only academic as I intend to hold this growing collection for posterity and have no intention of selling for profit. Hopefully when I fall off the perch (in a long time) , my youngest son Declan and my first grandchild Jackson will continue with this collection. If this was to ever change due to illness, hard times , notification will be here to re-home this collection as a whole rather than breaking it up to sell on well known auction sites.The website and educational aspects are as important to me and those whose memories need to be kept for posterity.
ABU collecting is the most wonderful of hobbies, but be warned, balance, tolerance and patience are needed in full measure, in order for it to avoid it becoming an obsession to the point of it becoming larger than life itself! When fishing is forgotten or avoided, in preference to organizing one's collection, this must be taken as an indicator of a collecting addiction and a collector needing help.
I will happily assist anyone who feels the need to get back to their fishing and in the process divest themselves of their ABU! ;<)
Tight Lines
Wayne