Collectors
Lures.
A work in progress which all will appreciate I'm sure!
Many thanks to Mike, Tomba, Derrik, Rob, Henrik, Hans, Steen, Uffe and others in the future
Record ABU Lures by the Decade 40's, 50's, 60's, 70's, 80's

My personal Atom collection (lose)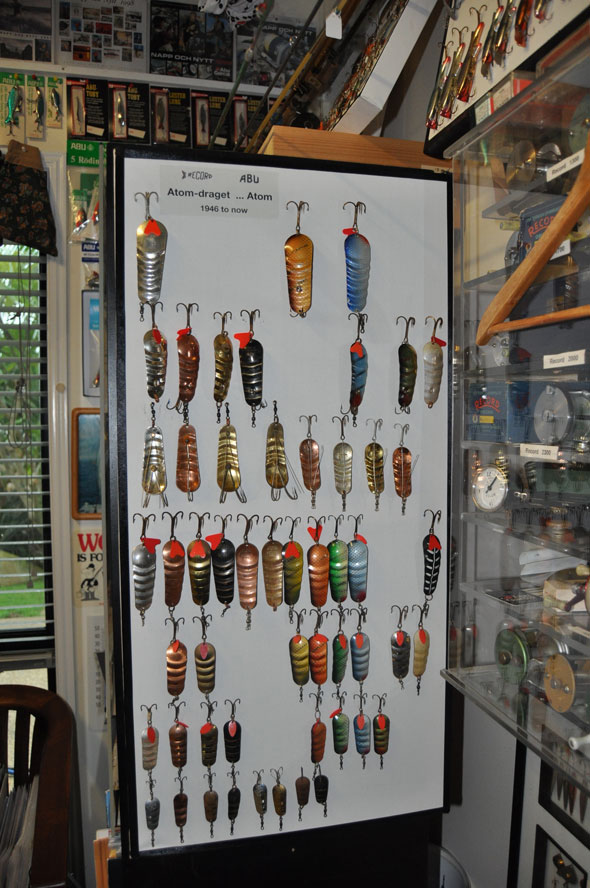 Many more in boxes (3 in old paper boxes, 18 in newer but pre 1981 boxes and 2 carded)
Rarely seen counter display Svangsta Sortiment Kartong depicting loose Record Atom lures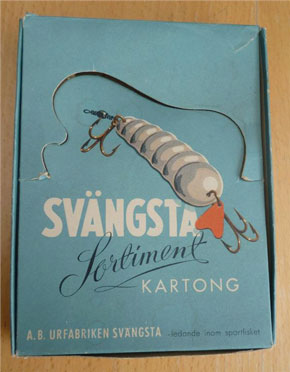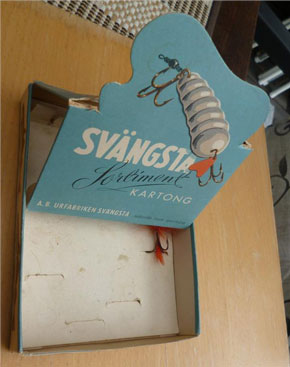 Some rare paper boxed 1st issue Sv Atom-draget shared here by Tomba
and some later issue in rarely seen colours of L and M
The Atom-draget first appeared in 1946 and original 20g/60mm, 25g/75mm and 35g/90mm models appeared in S,G,K,Z, Cr, S/G, S/K, PM and the very rare SV. Would love to get one of any size. They were replaced with 2nd model by 1959, except for the 25g which was discontinued in 1954.
The Lill Atom 7g/40mm appeared in 1952 with same colours except for the SV. The Lill Atom was also gone by 1959. Note that the tiny 7g models did not have the second hook.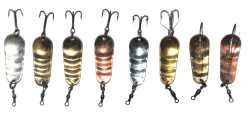 The Lill-Atom (Record) was exported as the Little Ruby (both in America and the UK). They are fairly common, however not so common is the export version of the Lill-Atom Vass which again was simply printed Little-Ruby Sweden. I have only found two, one is in Z and the other in S/G (see pics). Strangely the weed guard is fixed differently on each one ! I am yet to find reference to these lures in any publication. I wonder whether Steen knows anything about them ? I am sending a copy of this email to him also.
thanks
Mike
The second model was produced only in 25g/75mm size with all afore mentioned 9 colours.
The third generation of Atom (ABU) was produced from 1960, in 7g/40mm, 12g/52mm, 20g/60mm, 25g/75mm and 35g/90mm sizes. So a re-named Lill (discontinued in 1985) and new 12g size were the only changes and are still made to this day, even though in 1981, the production was moved to the Far East.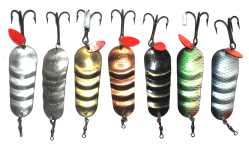 Both early Record and later forms had the res plastic attractor fitted to the lower hook. The shape changed from the "V" shape to the "Elliptical" shape with post 60's lures.
more to come
Back
to
Record ABU Lures by the Decade 40's, 50's, 60's, 70's, 80's
I am attempting here to create (with the help of others), the greatest collection of illustrated information about Record ABU lures ever collected together and freely available for all to learn from. Obviously image copyright for alternative publishing purposes always remains with the owners.
Please feel your input, help , criticism is very welcome and I look forward to expanding with network of Record ABU lure collectors and appreciators.
Contact me here to assist.
If you have any other lures, that are un-needed or doubles in your collection and are available for swapping or a reasonable fee, I would be very pleased to hear from you.