Ambassadeur Reels
Sneek peek of some of my Ambassadeur reels.
(experimenting with new ring flash, causing interesting vignetting peepshow here)
My 200 favourite Ambassadeurs are here



My most recent aquisition and lo....ong awaited to arrive in my collection.

The standard Record Ambassadeur 5000 SG in very good condition and ......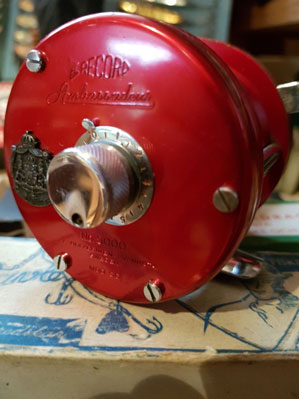 ....the very rare Non Record non ABU Ambassadeur

from my friend Samuel in Umea , Northern Sweden.
Great story behind this reel....and thank-you for believing this reel should come to my collection Sam!
In 1957 the house that we later purchased was built by a Walter Dissler, german heritage I imagine. He purchased the reel on a Domus foodcourt in 57-58 somewhere. He never used the reel since he got very sick. The reel was kept in a garage, within the leather case. And there it stayed, behind some rusty files and saws. Right up until 2004 when my father and his fiancee bought the house. My dad called me over with great excitement, my dad was a big fishing enthusiast, mainly for pike. He knew the Ambassadeur and it's history very well, although he had no clue this reel was rare, only that it was in great condition, and old. He tried fishing with it a couple of times, but wasn't really talented with the thumb break which is needed on the old reels. He thought the magnet break was crappy on the reel. I later found that the magnet break works, but needs some R&R. I never really did anything with the reel other than open it up and clean it, oil it and make sure everything works good, then i put it back in the box. There it stayed for like 10 years until i saw your page.
Re Mr Dissler's misconception on the controls...my comment
On reels from this era there is no magnet brake as such, control happens by 2 things.
First the pressure placed on the spool is by the calibrated left hand end cap. This is usually matched to just allow the lure to fall slowly when the reel is in free spool, faster the lure is allowed to drop the wilder and faster the cast will be. If too tight then the cast will be shortened
Second control is via outward centripital force exerted by the choice of none, small, medium or large fibre blocks being flung outwards and rubbing on the inner brake block rim which you would have seen when cleaning the reel.
There are no bearings in this reel , rather the axles spin in brass bushes. Some old timers have advised that lapping these to a high degree of smoothness makes them as effective as ball bearings!
Hope this helps in your understanding of the control processes involved in this reel mate!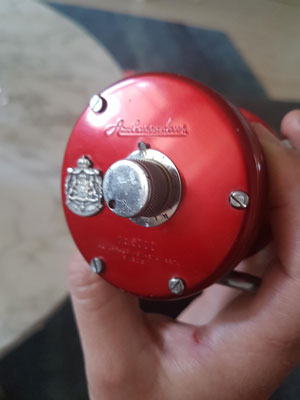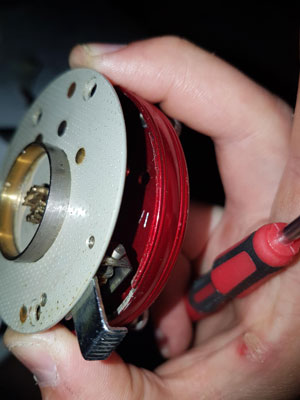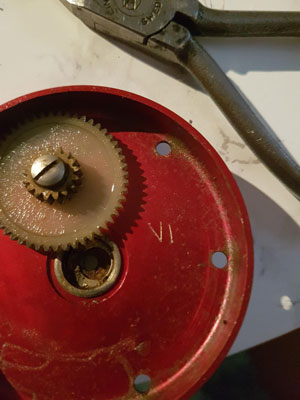 But the "piece de resistance"
Possibly one of the rarest and certainly the most special Record Ambassadeur that I own, is
Ake Murvall's own personal SG Ambassadeur
engraved by the factory!
A very lightly used reel with minimal marking but still showing it was a "tested" reel by the great man!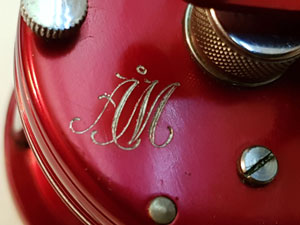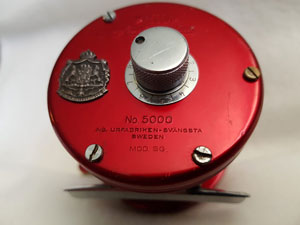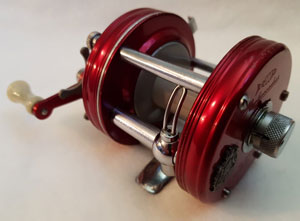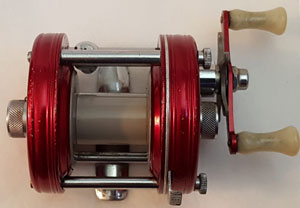 Next to find is a

green or black Record Ambassadeur 5000

now I guess!
I have a collection of Ambassadeurs (150 only) at present, but like my friends, l am trying to collect more obscure models, whilst all the time enjoying learning something new from new aquaintances each day.
My 2010 patch design for ORCA and ABU's 60's design
I receive lots of questions regarding dating of ABU reels.
It is a complex subject and I hope to help here.
Initially packaging (see brown cardboard box below) was of little importance for what were arguably the finest baitcasting reels in the world.
Reading and Learning about Ambassadeur beyond this page
and
The Official Tight Lines 'Ambassadeur' Story
However, I feel is a very poorly structured story as it make mention of ABU Engineers and not specially the Father of the Ambassadeur Ake Murvall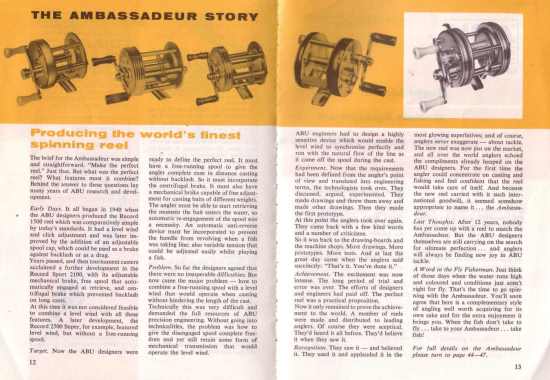 I strongly suggest that the 4 books listed in my links page (sadly some are now defunct) about Len Borgstom, Simon Shimomura and Daniel Skupien and more are absolutely essential to the study and appreciation of these fine reels. These books are very definitely the Universe when it comes to matters ABU. Unlike a Penthouse which we all know are mainly bought for the literary articles, buy these (don't loan from a library or photocopy a friends) as coffee table books at least! I have even found my wife having a sneak peek and even commenting on the beautiful reels.

The Final Word on the development of the Ambassadeur Reel, sourced from Ake Murvall's personal Diary and kindly shared by passionate ABU researcher and fan , Per Erlandsen has now been replaced (front page) after its initial removal.

" Murvall prototype reels and notes "

THE DEFINITIVE HISTORY OF THE Record Ambassadeur 5000 (up until Per's article above)

by Swedish friend Mikael Risberg and

more observations by Espen Olav Sjaastad from Norway
1953 Advertising and Record Ambassadeur image from Ron Elsenaar from Sweden
My thoughts....
A combination of many factors, including the economic boom after the end of WW2, the high quality and innovative design and construction techniques, along with the growth of the Sportfishing movement, saw the booming sales of the Ambassadeur series around the world but undoubtedly the USA popularity assured its place in history.
Like a Ferrari, to many, the colour of an Ambassadeur should always be red. It was predominantly found sporting this hue, but black, green and even annodized gold was produced for this first model. For many it will always be the ultimate reel. Part 1, 2 For me the 7000 fits this bill. See cut-away view
Where does one start to discuss variations in the Ambassadeur reels? Sidepate colours/engraving/foil label stickers? Handles? Nuts and bolts? Models, capacities of spools? 4screw V 3screw? Bearing Caps, Plain/Agate? Prototypes/Packaging/Cases? Accessories? Gear Ratios? Commemoratives Delux CDL's? Export models? and so on.........
Who could fail to appreciate the beauty of a Champagne Gold model?
Especially this 5000 D Direct Drive lightly used example!
... and the 5500 C at the bottom of the page.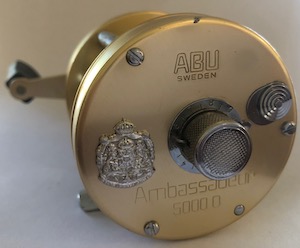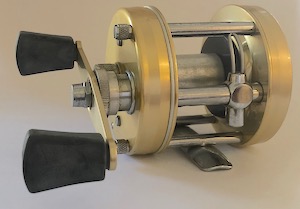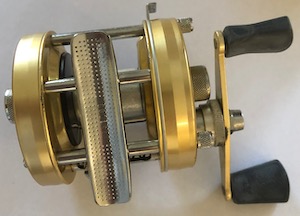 A few of my many sizes/varieties are here in the Ambassadeur display.

Tight Lines close up views of parts of the Best Reel (Ambassadeur) in the World:
Parts ordering numbers view 1, view2
Wide-spool Record Ambassadeur 6000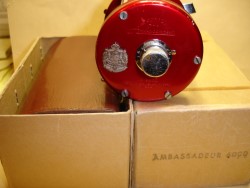 Record Ambassadeur 6000 (rarer than the red Record 5000)
Thanks to Jon Steinsnes of Norway
Another friend Duncan Francey has supplied these images of these rare Ambassadeur 6000 instruction sheets.
Record Ambassadeur 5000/6000 Spare Parts Lid and Partially populated box.
Schematic of Parts and numbers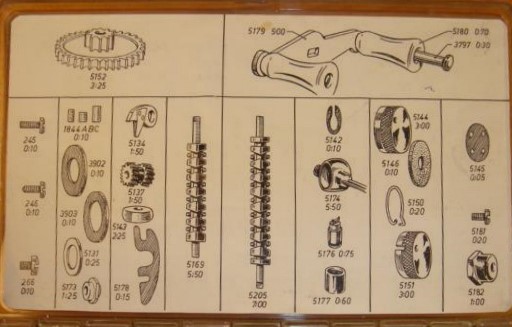 Partially populated box of parts.
The Designer : AkeMurvall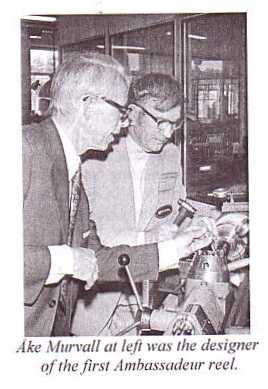 It is without doubt, Ake's fine engineering design for the Ambassadeur, that really put ABU on the world map, both initiating and consolidating its world-beating line-up fishing equipment in the USA.
This early experimental handle for the Ambassadeur reels was "toyed with" , but proved unworthy of becoming a production line option.
It was a variant of the ABU 444 spinning reel handle.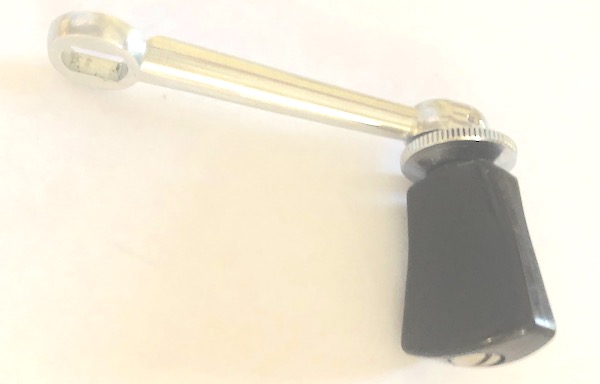 World Record setting Ambassadeurs kindly shared by Espen Sjaastad of Norway

Click and enjoy this wonderful PDF file supplied by Per Erlandsen which documents a modified Ambassadeur.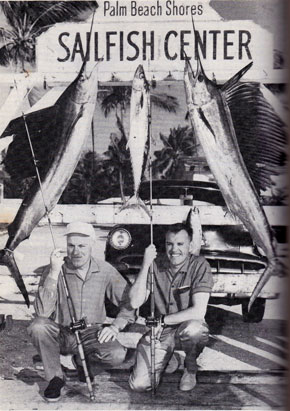 Gote and Len Borgstrom field testing the powerfully strong 5000/6000 size Ambassadeurs in late 1950's.
Sourced by Hans van der Pauw
from a book called 'Encyclopedie van de Sportvisserij' (Encyclopedia of Sport Fishing) by the famous Dutch angling author Jan Schreiner, published in 1960. It contains a nice picture on big game fishing (see attachment). The caption reads (translated) : "These sailfish and the wahoo hanging in the middle were caught on very light tackle. Note the small multi-reels of the Ambassadeur type and the light rods made of fiberglass. The sailfish on the left fought for over an hour."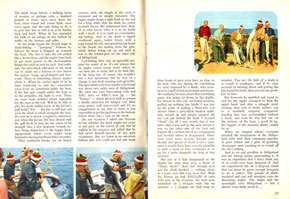 Around the same time, in the summer of 1959 in fact, some well-known anglers were invited by ABU for a shark fishing trip off Helgoland. Also with small Ambassadeur 6000 reels, to prove what these tiny reels (tiny compared to the then usual Penn monsters) were worth. One of the anglers was the same Jan Schreiner. This trip appeared in the 1960 ABU catalog of which I have added a page: the man in the middle on page 17 is Jan Schreiner.

Worthy of note are some USA catalog pages.
Notice the tiny ad in "Field and Stream" by Julian Wessler, the first seller of Ambassadeur in USA.
It was not long before the Borgstom family realized the need to change distribution of Ambassadeur to Garcia!

This is the first known advertizing in USA of the Swedish Ambassadeur casting reel
Kindly supplied by John Fishkat in USA, see other pages here
1965
First marketed just with case, service-tool and spare-parts vial, the Ambassadeur 5000 became a kit including a spare spool as well
1963
The Delux gold plated version was released in a teak case.
Mine first version from 1963 is here.
it is complete with booklet, spare spool, tool spares and oil, authenication certificate, drawsting cloth bag and 24 kt gold Ambassaeur pin
Not my rarest reel but still the prettiest!
More specific 1969 advertizing illustrates the ground-breaking features of smooth chrome anti-corrosive manufacturing, fine tolerances between surfaces, centrifugal braking systems, multi-disk star drag, precision matched gears lapped to perfect smoothness, evolution from bushes to ball bearings etc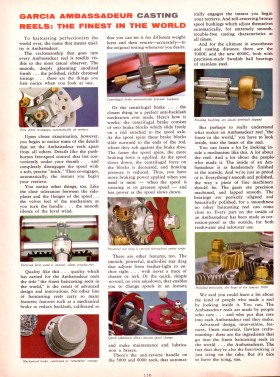 Export model Ambassadeur 5000 sold in USA

USA Garcia catalog depictions of the expanding Ambassadeur range.

By 1975, we see a much greater emphasis on the wider range of Ambassadeur models taking the reel to more demanding use for bigger salt water fish. These reels feature ball bearings, direct drive as well as high speed gearing.
5000, 5000A, 5000B, 6000 and bigger
Direct drive model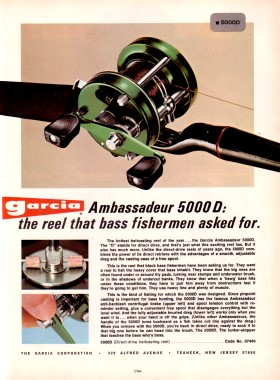 The bigger salt water models 7000, 8600 (8500 in Europe), 9000 and 10 000 sizes
Ball bearing models
High retrieve speed models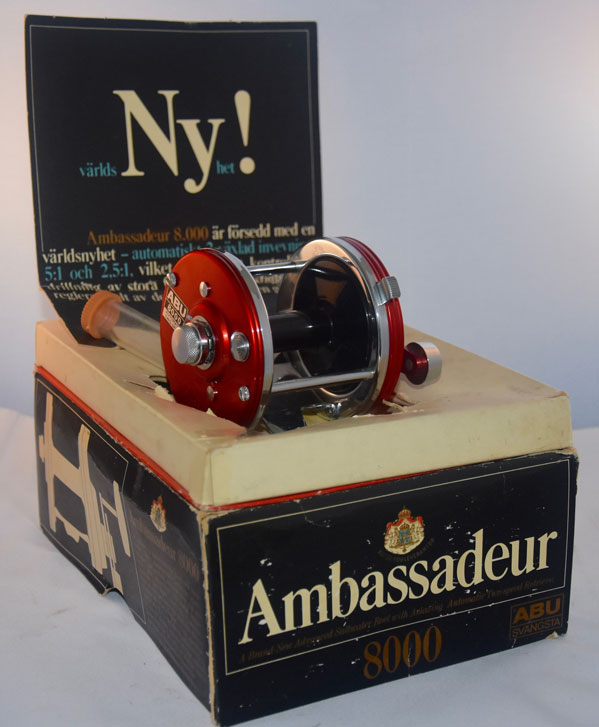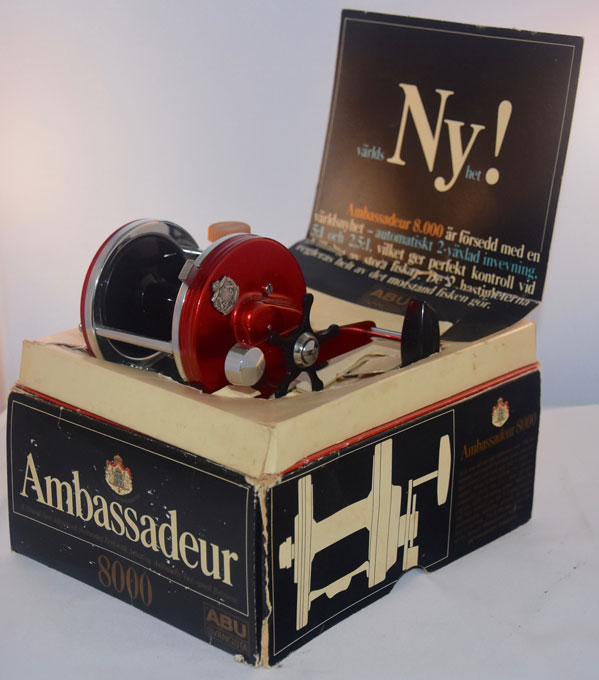 These smaller reels, some designated Ambassadeur like this model 1750 are delicate little gems to cast. There were numerous models, all annodised red, ranging from 1750, 1750 A, 2000, the narrow spool 2050, the ultra rare 2500 as well as the 2600 and the narrow spool 2650. Push booton release was an innovative feature on the 1750 model. I have a prototype 1750 with internal electronics for casting control. This is featured elsewhere on site.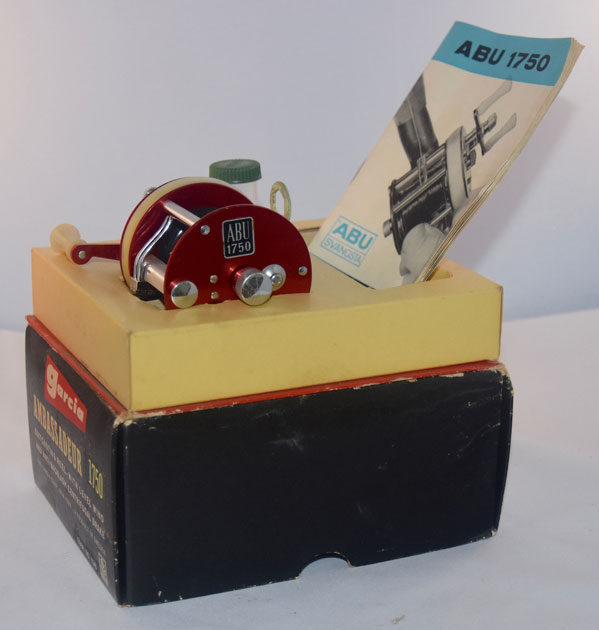 This ABU 3000, sold in Europe, was designed with special "plastic" sideplates to make it more resistant to salt water. Its cousin the ABU 4000 had red sideplates and was identical in every respect, except its market was USA. The main drawback was the coloured plastic sideplates whilst being salt water resistant, was that they faded badly due to UV light exposure.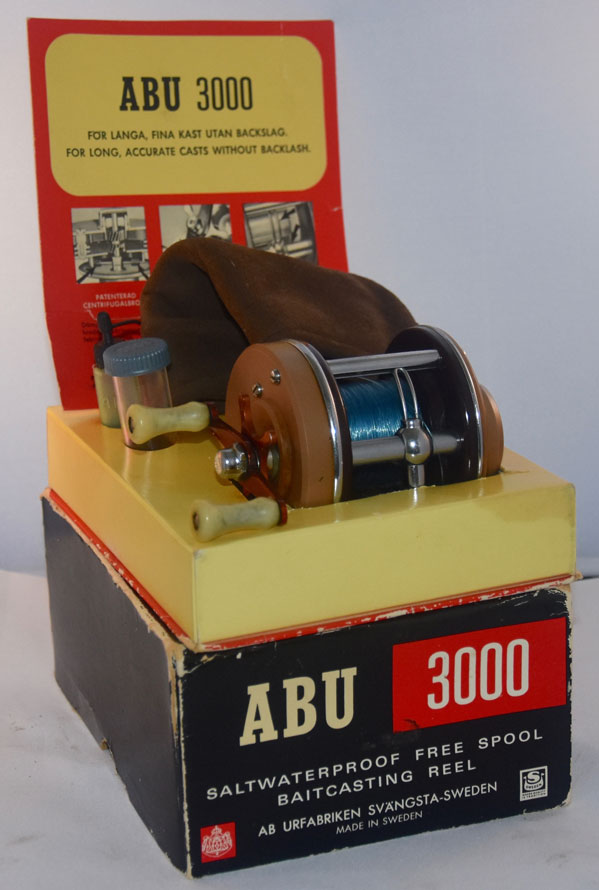 The most significant new release for many, in 1976 Tight Lines catalog, was the addition of the the miniscule 2500 C

No better persons to be the Ambassadors for this new reel are authors Espen SJaastad and Karl-Erik Svensson
Permission has been kindly extended to me to note their best practice documenting of this fine series of small Ambassadeurs which started in 1975 and continues to this day.
With the spool size, some would have had reservations for controlling large fish like the powerful Salmon of Europe and Tropical powerful species encountered here in Australia. Not so if the Abulon Extra Top Hook Fishing line was used and most especially today with such an array of ultra fine and strong braids and gel spun lines available to choose from. Capacity is not an issue!
I consider the book to be a work of art and even people who have had 50 years or more experience with ABU, can learn a lot from the authors research. I recommend that all with even a passing interest in ABU Ambassadeurs to seek out, purchase, read, treasure and never loan this book. It is so inexpensive for the joy it will bring you.
ABU Ambassadeur Casting Advice from the 50's and 70's
Major Ambassadeur models included in my fishing armoury and collection
I also have collected various examples of 1500, 2500, 3500 , 4500, 5500, 6500 , 6000, 7000 7800 8000 8500, 9000 and 10000 .
I have most of the Morrum series from deminuitive 1600 3600 5600 6600 7700
Other little beauties are the tiny Red Record-like 1750, 1750A, 2000, 2050, 2500, 2600, 2650 featured here
Of course there are the later myriad of tear drop shaped reels , and the other modern low profile reels like Revo's below !
The Classic 70's Ambassadeur Range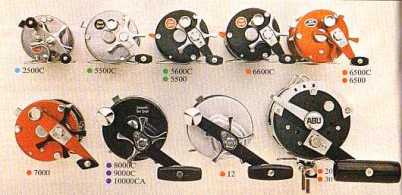 Who would not love to have some beautiful mint treasures like these kind shared by Gerald Garrett from Texas?
Ambassadeur 10 000 C and 7000 mint (original packaging from early 70's)
The world of casting reels or multipliers as we know them in Australia, changed forever after 1952, with the creation of the Ambassadeur.



To my mind, based upon fishing experience, any of the classic Ambassadeur family of reels is all one needs to be a totally satisfied fisherman. A perfect reel that maintained and used correctly teach us a lot about ourselves, as I remarked to Len Borgstom.

They make us recognize our own failures (in technique, maintenance regimes or choice of balanced tackle) and therefore we grow when we learn to accept our shortcomings and adapt to change.
My world of fishing has improved and changed considerably because of ABU and it's Ambassadeurs.

Thankyou Len, Gote, Carl and all the past designers and team in Svangsta SWEDEN in general.
| | |
| --- | --- |
| Whilst not technically badged as an original Ambassadeur, I will always see the Morrum family of reels as merely an extension of the old bloodlines. Long may they be crafted in Sweden. So important as an evolution of the Ambassadeur for me, I have granted it pride of place on the top right of every page of this site, along with the Admiral soon to appear floating bottom left and the 70's Ambassadeur of Sweden fixed top left. This 7700 CL, is probably the most practical of reels for my style of fishing here in Great Barrier Reef waters where I live. I would love to one day get the 7700 CT cage version of this reel for my collection. | The Morrums were developed for the Japanese market and reached their pinnacle here being further "tuned" and developed into not only magnificent and very unique pieces of fishing technology but also the most beautiful and artistic of reels. |
Historically we can see the evolution of the Ambassadeur from the Record casting reels of 1940 on. The most obvious connections came with the introduction of high tech innovations such as centrifugal braking systems, automatic free-spool for re-engaging the spool, thumbscrew access for easy spool changing in the Record 2100 Sport (1945+) and the introduction of bearing caps which were very simply micro-adjusted in the ABU 3000.
I own a reproduction model 5000 SG boxed with Morrum and released in 2002 as the 50th Anniversary of this 5000 SG reel's release. This is probably the only way I'm to own this mint magnificient signpost reel among reels!
The Ambassadeur 5000 Manual Pages 0/1, 2/3, 4/5, 6/7, 8/9, 10/11, 12/13, 14/15, 16/17, 18/19, 20/21, 22/23, 24/25, 26/27, 28/29, 30/31, 32/33, 34/35, 36/37, 38/39, 40/41, 42/43, 44/45, 46/47, 48/49
ABU utilized the fishing cababilities of champions to promote their reels!
A rarely seen Australian Bicentennial Ambassadeur 6500 C was released in 1988.
(thanks to Australian ABU collector Rod Cameron for it coming to my collection)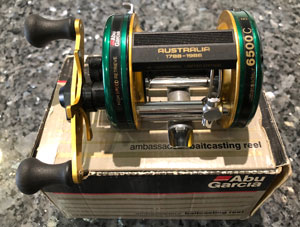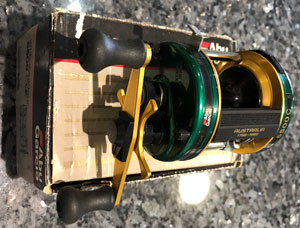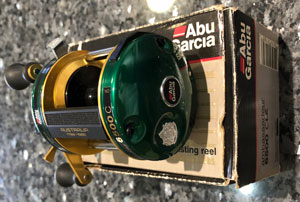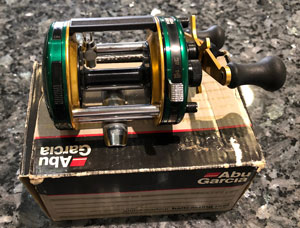 The earlier 1980 model Black Ambassadeur 6500 C with external bearings id below.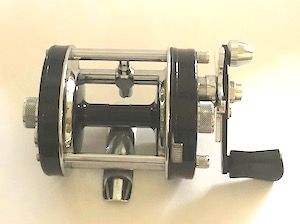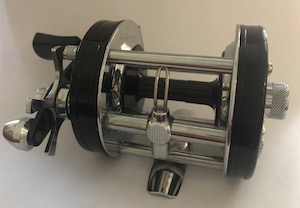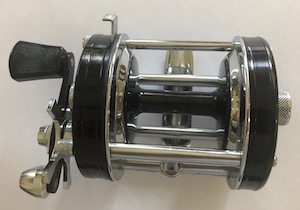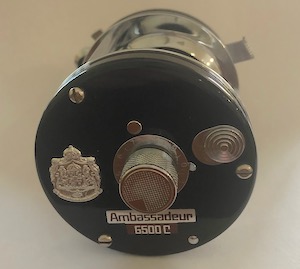 UPDATE from my friend Lonnie mills USA

Hi Wayne,

For your review and records, I have attached a pic of an Ambassadeur 5000 I have in my collection with GREEN side plates. My good friend, Simon Shimomura, provided me with the lead to the person that owned the reel and we made a deal. Simon told me that shortly after buying out Record, Abu made (not produced) some 5000 reels with red, champagne, green and black side plates and distributed them to select houses in an effort to determine which color would be the most marketable. As we now know, they chose the color red for the side plates and the rest is history.

Back to my green 5000. After personally inspecting the reel, Simon could not absolutely say for sure the green anodizing was original but did say it was definitely professionally done. Could it be ?????? I will think so until proven differently, what say you??

The second pic (front view) is actually closer to the actual color of the plates. Condition of the reel is a 9.5.

Cheers,

Lonnie

Further comment by Per Erlandsen


I don't know if I'm mistaken, but I understand that your friend Lonnie Mills suggests this reel to be one of the

early test reels for determining the color of the Ambassadeur reel. These are my comments:

There is something wrong here. The reel shown in the picture is clearly an ABU stamped reel. If it were to fit

with the original color test reels it should have been stamped Record. The famous test for selecting the color

happened in 1952 when the Record Ambassadeur 5000 was being finalized for production and prior to the

launch of the Mod SG. Ake Murval's private notebook from the Ambassadeur 5000 project


states this about the color test reels (I prefer to call them the Record Ambassadeur 5000 Type 1 -


"First model made in several colors,

not for public sale and prior to January 1952):

They are all made in 1951 between May and October (5 reels made in May, one each color – 60 reels made in

November/October, 20 in red, green and black).

They come in five different colors:

20 or 21 red, 20 or 21 green, 20 or 21 black, 1 blue, 1 golden

Brake plate is polished aluminum.

None of the Type 1 reels were stamped MOD SG.

No Roman color coding numbers occur on any of these reels."

Seems there was a first meeting at ABU where 5 reels were shown, these were red, green, black, blue, golden.

There were disagreements about which color to use, Ake preferred the black reel, and it was finally decided to

make 20 reels of the red, green and black variants for further testing to assess customer opinions.

In my opinion Lonnie's reel seems to be a later reel, made after the name changed from RECORD to ABU in

1958. Why it is green is hard to say, it could be the color is not original, it could be the job of an employee who

just wanted something different (a private job), or it could be a reel made to a special order (it is known that

this happened from time to time). I have never heard of a green reel made to a special order, but I have heard

of several black reels. Regardless of what Lonnie's reel is, the reel is an odd one and a rarity and it could well be

an original ABU job, made in this color at Svängsta. A 1951 reel from the batch of color test reels, however, it is

not.


I agree with you that id this Kind regards from Per Erlandsen.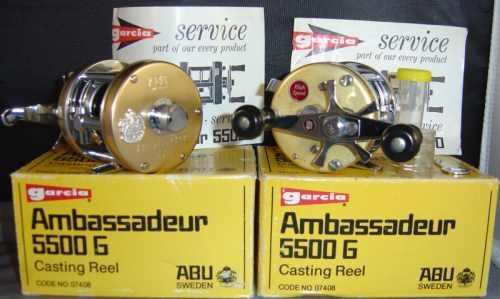 Abone 2 rare Champagne Ambassadeur 5500 and boxes marked G for gold!
'Why have one when two are twice as nice?"
"From The Collection Of Lonnie Mills, USA"
The photographs are just stunning and let's face folks that's the only way most of us are ever going to enjoy many of the these classics....not to mention the prototypes... ..ah a quick flight to Svangsta, Sweden to the Museum to drool?

My attempt to secure this model is below san box and lightly used.