ABU Hi-Lo
Collecting.
Introduction
My entire life I considered collecting as something for materialistic people.
Collector fairs full of strange trinkets, old cars in a line, dusty stamp collections, strange smelling cigar bands and showcases full with dusty trophy's, it never interested me too much.

Until last year, when I visited a fishingmate who build his lifestyle around lurefishing..
His garage is full with wobblers, jerkbaits, spinnerbaits and what ever their names may be.
There are lots of Dutch tackleshops who don't have so may lures in there racks as he's got in his garage.
His great passion is the old version of an American lure called 'Grandma'. I always call them Grandma with the bubbely eyes.
But between all these extreme good looking lures, was that little green one.
It hang in a dusty corner and on a rusty nail. She had a little metal adjustable lip and called me: 'take me, take me of this rusty nail, take me home and cherish me'.
That was the moment that I fell in love with this little lure for the second time.
The first time was in the tackleshop of Mr. van Beurden in the centre of The Hague, Holland.
I came there as a twelve year old boy on my bicycle, always looking for some lovely fishing-stuff.
I could use everything, just to catch that lovely creature called 'fish'.
And there on a shelf stood those magic little plastic boxes with the relatives of the lure I fell in love with.
I don't know what amused me more, the adjustable lip, the cigar-shaped body's or the nice simple greens, browns and greys of these lovely lures.
But there was one thing in my mind: I had to own such a lovely lure and catch lots of big pikes!!
They were expensive, far to expensive for a little twelve years old boy.
I can't remember the exact price but it was a lot of guilders and that day I left the shop empty-handed. But I'll be back!!
Many weeks later I was back with my pockets full of shiny, silver guilders: I saved my pocket money, helped the milkman, collected old papers, did little jobs for the neighbours and my mom.
I knew this was the moment I was gonna buy me such a beautifull little lure and I was going to catch big pikes.
When I was in the shop I saw the plastic boxes lying on the shelf and I couldn't wait to buy one.
But Mr. van Beurden was endlessly talking with an elderly man about catching carp and carprods.
In those days little boys kept their mouth shut till they where allowed to talk, so I waited.
And when the man left the shop with his brand new carp rod Mr.van Beurden said to me: well hi there little fella, what can I do for you?
I pointed at the shelf with the little wobblers and said: I like to buy that green Abu Hi-lo!!
I can still see the grin on the face of Mr. Van Beurden when he said: well, well, laddy are you gonna catch some pike? And I answered him: yes, and big ones too!!
The soft look in the eyes of Mr.van Beurden faded a bit when he said: you know how expensive they are don't you?
I nodded and showed him my savings from my pockets: exactly enough!!
He took the little green wobbler in his box from the shelf and lay it on the counter.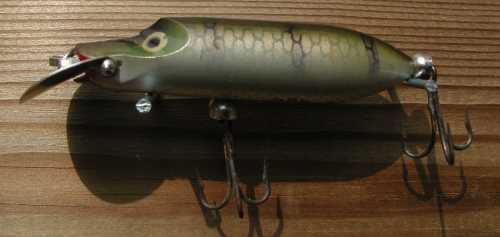 And I lay the sticky, shiny silver guilders beside it, just to know it was exactly enough.
But mr. Van Beurden's face was looking sad when he said: that ain't enough laddy.
Don't you know you have to use an wire trace when you go fishing for pike?
I think my head was red till the ears, I totally forgot!! And although I was not a crybaby and tears are for girls and kids, the tears were burning in the corners of my eyes.
But then the nice voice of mr. van Beurden said: well laddy I'll make it up with you.
I'll give you that wire trace and you promiss me to release all the pike that you catch. Catch and release, that is saving sport for later!!
I must have been exploded of relief and promissed mr. van Beurden to release all the pike that I was gonna catch. Pfffff….I was going to catch pike anyway!!
By-the-way: in my family nobody liked eating freshwaterfish anyway, nor did I.
I was very carefully when I fished my Abu Hi-lo and caught me a lot of pike.
But the inevitable happened: one bad day I was gonna loose it.
I was furious and disappointed but there was no way I was gonna get it back.
And now I stood in the garage from my mate, with an identical little green wobbler in my hands.
And it was my mate who must have seen something in my eyes when he said to me: that little lure doesn't really fit in my collection, do you wanna have it?
Well, I am a man who is over 50 now, but I was overwhelmed with joy
And to keep a long story short, I do collect Hi-Lo lures from the Swedish AB Uhrfabriken nowadays.
It is not a huge collection, but the love I feel for these lures is based on that very first wobbler I bought from Mr. Van Beurden in The Hague, Holland.
I scored some old ones on tacklefairs in the Netherlands but also from the internet in the USA, Sweden, Germany, Australia and the UK.
So, this is a call for everybody who owns a Abu Hi-lo that doesn't swim anymore: send them to the 'home of rest' for Abu Hi-lo's in the Netherlands.
It doesn't matter which colours they have, where they are produced or in which condition they are.
From here I can make my fellow collectors happy with lures for their collection.
<![if !supportLineBreakNewLine]>
<![endif]>
To be continued in Hi -Lo specific detail
Mr. Hi-lo
If you are a person that has significantly had an effect on design/development/testing of ABU equipment over the years please contact me wayne@realsreels.com if you wish your contribution documented for posterity and the immediate interest of the ABU fans worldwide!