Collectors
Lures.
A work in progress which all will appreciate I'm sure!
Many thanks to Mike, Derrik, Rob, Henrik, Hans, Steen, Uffe and others in the future
Record ABU Lures by the Decade 40's, 50's, 60's, 70's, 80's
PendPendel draget

The Pendel-draget has been one of the more difficult lures for me to locate. I found a fake before I acquired an original. This implies to me it was worth copying as a lure to fish with. Made with a simple press, fold/bend and drill technique it would have been easy to replicate.
Authentic boxed examples are rare to find.
The were produced from 1946 till 1951 in three sizes viz 12g/50mm, 20g/75mm and 35g/100mm
The colours were S, G, K, Z, Cr, S/G, S/K.
Notable features were the folded design with spread out tail, underhung single rear treble hook and a prominant left and right hand side red eye pinned with black pupil.
To date, I have only acquired 4, 2 very large 100mm versions in Chrome and Copper as well as the 75mm Chrome and 50mm copper examples. I will photograph these when taken out of their photo-frame.
Toomba shares his examples below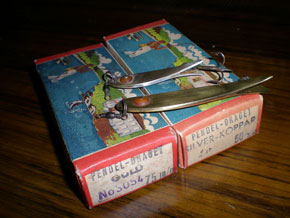 A recent example for sale in Sweden, which I will acknowledge as soon as possible.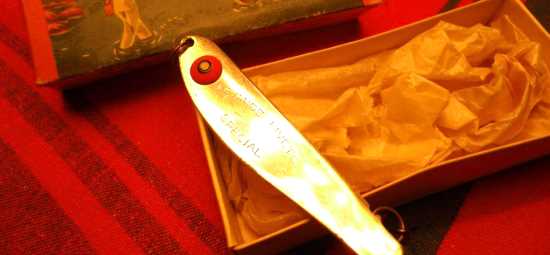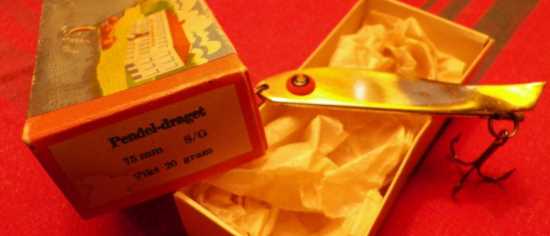 Back
to
Record ABU Lures by the Decade 40's, 50's, 60's, 70's, 80's
I am attempting here to create (with the help of others), the greatest collection of illustrated information about Record ABU lures ever collected together and freely available for all to learn from. Obviously image copyright for alternative publishing purposes always remains with the owners.
Please feel your input, help , criticism is very welcome and I look forward to expanding with network of Record ABU lure collectors and appreciators.
Contact me here to assist.
If you have any other lures, that are un-needed or doubles in your collection and are available for swapping or a reasonable fee, I would be very pleased to hear from you.