Collectors
Lures.
A work in progress which all will appreciate I'm sure!
Many thanks to Mike, Derrik, Rob, Henrik, Hans, Steen, Uffe and others in the future
Record ABU Lures by the Decade 40's, 50's, 60's, 70's, 80's
Svängsta-spinnaren

The Svangsta Spinner (Svängsta-spinnaren) aka The Screw (Skruven)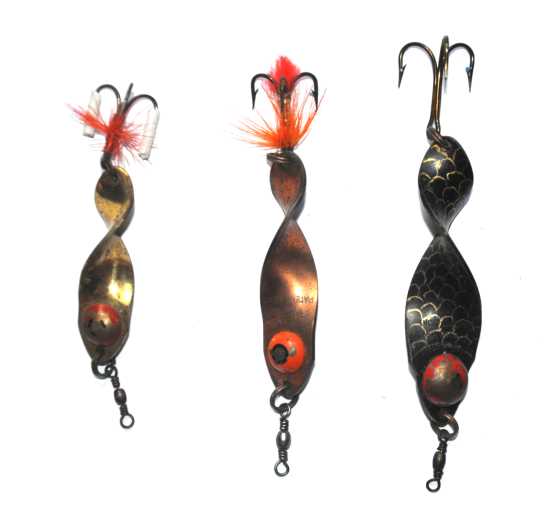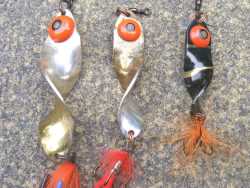 A very early Abu bait, made in the classic "spiral" fashion. In good condition these have fantastic painted eyes. Abu made and sold these from 1944 until 1957 in three sizes 3 " / 25 g, 2.5" /20 g and 2" / 12 g. Known colours were S, K, G, Z, Cr, S/G, S/K and the incredible hand finished lure that Wayne has here (Wayne link to your scale monster here).
I have shown all 3 sizes, two are in S/G, one is Z. If you look closely at the left hand 3" lure you can see marks on the body that could only have been made by hand tooling. This shows the extent to which the lures were largely "hand made", in a "workshop" in the early Abu days. In fact the eyes also were nothing more than rivets which were shaped and painted.
You may also notice from my photograph that the baits were made in clockwise and anti-clockwise spinning versions, yet another response to the old problem of line twist ?
I have also seen these lures with a single (reverse) hook, pirk or (pirkar) style.
This lure was a very productive bait in its time and highly sought after today.
Please enjoy my ultra rare hand engraved and one of a few Svängsta-spinnaren like it around today.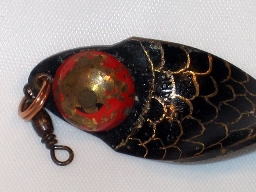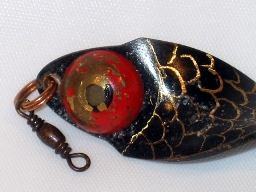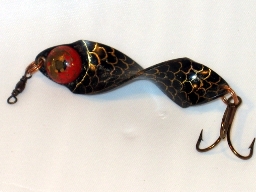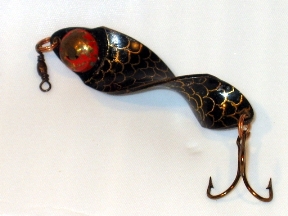 Thanks to Ove Agdahl, a Swedish friend, we see here a very nice example with the accompanying paper box and included phamplet.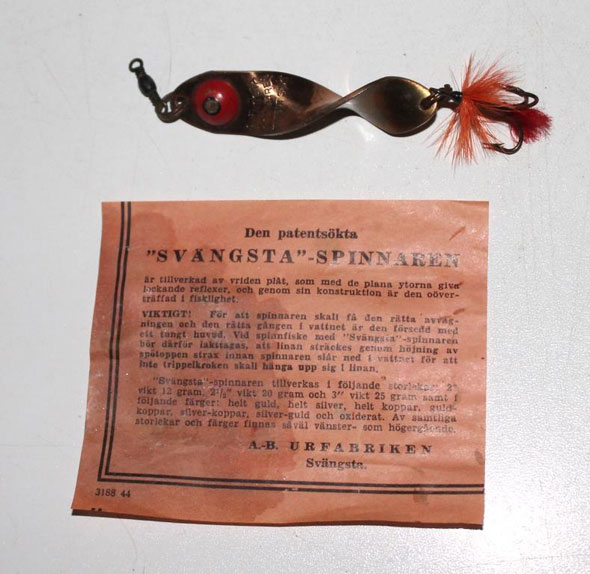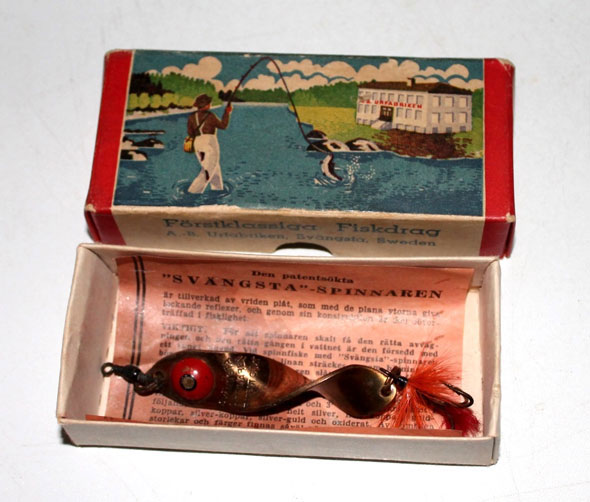 Back
to
Record ABU Lures by the Decade 40's, 50's, 60's, 70's, 80's
I am attempting here to create (with the help of others), the greatest collection of illustrated information about Record ABU lures ever collected together and freely available for all to learn from. Obviously image copyright for alternative publishing purposes always remains with the owners.
Please feel your input, help , criticism is very welcome and I look forward to expanding with network of Record ABU lure collectors and appreciators.
Contact me here to assist.
If you have any other lures, that are un-needed or doubles in your collection and are available for swapping or a reasonable fee, I would be very pleased to hear from you.