Collectors
Lures.
A work in progress which all will appreciate I'm sure!
Many thanks to Mike, Derrik, Rob, Henrik, Hans, Steen, Uffe and others in the future
Record ABU Lures by the Decade 40's, 50's, 60's, 70's, 80's
Kelly Spoon (Svängsta-Skeden)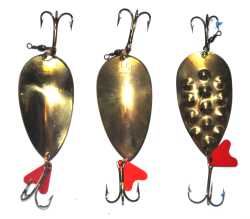 My most recent win of a rare , perhaps prototype because no box has ever been documented , Gold/Silver/Kopper example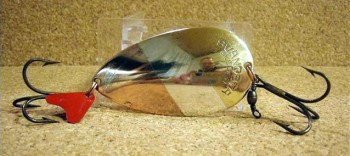 ABU Svängsta Skeden is the biggest spoon AB-Urfabriken ever made, 70 mm long weight 30 gr. and actually among the older spoons, the lure with shortest time on the market ( from 1946-1957 ).
ABU Svänsta Skeden came in one size only but earlier samples are more rounded than later ones. ABU Svängsta Skeden came in nine colours ( G,S,K,Z,S/G,S/K,Cr,Pm and S/V ) + I have seen a couple of lures in the colour S/G/K, a very good looking lure with its three colours in stribes on the front but probably some sort of prototype.
All ABU Svängsta Skeden are stamped Svängsta Skeden only, early samples in the colour Crome and Zebra can have the stamped letters filled with red paint, very good looking lures and easier for fellow angles to see witch lure you were using.
ABU Svängsta skeden was sold on the American market under the name Kelly, I have seen Kelly in three colours only S,G and Cr, could it be that ABU-Urfabriken tried to sell leftovers in USA when the production of that lure-model had been ceased ? The ABU Kelly lure is stamped Kelly Sweden.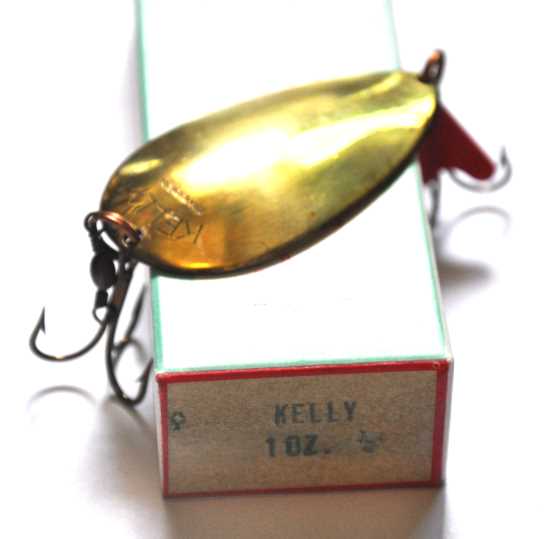 The most expensive ABU-lure ever bought ?
One of the rarest colours to find ABU-lures in is the Colour S/V ( Black/white, skeleton )
The colour S/V was on the market between 1951 and 1956 and on a few lure-models only, ABU-Draget ( 50mm and 70mm ), Atom-Draget , Plankton Favorite and Svängsta Skeden, from 1952 on the ABU-Draget Vass ( weedless ) and Record Atom Vass to.
If you can find a ABU.lure in the colour S/V it almost always is in a very used condition, very rare to find them in mint condition. The colour S/V were made for pike-fishing in very clear waters under sunny conditions.
Some years ago a reel-collector contacted me about some older ABU-lures he wanted to sell. Among these lures were a Svängsta Skeden mint and boxed, in the colour S/V. I offered him a good price for the lures but he wanted to think it over.
The story behind the lure was that a friend of his has found two samples on a flea-market ! Wow why does things like that never happen to me?
After a month or so the collector contacted me again and wanted to sell. A very nice and rare lure came into my collection.
A couple of years later a ABU Svängsta Skeden came out on auction on the internet, a nice mint sample ( could it be the other one from the flea-market? ) The interest among collectors were very height but the bidding was a bit calm – everybody knew that this lure could be a hard one to get, so no teasing of the other collectors. I looked with interest at the auction but I had one of the kind already ( and boxed ) so….
A short time before the ending of the auction I went into the auction-site to see how things went on. A little devil went in me, I wanted to tease the others a little so I made a bid at around $ 300, very much aware that this was under the price this lures would sell for.
Something went wrong ! I got in a zero to much – it was just before the ending of the auction ! I sat and looked at the catastrophe, the bids were many and the price went up and up – I was the winner and at least I know that many collectors are prepared to pay a lot for this lure but it was not so fun for me that evening. Well I had a little cash stocked in the bank and the seller was more than pleased and a bit surprised over the sales-prices so he offered me free postage sighted fore.
Tight lines ! Steen
A recent image of another different (perhaps prototype) tri colour Svangsta Skeden shared by Christian Lindström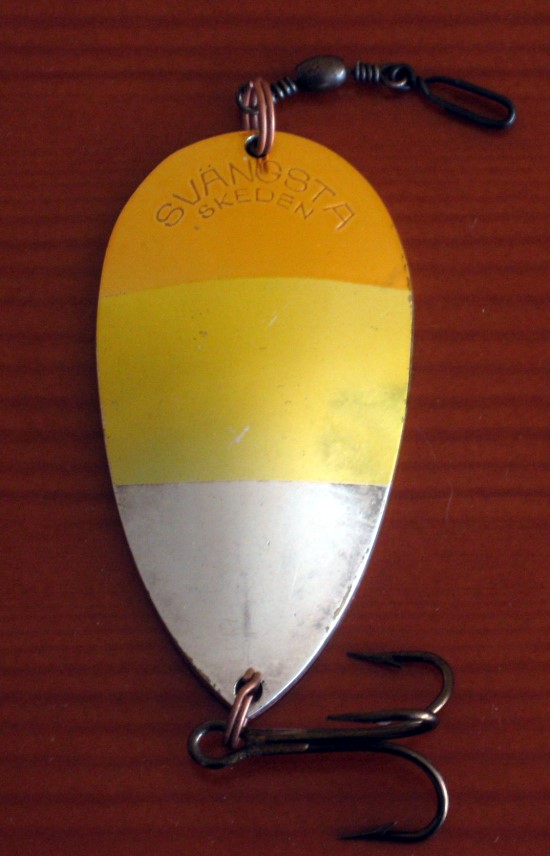 Hello Wayne,

I would like to pick up where Steen Pederson left off on the Svängsta Skeden. He is absolutely correct that the export verion was sold as Kelly Sweden in America, but also in the U.K. (refer to your 1956 copy of T.L., Page 16). In America I know that the lures were sold by Garcia in 1954 (I have previously sent you a pic from the Spinn Fisherman printed in 1954) and I have evidence that they were in America as early as 1953 but I suspect they had been there a few years before that. They do not appear in American 1957 publications. So the Kelly was sold in a similar time frame to the Svängsta Skeden.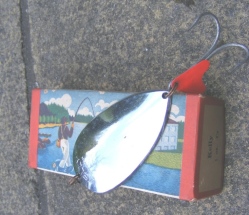 The other difference between the Kelly and the Svängsta Skeden is the hooks. The Kelly was sold with an "oversize", single, saltwater hook. In America the listed colours were G, Cr and Z, but I know for a fact that they were sold in S and may have been sold in other colours as well. In the U.K. the listed colours were G, S, K, Cr, Z, S/G and S/K. I am unaware whether a Kelly was ever sold in Pm or Sv. I also believe that there were "Red Text" versions.

ManyMany other export lures were stamped differently and I have found "Red Text" versions of those too, but more of that later.

Cheers, Mike.
Yet another interesting image shared here by Tomba. I incidentally have the 2 corresponding but later issued USA versions called Kelly which were boxed in both old style paper box and modern cardboard/plastic lid boxes.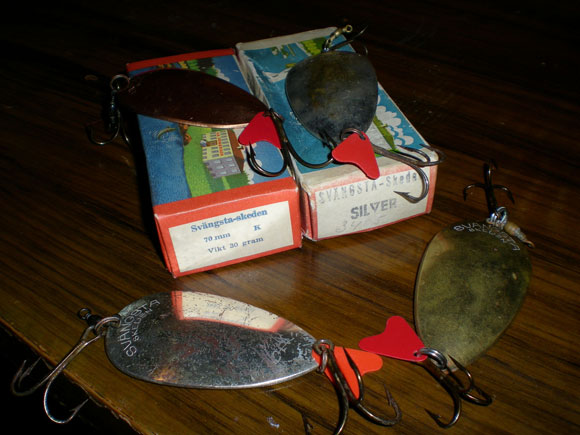 Kelly Reflex (Svängsta-reflex)an>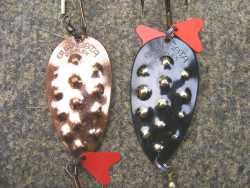 This is the Reflex version of the Kelly spoon and it was designed to target Salmon and Sea Trout as well as Pike. They came in the same size and colours (except SV) but they were sold in Sweden and the U.K.six years longer i.e. until 1963. To my knowledge this lure was never offered for sale in America.

I am yet to find one stamped Kelly Reflex, so the photo is of two, both stamped Svängsta-reflex. They are in K and Z.

Christian Lindstrom has also shared his beautiful Pm version here.
Thanks to Tomba for his image here showing old paper boxes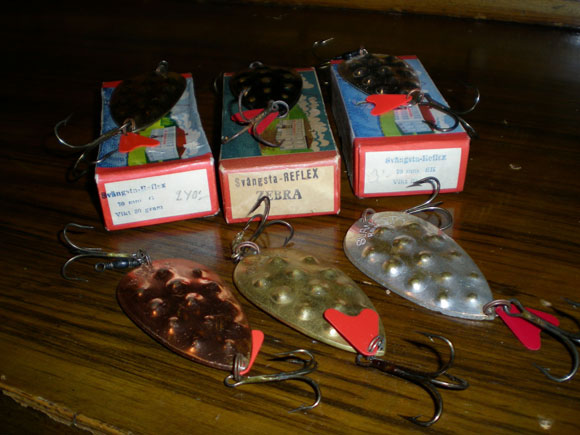 Back to
Record ABU Lures by the Decade ref="http://realsreels.com/baits/ABULures1940's.html"> 40's, 50's, 60's, 70's, 80's
I am attempting here to create (with the help of others), the greatest collection of illustrated information about Record ABU lures ever collected together and freely available for all to learn from. Obviously image copyright for alternative publishing purposes always remains with the owners.
Please feel your input, help , criticism is very welcome and I look forward to expanding with network of Record ABU lure collectors and appreciators.
Contact me here to assist.
If you have any other lures, that are un-needed or doubles in your collection and are available for swapping or a reasonable fee, I would be very pleased to hear from you.