Collectors
Lures.
A work in progress which all will appreciate I'm sure!
Many thanks to Mike, Derrik, Rob, Henrik, Hans, Steen, Uffe and others in the future
Record ABU Lures by the Decade 40's, 50's, 60's, 70's, 80's
Salar

A very popular and effective fishing lure with a long production run with only minor changes over 4 decades.
These started to be produced in 1945 with the half scaling to the the lure but the second edition in the 50's saw the scaling being all over the the convex surface.
The small red plastic attractor was always on the rear of the lure.
Here we see the line up over time. Thanks Jacob for supplying images and selling me some of the lures.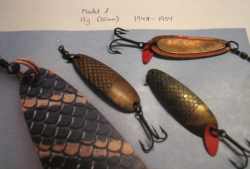 The 1st model in only 1945 was only available in 4 colours G/K G/S K/G and K/S and was 55mm long.
They were part scaled and only had Salar on their concave surface.
From 1945 on to 1954 , more colours and changes were available S G K Z Cr SG SK and PM
Model 2 started in 1955 and went until 1959 with the same range of colours but expanded to include these 20g weight models.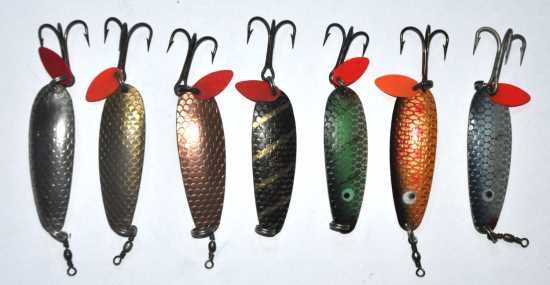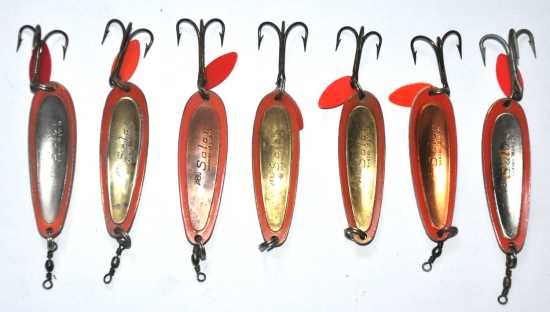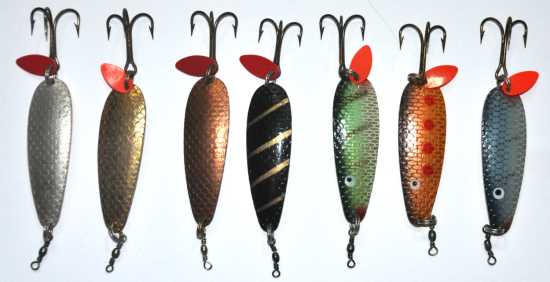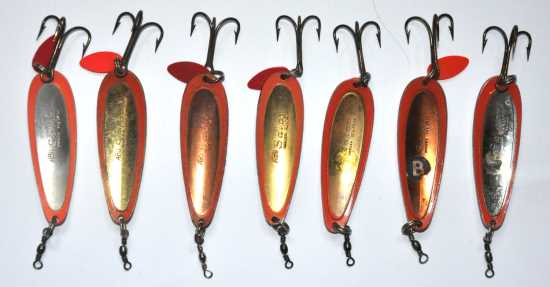 Of special interest, Mike Elsworth has observed that for a brief period in the 1950s (probably 1951 to 1954) Garcia sold the export version the "Sally". Catalogues for this period say that the lure was only sold in the 1/2 oz (15 g) size and only in the colours Chrome and Gold. See below
Enjoy the matrix below and associated images including Salar Keyring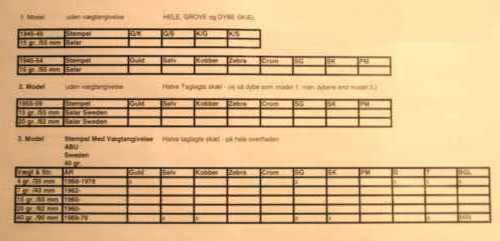 Model 1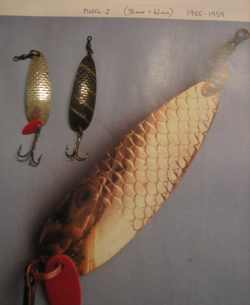 Model2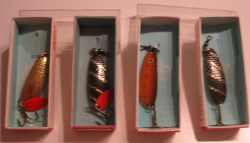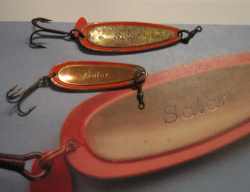 Model 3 in boxes and reverse
Very rare Sally above in only 2 colours.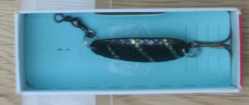 4g Salar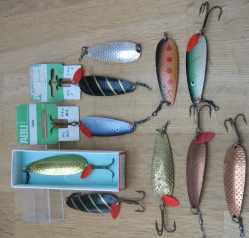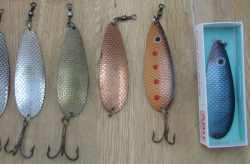 20g Salar various packaging and the largest 40g, last of European made Salar.
Back
to
Record ABU Lures by the Decade 40's, 50's, 60's, 70's, 80's
I am attempting here to create (with the help of others), the greatest collection of illustrated information about Record ABU lures ever collected together and freely available for all to learn from. Obviously image copyright for alternative publishing purposes always remains with the owners.
Please feel your input, help , criticism is very welcome and I look forward to expanding with network of Record ABU lure collectors and appreciators.
Contact me here to assist.
If you have any other lures, that are un-needed or doubles in your collection and are available for swapping or a reasonable fee, I would be very pleased to hear from you.