Collectors
Lures.
A work in progress which all will appreciate I'm sure!
Many thanks to Mike, Derrik, Rob, Henrik, Hans, Steen, Uffe and others in the future
Record ABU Lures by the Decade 40's, 50's, 60's, 70's, 80's
The Finish Spoon

Click on image or name to see details




This wobbling spoon that is not to be confused with the Atom, the Finish was an entirely separate lure.

Again it was designed to attract large fish by resembling a wounded minnow. It was made and sold between 1946 and 1962 in 60 mm, 3/4 oz (20 g) and 70 mm, 7/8 oz (25 g) sizes.

The two in the above photographs are 20 g in Zebra and 25 g in Gold.
Dr Tomba gives us this more detailed advice.....
The finish spoon is a tricky spoon which looks a bit like the ABU Atom´s little brother.
Both lures came out in 1946 and the Finish seemed to be less popular since Abu stopped its production in 62-63.
For collectors its usually far more intresting than the Atom since it is rarer.
Keep in mind that the Finish lure only came out for around three years with the plastic lid box, so those ones are often rarer than the paperbox ones.
The Pm colour is the hardest one to find along with the crome-coloured.
The chrome coloured export lures came with red letter versions and some with salt water hooks.
Variations and odd colours are extremely rare, and the only one I have (seen) is a weedless made factory experiment.
No Lill-finish was ever made and the colours SV, L, M, BGL and T were never put into production for the lure.
Finish is one of the Abu baits that almost always gets high bids on the auction sites.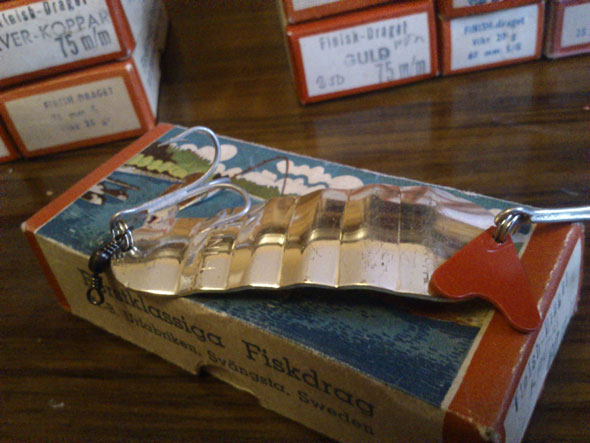 Back
to
Record ABU Lures by the Decade 40's, 50's, 60's, 70's, 80's
I am attempting here to create (with the help of others), the greatest collection of illustrated information about Record ABU lures ever collected together and freely available for all to learn from. Obviously image copyright for alternative publishing purposes always remains with the owners.
Please feel your input, help , criticism is very welcome and I look forward to expanding with network of Record ABU lure collectors and appreciators.
Contact me here to assist.
If you have any other lures, that are un-needed or doubles in your collection and are available for swapping or a reasonable fee, I would be very pleased to hear from you.