Collectors
Lures.
A work in progress which all will appreciate I'm sure!
Many thanks to Mike, Derrik, Rob, Henrik, Hans, Steen, Uffe and others in the future
Record ABU Lures by the Decade 40's, 50's, 60's, 70's, 80's
DubbDubbel-spinnaren
These were only ever issued in the old stype paper boxes documented here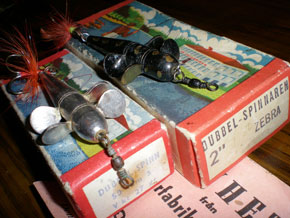 The Dubbel-spinnaren first appeared in 1947 and was made in only one size and colours S,G,K,Z, Cr, S/G, S/K .
The special colour, n style="mso-fareast-font-family: "Times New Roman"; mso-ansi-language: EN-AU; mso-fareast-language: EN-AU; mso-bidi-language: AR-SA"> Ö is a tough one for ABU collectors and below you will see Christian's boxed example and a variation below supplied by Mike.
Öring is the Swedish name for a Sea Trout, in Sweden. Mike observes that this colour was the first "T" and never catalogued !
Personally would love to get one each of K, Cr, S/G, S/K and Ö . They were discontinued in 1963.
Below , some fine examples of Dubbel-spinnaren courtesty of Mike , Christian and myself.
Mike reckons my yellow spotted DS dates from around 1954, as he thought Abu were developing a replacement to the early Z and mine was an option. This was his thought following his search re the DS in Öring / T.
He also reminded me to say these spots were plain paint NOT luminous as may have been the case given ABU's experimenting with colours.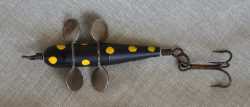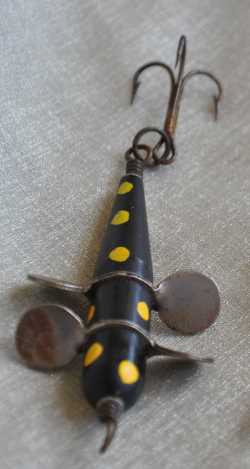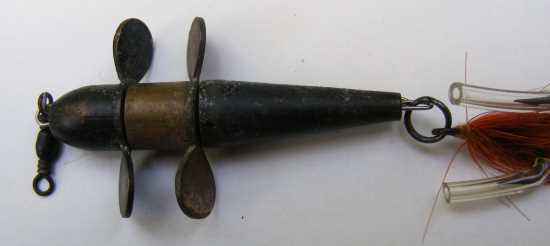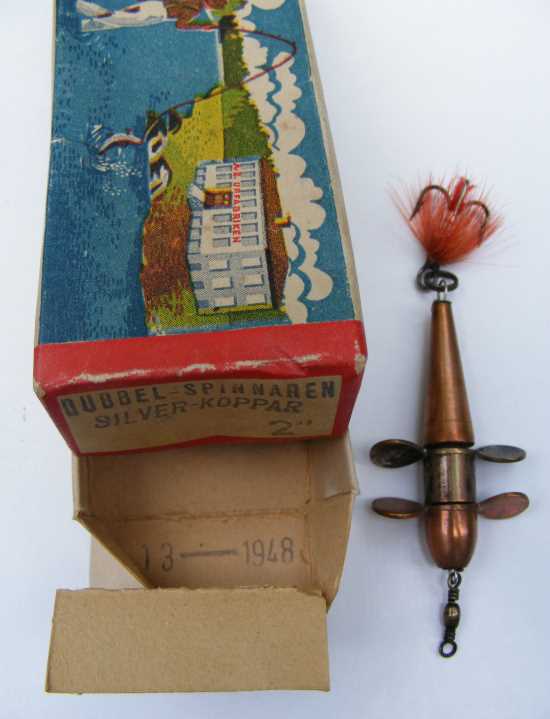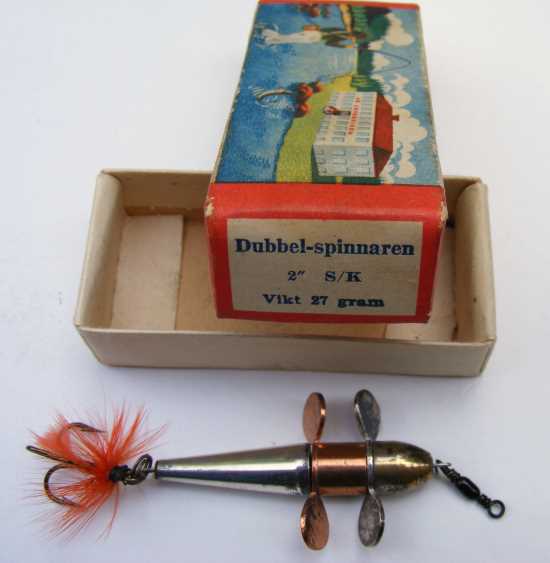 The very rare colour called Öring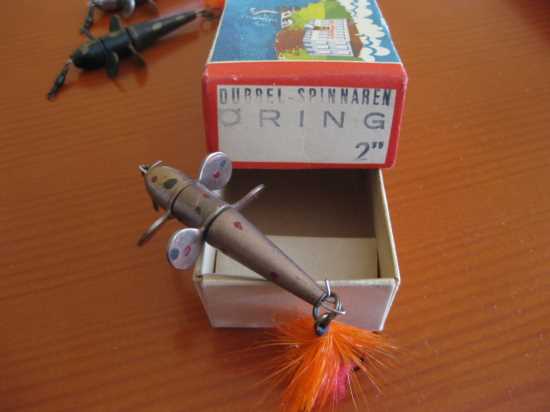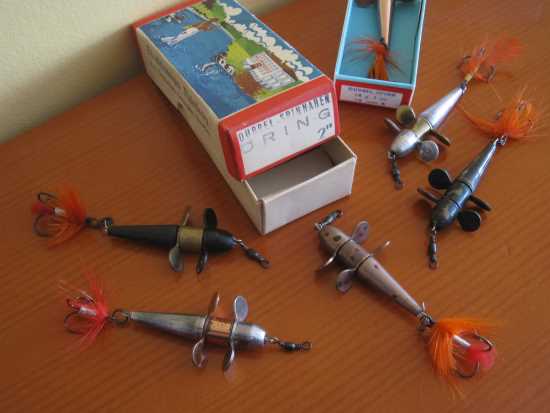 Mike is back to me, sharing his beautiful boxed Seatrout colour (known in Sweden as oringsfarg) DoubleSpinnaren.
Notice the difference.
Look at the pic below , you will see that the bait only has red spots (no black ones) and the Ö on the box has been struck out by hand AND T is written in its place !
I think that this must date to around 1954/55 which is when T was introduced.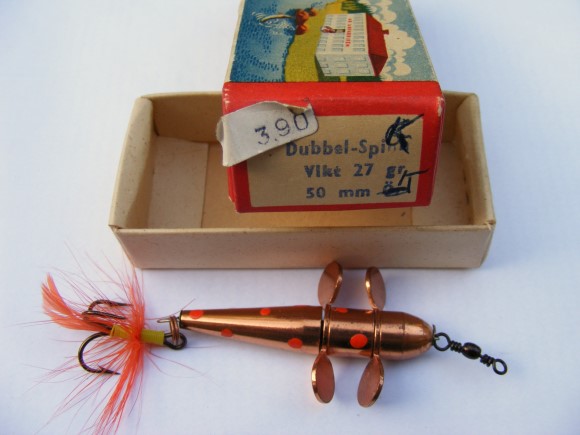 It is great to see people sharing their knowledge of ABU, especially the unique and lesser known facets, to help all of us ABU fans.
Back
to
Record ABU Lures by the Decade 40's, 50's, 60's, 70's, 80's
I am attempting here to create (with the help of others), the greatest collection of illustrated information about Record ABU lures ever collected together and freely available for all to learn from. Obviously image copyright for alternative publishing purposes always remains with the owners.
Please feel your input, help , criticism is very welcome and I look forward to expanding with network of Record ABU lure collectors and appreciators.
Contact me here to assist.
If you have any other lures, that are un-needed or doubles in your collection and are available for swapping or a reasonable fee, I would be very pleased to hear from you.