Collectors
Lures.
A work in progress which all will appreciate I'm sure!
Many thanks to Mike, Derrik, Rob, Henrik, Hans, Steen, Uffe and others in the future
Record ABU Lures by the Decade 40's, 50's, 60's, 70's, 80's
ABU draget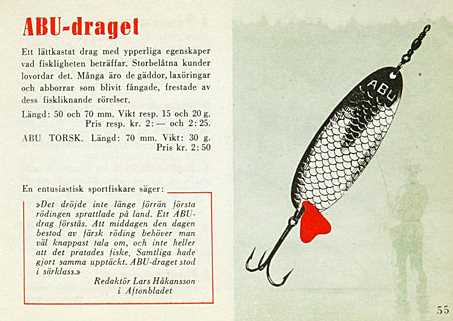 The ABU-draget was first released in 1945 like the above ABU-spinnaren. Examples of my lures to illustrate follow
Incidentally, it is worth noting that this lure sported the name ABU, often called the ABU spoon, more than a decade before A.B.Urfabriken adopted the acronym ABU for its name. Also rather unusually , the lure sports both top and bottom hooks with a red attractor attached to the bottom split ring.
The ABU-draget was released in colours of S, G, K, Z, Cr, S/G, S/K, SV, AM and AK
The series of three lures 15g/50mm, 20g/70mm and 30g/70mm were all discontinued by 1952
The Lill ABU (Record) of 7g/42mm was introduced in 1952 and discontinued in 1959. The SV, AM and AK were not made in this tiny size version of the ABU-draget. No red attractor was found on this lure.
The next release of the ABU-draget (ABU Sweden) was in 1954 /1959 for 4 sizes viz 15g/50mm, 20g/70mm and 30g/70mm. The colours were S, G, K, Z, Cr, S/G, S/K, SV
It is interesting to note Steen Pedersen believes that a 7g/42mm existed for this release also.
The ABU-draget (m/vaegtang) was released in 1960/1975 with 3 sizes 7g/42, 15g/50mm and 20g/70mm but only having these colours S, G, K, Z and AK, AM and BGL
The next significant variation to the ABU-draget was the vassdraget which meant weedless and hook protection by stainless steel spring wire was utilized.
ABU-vassdrag (ABU)1952/1954 20g/70mm S, G, K, Z, Cr, S/G, S/K,
ABU-vassdrag (ABU Sweden)1955/1959 20g/70mm S, G, K, Z, Cr, S/G, S/K,
ABU-vassdrag (m/vaegtang) 1960/1965 20g/70mm S, G, K, Z, Cr, S/G, S/K
Also with Special thanks from Steen Pedersen for the following images from his collection
The AM ABU-Draget 70 mm ( 30 gr.) I bartered from a collectors museum some years ago.
With this a couple of pictures. According to the brochures the colour AK ( antique copper) and AM ( antique brass ) should exist only in 1945 and on ABU-Draget 50 and 70 mm ( 15, 20 and 30gr.) only
Below ABU-draget 50mm in 29g and 30g
ABU-draget 70mm 20g and 30g
Best wishes
Steen
Christian Lindstrom has shared his rare red writing ABU-draget in Cr and Z . The Z is a weedless Vass example here
Back
to
Record ABU Lures by the Decade 40's, 50's, 60's, 70's, 80's
I am attempting here to create (with the help of others), the greatest collection of illustrated information about Record ABU lures ever collected together and freely available for all to learn from. Obviously image copyright for alternative publishing purposes always remains with the owners.
Please feel your input, help , criticism is very welcome and I look forward to expanding with network of Record ABU lure collectors and appreciators.
Contact me here to assist.
If you have any other lures, that are un-needed or doubles in your collection and are available for swapping or a reasonable fee, I would be very pleased to hear from you.