ABU Accessories Overview
Huge Variety available from the minute spare part to large electric fire starters and ice drills.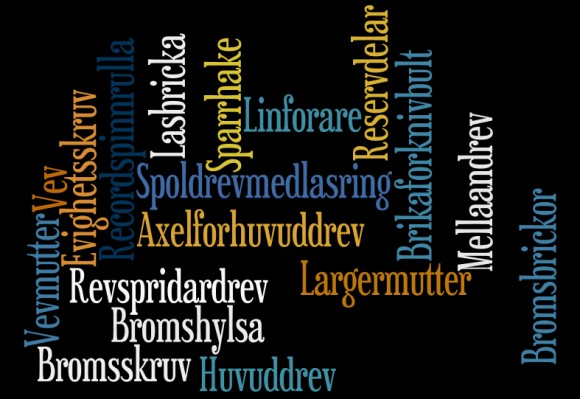 Miniscule spare parts kit for the techically advance Hilo bait.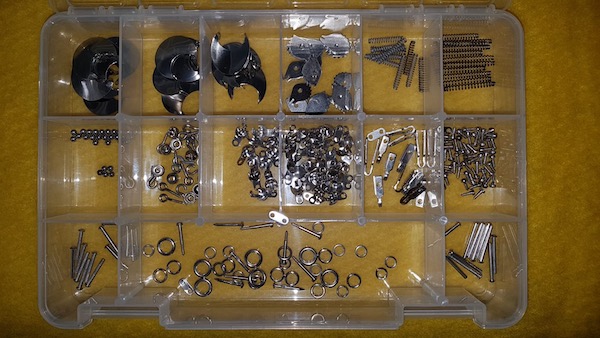 Video explanation of the new Ultracast system for the Ambasadeur 5600 AB palming plate model.

ABU Japanese Playing cards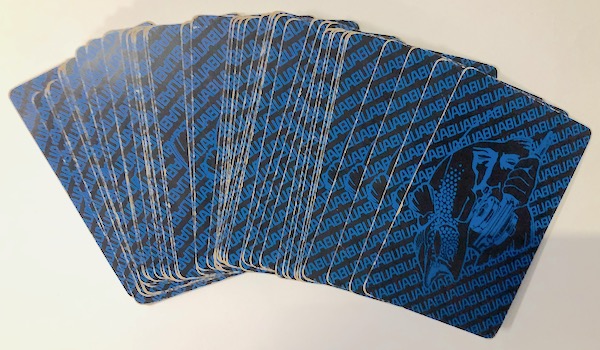 Some of my favourit images of accessories are found in ABU catalogs such as these net, gaffs etc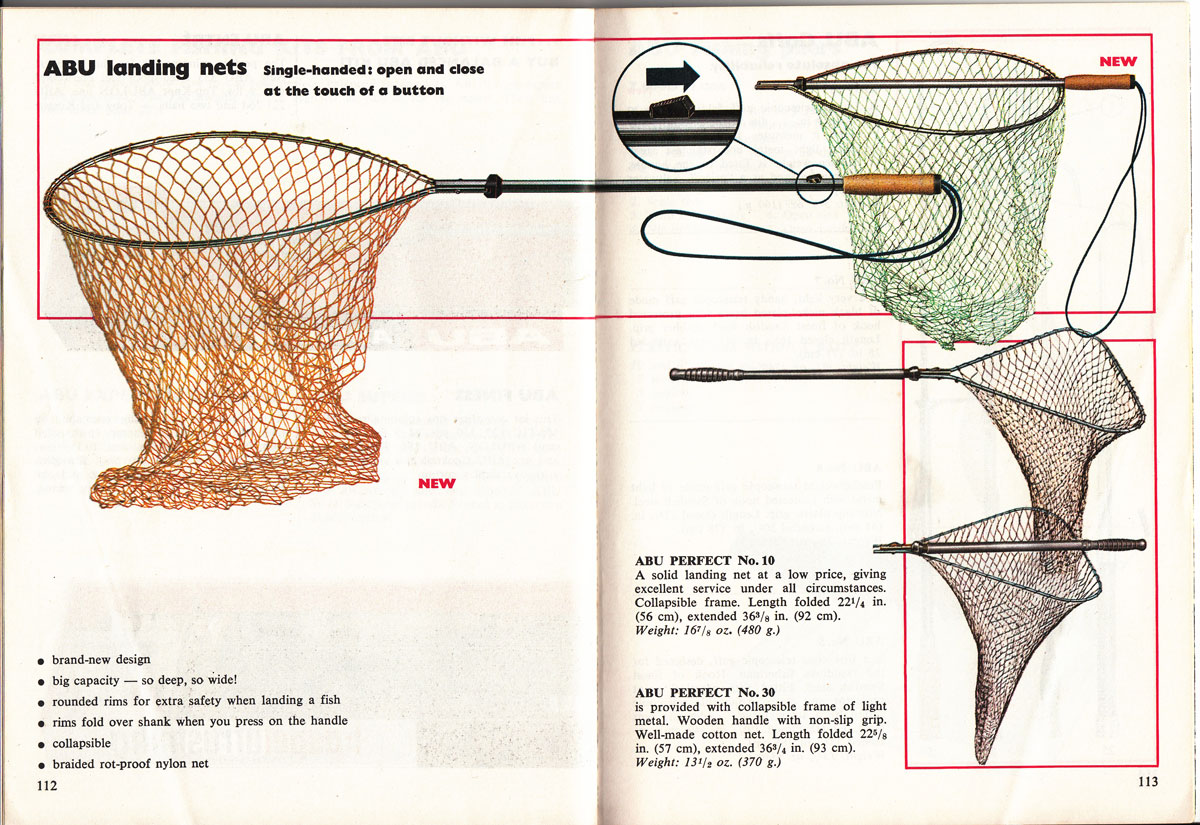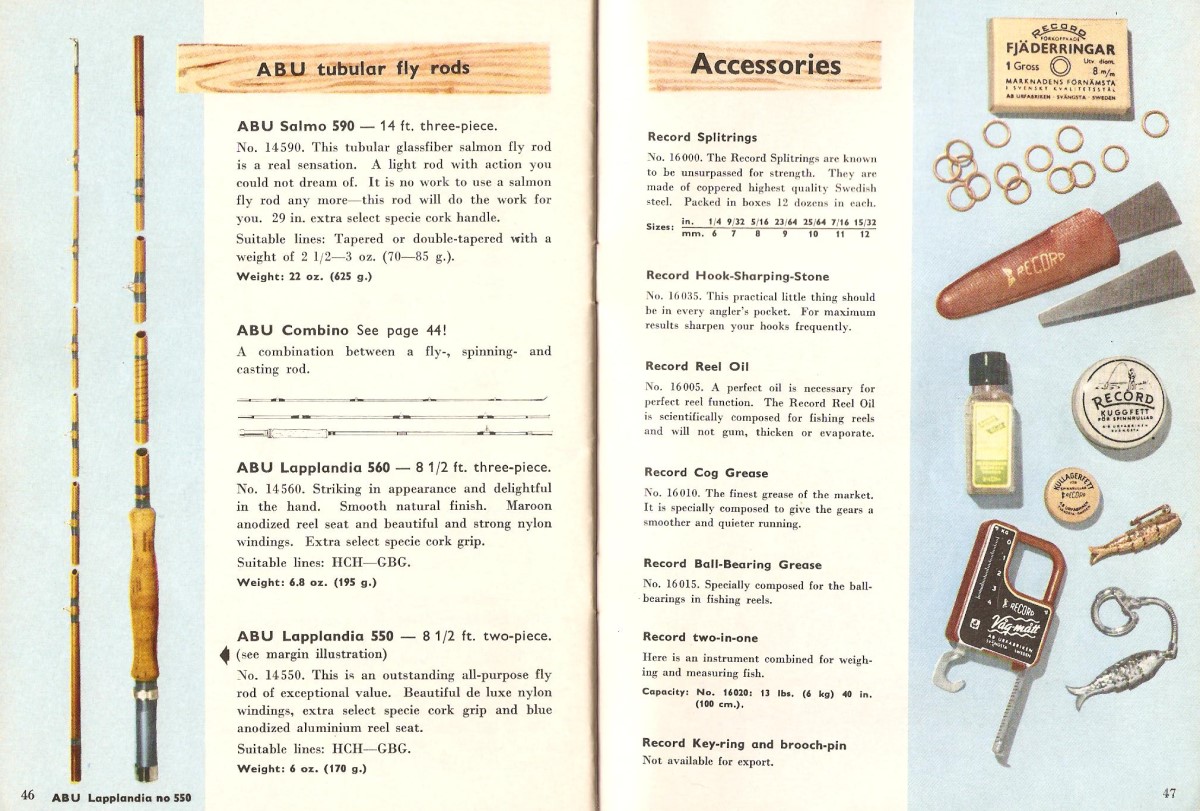 My primary interest is in what was actually provided with the reel when first sold. This may be due to my practical approach, like actually getting down to using the reels. Tool and spools so to speak! I have to admit though, what my accessories research has uncovered is a plethora of common publicity items as well as some very rare and one -off items presented to long time ABU employees after many years of diligent service.
For many however who have deeper pockets, I realize that they think a reel is not truly collectable item unless it is complete as sold and is in mint, unused condition.
This means for them, an awareness of the different packaging materials, such a whether the reel was sold in various types of box, liners be they styrofoam, cloth or leather pouches and tools/spare parts for maintenence, is important. My knowledge is rudimentary but growing and again I refer you to Daniel Skupien's Vintage Fishing Reels of Sweden. I have a few pairs of reels in a teak presentation case and one that came in a leather bag inside the cardboard box that is normal for all my other reels.
My collection is based on filling gaps in all of the long history of ABU, so I don't really care if the item collected is MIB or alone, forlorn and neglected. If I don't have it, it has a place in my display!
Those special items considered most valuable to me are those that have been acquired either by purchase or gifted from friends where a long family history can be attributed. I feel a custodian of these items and my duty is to display them for others around the world to see and who would otherwise not enjoy them.

There are others here that only the images have been shared with me.
Lars Jonsson has shared this ABU grill / firefighter with us here.
Who could not desire a ABU coathanger?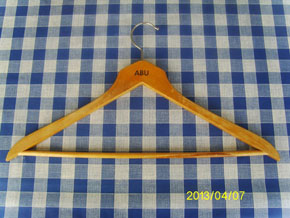 Paul Brown from the UK has shared his beautiful images of ABU's snow clamps for boots below.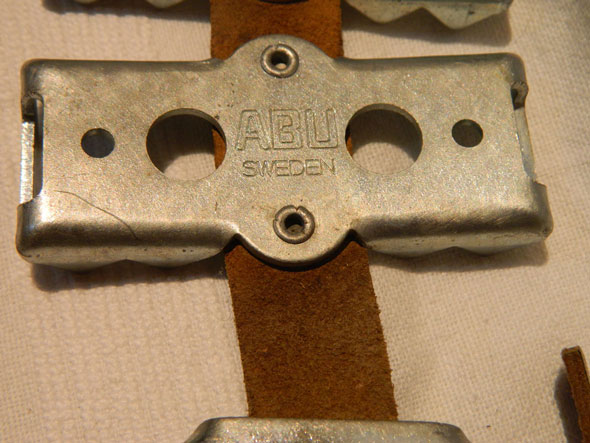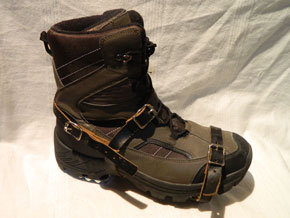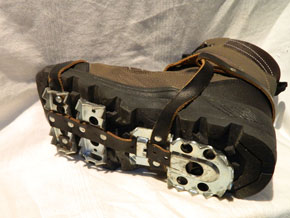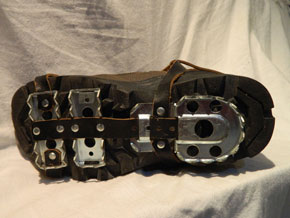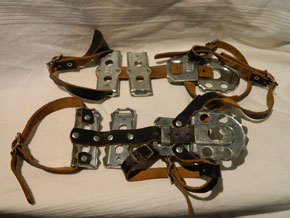 The following desk calendar was an award bestowed by A.B.Urfabriken on a far east dealer in Singapore during the 70's. Images kindly supplied by
Andreas from Sweden
My very pleasing and recent addition is the 3 years of Playing card issues displaying the covers of 1973, 74 and 75 Napp och Nytt/Tight Lines catalogs.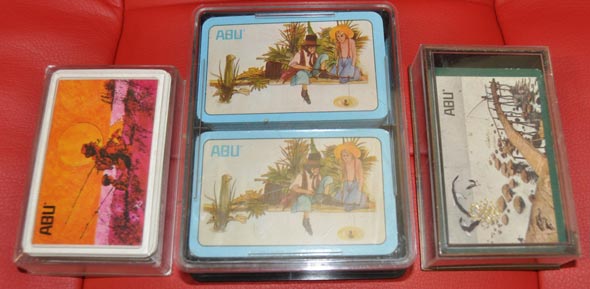 Len Borgstom as given me so many items documented throughout this website and the most recent is especially important as I will wear it and I know this embroidered Gold with Laurels Record Fisken necktie is a very rare piece of ABU nostalgia. If anyone has any set of appropriately matching ABU cufflinks such as those depicting Ambassadeur reels, ABU text, ABU trout etc and wished to sell them , I would be very happy to purchase them.
The Ambassadeur tie to the right I would like to add to my collection one day.

Many excellent collections of ABU are to be found in Japan. The previously shared information and images have been removed at the request of the owner who is producing a book .
These recently acquired spare parts originally came in quality wooden boxes with metal hinges
Casting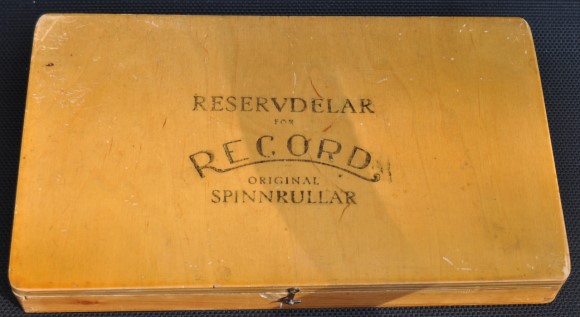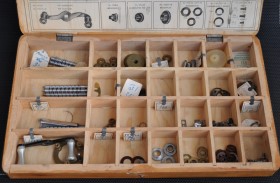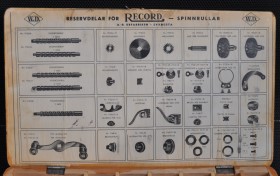 Abumatic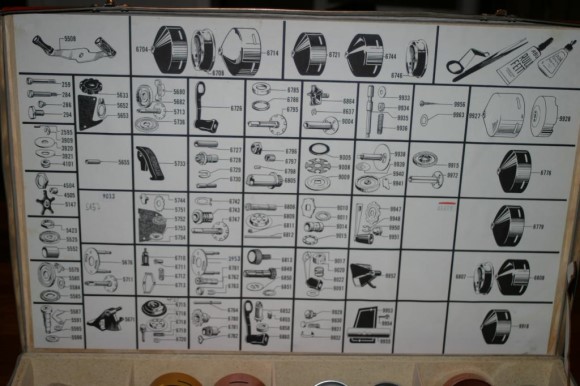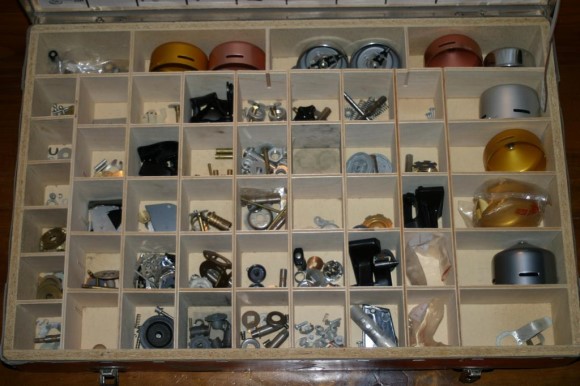 and then Plastic boxes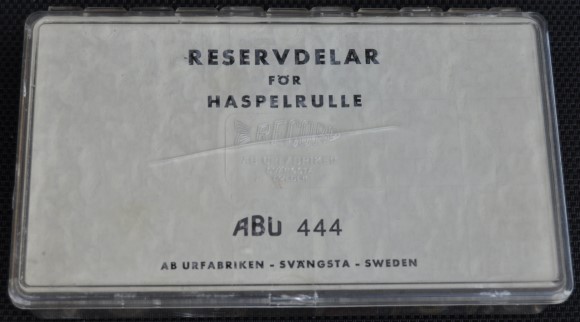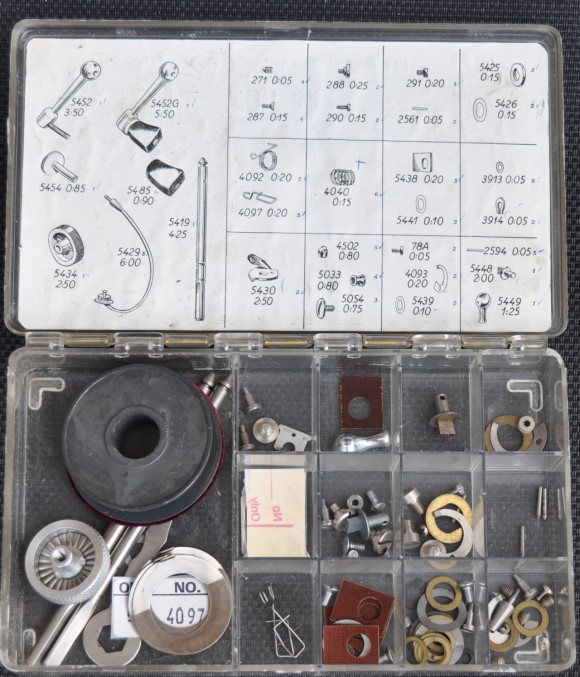 followed by cardboard boxes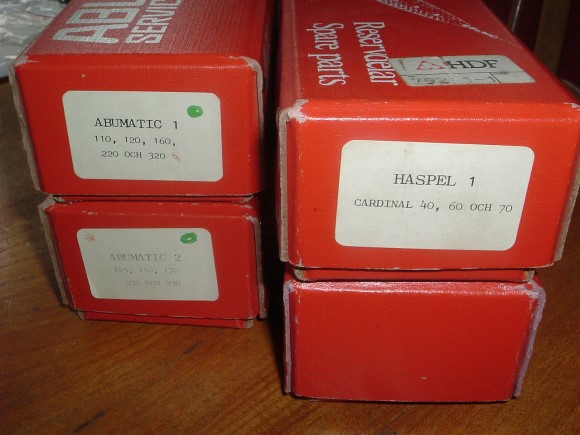 In the sixties one could even post a reel in to be serviced in the UK and it would be returned safely in an ABU Service box.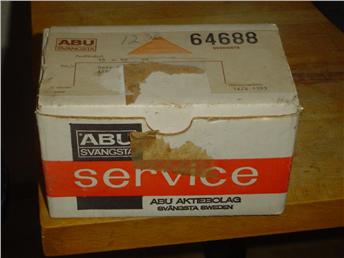 The ultimate Service from ABU and/or some of their agents is the swap reel program with the Abumatics
See bottom of this Abumatic page
A much searched-for and soon to be treasured, set of different clear salesman sample sideplates for Cardinal 40 and Cardinal 44 (and a gunmetal handle for 4500/5500/6500 Ambassadeur) were kindly donated to me by Jan Eggars from NL (see his Personal page)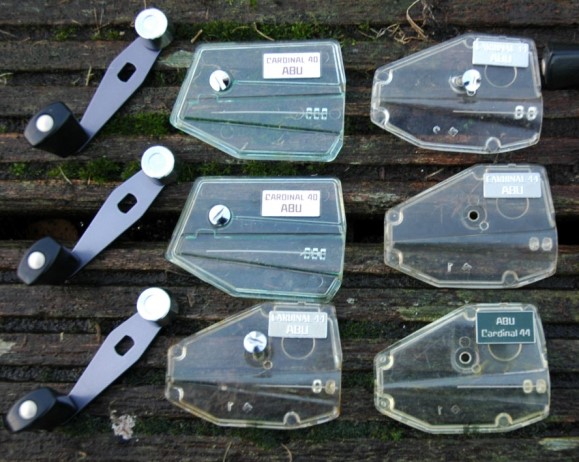 Larry Jackson from USA has kindly supplied images of a number of official ABU and unofficial hi speed gear sets for 5000/6000 size Ambassadeurs.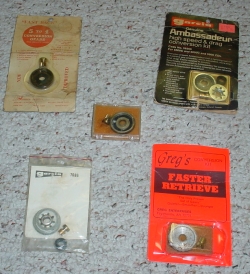 Major and minor parts were available to refurbish ABU reels.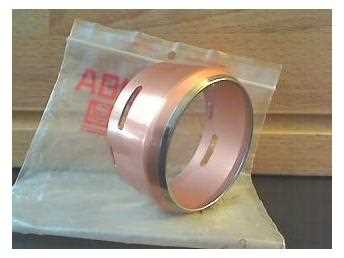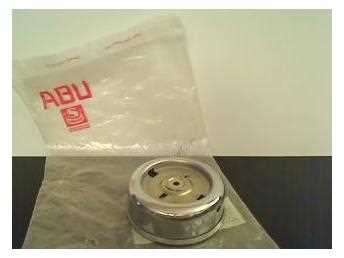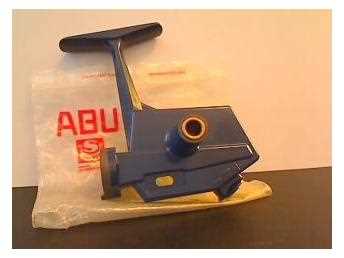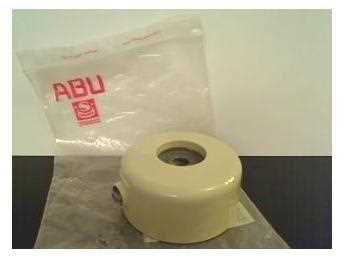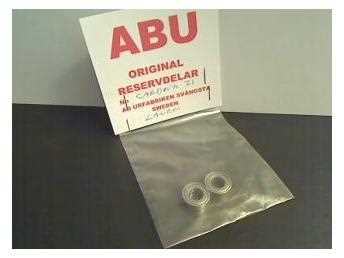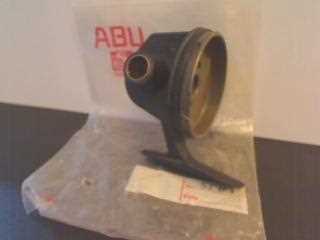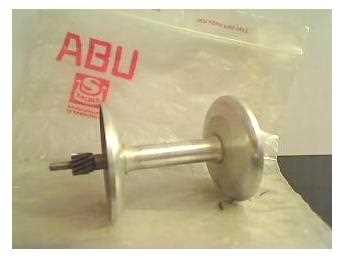 Most essential are the rod and reel parts and samples follow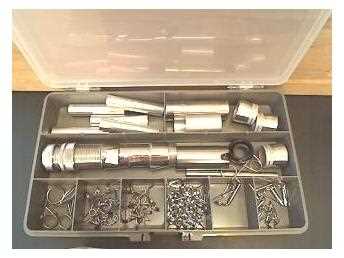 A favourite accessory of mine is this big ABU Salmo gaff/wader/tailer, produced for only one year and lucky enough to have in my collection.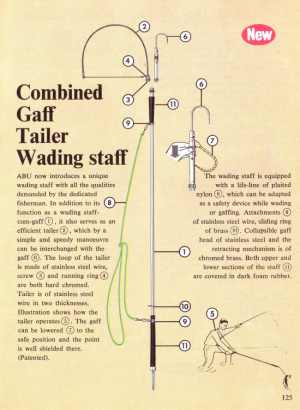 ABU sold hooks with early forms of plastic coating called Lysfiskar lyskrokar , meaning luminescent single and treble hooks.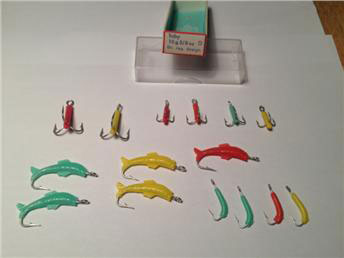 I am very fortunate to own two very special enameled knives owned by the Borgstom family. Len himself presented me with his personal pocket ABU knife (the top square ended one) and I believe the older one is his father's knife with scalloped ends. (Gote Borgstrom)
Click to enjoy in greater detail.
A sample accessories catalog page from the 1957 N&N can be seen here.
Jewellery has been popular in the ABU product line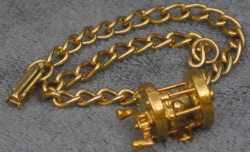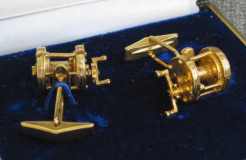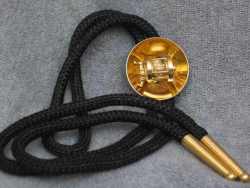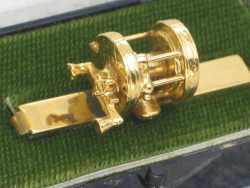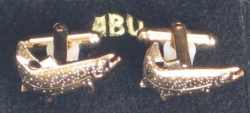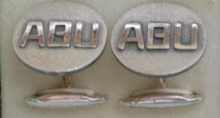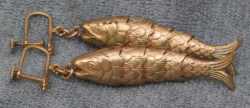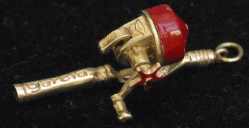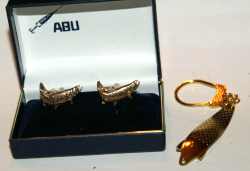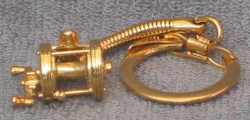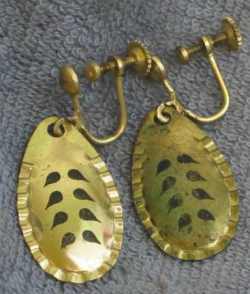 Repair Items such as matching binding thread and Lacquer is always useful. I need some of the grey/white thread used on the ABU Diplomat series of rods, in order to repair a runner placement.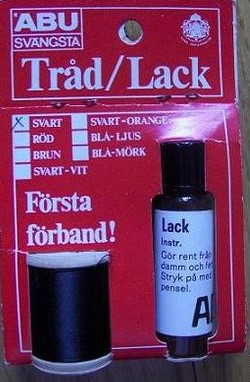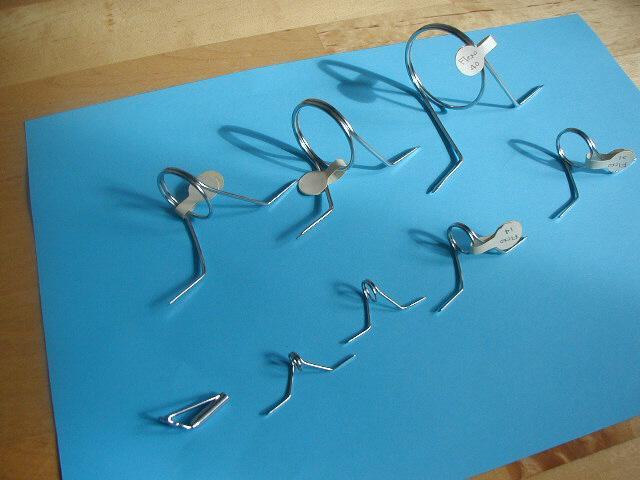 Sundry other items
Wouldn't a this Toby haversack/carrybag be nice to own and use?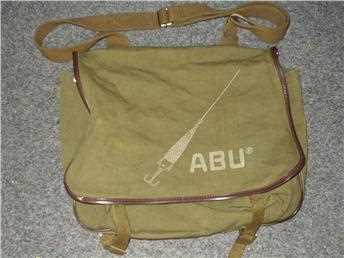 My wish has been kindly fulfilled by Uffe Edefuhr
Garcia Christmas Recording





Boxes

Of more interest to many, are the practical accessories to fishing reels such as


Clothing

(I haven't seen any around here but I know lots of great T shirts exist!)

Send in your favourite ABU T shirt photo and I'll publish it here!

How many designs exist I wonder?

The full depth of the things to buy to assist with world of ABU fishing can only be fully appreciated by from catalogs as produced in your country Tight Lines /Napp och Nytt catalogs. Where would we be without our smokers, pliers, scales, ice-fishing seats, clothing etc.

Merchandising is a BIG business and I like many, am a soft touch, when it comes to spending on hobby related items.