Tournament Casting with Record/ABU
Sweden's A.B.Urfabriken has been famous for 6 decades with regard to it's word beating fishing tackle, but few may realize the consistent and superb tournament casting results in World Championship casting.
Ake Dalberg from Sweden is probably the most famous exponent of this sport.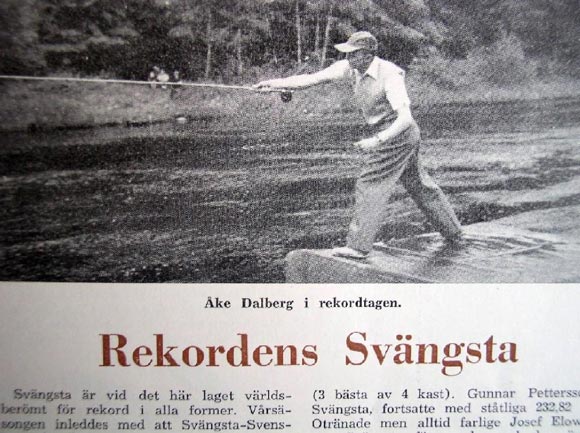 The USA also has their Champion caster who uses ABU reels, be they fly or Casting Ambassadeurs.
Johnny Dieckman won many World Championships. Here he shows how to cast an Ambassadeur for fishing.
BUT
We do have our own home grown World Champion Tournament caster too!
Ted Whitam : Aussie World Champion Tournament Caster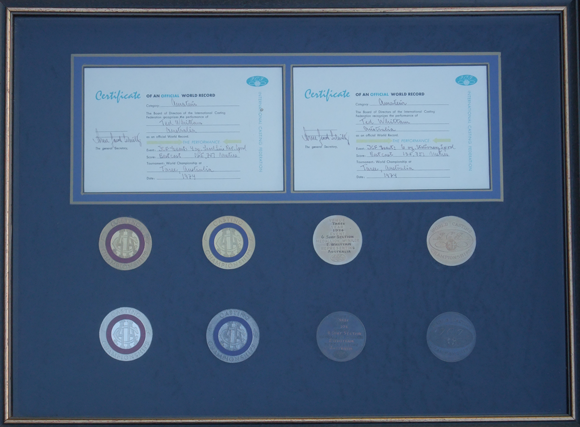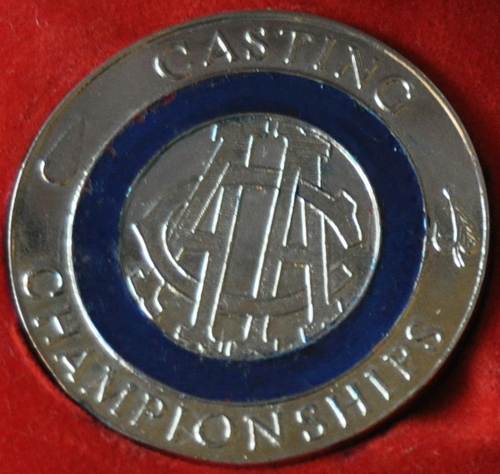 Recently I became acquainted with Ted Whitam , a 73 year old Australian who used an Ambassadeur 6000 in the 70's to become World Champion in 4 oz leaderless event.
Ted used Ambassadeur 6000 and 5000, ABU 1750, Record 2100 and Cardinal spinning reels with a wedding cake tournament spool., for many different events
A humble man, who has overcome adversity, I pursued him to share his achievements here, and I hope you enjoy learning of his exploits.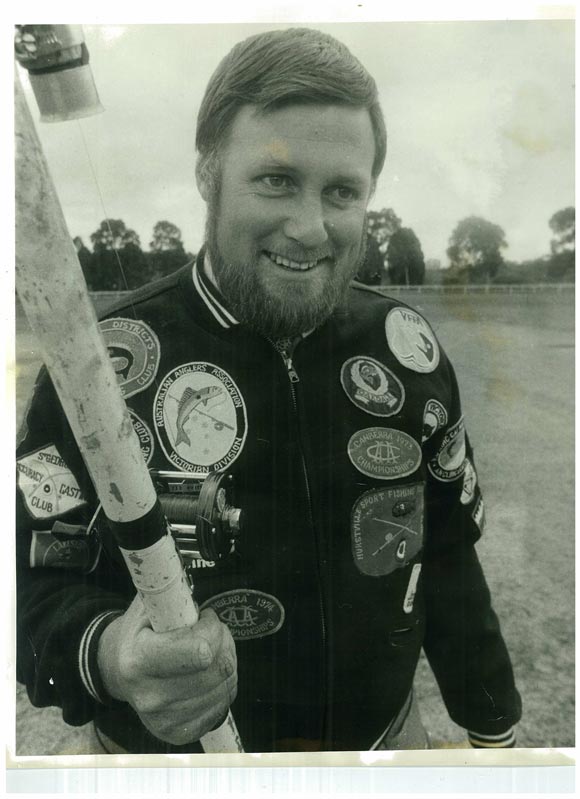 I asked for an expose of his time in tournament casting. This is his response.
Dear Wayne
Below is a bit of a story about the World Casting Championships, held at Taree in 1974. My daughter, you know the smart one will be home at the weekend and I will enlist her services to help me scan photos etc to send to you. In 1974, I was very fortunate to be selected to represent Australia in both the Surf and Plug sections at the World Casting Championships in Taree. I'd been practicing well prior to the tournament, however when I arrived at Taree, I really had the wind taken out of my sails by one of my team- mates, whatever distance I cast, he would proceed to belt me. My confidence really took a dive, until one night at a social gathering, while I was singing his praises, he made a doozy of a gaffe, He stated that he didn't know how he'd go "when he took his leader off" Keeping in mind that all the Surf events were "level line" (no leaders) So the big day came, when my favourite event, the 4oz (or 112gm) also recognised as (the Blue Ribbon Event) was scheduled. I cast very well, with my confidence sky high and my old red ABU 6000 sporting a new set of bronze bushes, oiled beautifully and running superbly as you would expect from it's old watchmaker heritage. My first cast of 165.751 metres or approx 543 ft 10 in, which was a new World Record, breaking the previous of about 154 m or 508ft set by Joost Englebrecht of South Africa, the previous year in Scarborough, England using a Penn 100. After that cast the confidence of my competitors seemed to drop a little, and my next try was approx 163 metres or 535 ft, which seemed to put the issue beyond doubt, second place was approx 155 metres or 509 ft That little reel behaved impeccably, like it always had, quite a few other competitors came to see what customizing had been done, the only thing that I'd done was to remove the level line bar and replace it with a brass one. I also won the 6oz or 170gm fixed spool event, which was also a world record, because it was a new event, the distance was very inglorious because it was cast into a strong headwind. The other competitors used a variety of reels, I know that the runner up used a Surfmaster Baitcaster. I competed in the plug events, winning 2 Bronze Medals, I had a bit of a tale of woe, because I had to use a damaged rod, in an event where I expected to do well with my trusty Record 2100. I hope that suffices mate, I'll be back to you soon with the results of "the smart one's scanning"
Kind Regards
Ted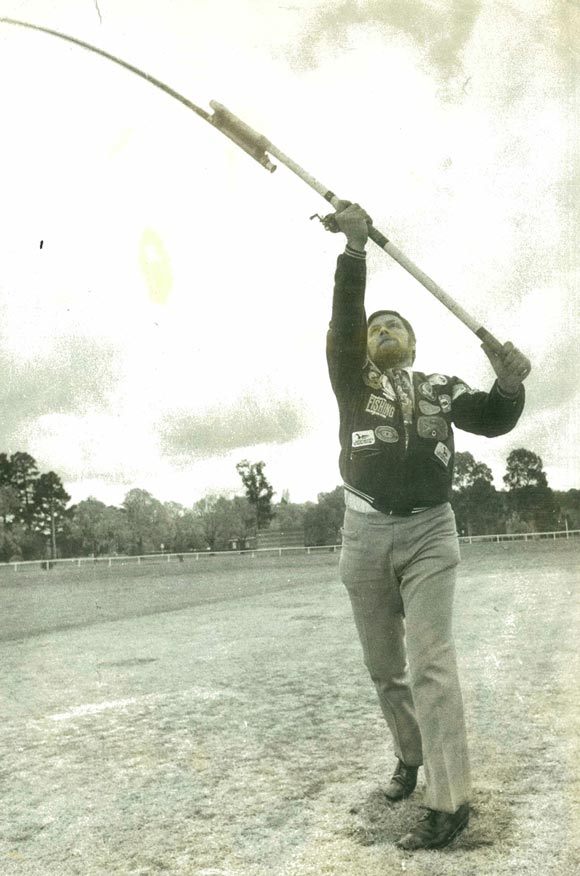 A few newspaper articles chronicling his experiences from 1974.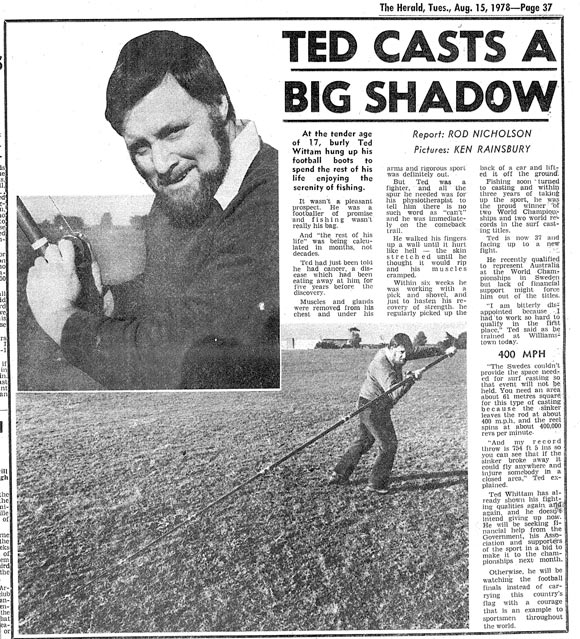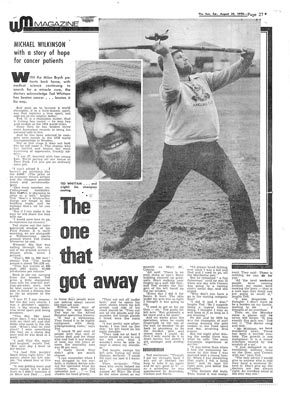 I share Ted's ABU-based World Championship medals and certificates here courtesy of his daughter Kellie.
Ted was Australian Champion of Champions in 1975 and still holds 4 Surf Casting all time records.
Thankyou both for sharing these memories with a world of ABU fans who visit this site!
Ted has just send me samples (above) of his ABU casting weights as well as a couple of non ABU branded International Casting Weights used during his World Championship casting days. Thankyou so much for the sharing and gifting mate!
I have included here a green plastic ABU casting weight which can have its weight varied by adding water. This was supplied with some ABU reels in the 60's
If you have any others listed above, that are unneeded or doubles in your collection and are available for a reasonable fee, I would be very pleased to hear from you. Particularly any Record rods or Diplomat series, or Safari Fly rod and a Pacific Series boat rod.